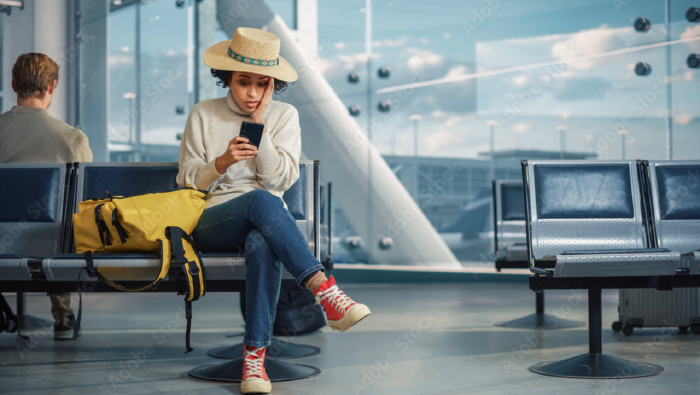 Earlier this month, I had my bags packed and my enthusiasm stoked for a trip to a remote California mountain resort where my niece was getting married. Such a joyous gathering of family in a beautiful place called for a bona-fide vacation, so I scheduled extra days before and after the nuptials to hike and sightsee.
Not to sink this tale of woe with an anchor of maddening details, flights were delayed, then canceled, then rebooked, then delayed or canceled again. In the end, the airline could not get me to the wedding in time. I went home and spent the next 24 hours throwing myself a pity party.
I'm hardly the first person to have a wrench upset or entirely destroy vacation plans. What would travel be if there were no surprises, good or bad?
It happens sometimes at WomanTours as well. Someone breaks her arm the day before the tour. Luggage gets lost. It rains all week. The TV in your hotel room is broken and you have to call three times to get extra towels. The routes are far hillier than expected. Or maybe you just aren't in good enough shape.
The Covid-19 pandemic gave everyone a lot of first-hand experience with travel disappointments. While many snafus are out of one's control, there are things you can do to avoid or minimize the impact that an unfortunate turn of events can bestow.
For example…
Get travel insurance
Investing in travel insurance is one of the best things you can do to make sure your finances won't suffer. Insurance can cover the big things, such as when a family medical emergency forces you to cancel your trip. A policy that includes baggage delay benefits or travel delay benefits can also help with the smaller inconveniences, such as covering reasonable purchases if your luggage is lost or a hotel room if your connecting flight is postponed.
People are also surprised to learn that travel insurance with medical benefits can help if you need to seek care overseas. Many international healthcare providers require cash payment up front and do not accept American health insurance plans.
While WomanTours recommends Allianz, we know that there are other reputable providers out there.
Get medical evacuation insurance
If your tour is overseas, WomanTours requires this type of coverage in the event that you need to be transported home or faraway to receive medical care. But medical evacuation insurance is the bare bones of what you should always have when traveling. Often this is part of your overall travel insurance package, but you can also purchase it separately.
Pack wisely
The weather is as unpredictable as, well, the weather. Packing for all possible weather scenarios is the best strategy for staying comfortable no matter what the day brings. Layers for cool weather, rainwear for wet weather, lightweight, light-colored shirts and shorts for hot weather. And no matter what the forecast, slather on that sunscreen. Every. Single. Day.
What you don't need to pack are the fancy clothes, shoes and jewelry. Casual is always in style on a WomanTours vacation, and being able to travel light is liberating. If you don't have to check bags at the airport, your luggage will never get lost.
Pick a bike tour that fits your fitness level, train and consider an e-bike
Being able to manage the miles and hills outlined on your bike tour will definitely help your enjoyment of your trip. The first thing to know is the daily mileage and elevation of that tour. (This blog will help you make sense of mileage and elevation). Have you ridden that kind of mileage in one day before? If not, get training. Are you sufficiently motivated to train enough so you can get to that level? If not, consider a more leisurely tour, or consider renting an e-bike, which can make hills feel flatter and the flats feel almost effortless.
You can also opt to ride in our SAG (support and gear) vehicle for part or all of a day with one of the guides. You still get to see some great scenery, and you will have a little up close and personal time with the guide.
Read the WomanTours literature thoroughly
Once you register for a tour, you'll receive a link to the tour's portal page with all kinds of information to help you feel as prepared as possible for your cycling trip. This includes documents on what to pack, how to use the Ride with GPS app, and how to get to the start of the tour.
It's a lot to read, and we know it can be overwhelming, so going through one document at a time both when you register and then a month or two before the tour will help you avoid a lot of unnecessary surprises. For example, for optional activities not included in the cost of the tour, you may want to make a kayaking reservation ahead of time. Knowing the first day's schedule is also key, so you can make your travel plans with enough time cushion in case something holds you up. For many tours, especially those overseas, early arrivals give you time to recover from jet lag and some leeway in case of flight delays.
If you have questions about any of the tour information, contact our office (585-424-2124, info@womantours.com).
Let the tour guide know if something isn't right
Perhaps your hotel room has no hot water. Or your bike saddle is positioned too far back and it's very uncomfortable. Or you really like Pepsi but there is only Coke in the cooler. Letting your guide know right away about such problems or oversights means she can address them pronto. Don't let these bugaboos fester. Most problems are fixable.
Get your bike tuned up before the tour
If you are bringing your own bicycle to a tour, be sure it's in good working condition. This is the best way to minimize mechanical problems that could cut into your fun. Have a professional give it a tune up so you know the brakes, gears, tires and other components are safe and ready to roll. While our guides can help fix flat tires and make minor repairs and adjustments, they may not have the time, parts or skills to do more involved repairs. Plus, if your bike needs to get fixed on tour, you might miss out on some very lovely pedaling.
Pack extra patience, empathy and humor
Your roommate snores. You found a stranger's slippers under your bed. You ordered salmon and got chicken. While the pandemic is over, we are still finding staffing shortages in the hospitality industry. Sometimes service is not what we've come to expect. Having an extra reserve of patience, empathy and humor will go a long way in making a less-than-perfect situation more tolerable.
Our cross-country and epic tours have a few nights when the group has to stay in mom-and-pop motels that aren't as luxurious as the chain hotels because options are so few. A few years ago on one such trip, a WomanTours rider found a cat in her room. Meooooowww! Hard to say who was more shocked, the cat or the guest.
Our guides often tell us that while guests may initially grumble at such an event, these are the stories they remember best and laugh about later on.
Put it in perspective
As I found out, missing the California trip was not the end of the world. The pity party ended the minute I showed up at the graduation party of a long-time friend's son that I otherwise would have missed. I later gathered with other friends for our Friday night lakeside potluck, a ritual that is as dear to me as spending time with family. I went for a couple long bike rides, and my husband treated me to dinner and a movie. The unexpected staycation was the perfect remedy for melting away my disappointment and replacing it with gratitude. (I wasn't stuck in Newark or Chicago for three days! My flight was fully refunded! The wedding went off without a hitch!)
I am now eagerly planning my next vacation to California, which will include time with the newlyweds.