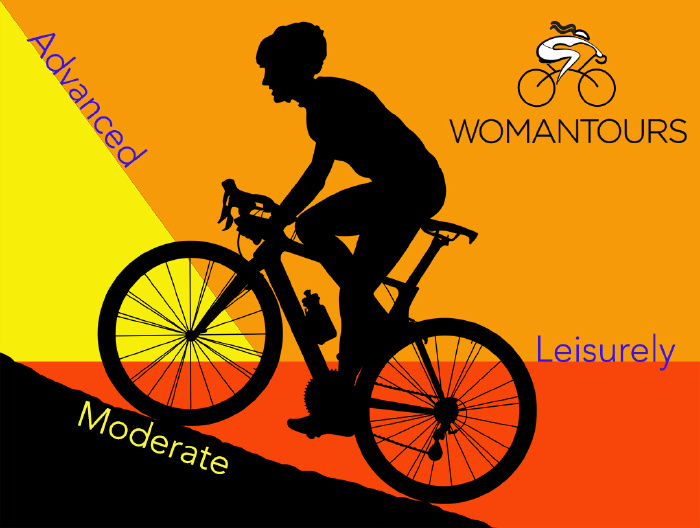 Ideally, we think a bike tour should make you feel physically invigorated, if not a bit challenged. Yes, you should be tired at the end of the day, but with a hearty dinner and a good night's sleep, we want you to be excited to get on the bike the next morning.
So when you are deciding which one of our tours will be right for you, it's natural to wonder how difficult a tour is going to be and if you are ready for it, especially if this will be your first trip with WomanTours.
There is no hard and fast answer as difficulty is subjective, but we do have quantitative benchmarks and qualitative descriptions on our tour literature and website that should steer you in the right direction. We'll explain what that means here.
Difficulty rating system
WomanTours rates each tour with one of the following difficulty ratings. You may see the corresponding symbols in our catalog and website.
Leisurely: These are flat tours on bike paths that are free of motorized traffic.

Leisurely-Moderate: These are flat tours on a mix of roads and bike paths.


Moderate: These tours have a mix of flat and hilly terrain.

Moderate-Advanced: These tours have more challenging terrain with a mix of hills, longer climbs and flat stretches. The daily mileages tend to be longer than other tours.


Advanced: These tours have the most challenging terrain with a mix of hills, longer climbs and flat stretches. Their daily mileages tend to be longer than other tours.

If you are riding an electric-assist e-bike, expect the difficulty level to be downgraded at least one level. That is why on tours where we allow e-bikes, you may also see two different difficulty ratings, one for regular bikes, one for e-bikes. For example, our Big Bend tour in Texas is rated

for Advanced, but

for Moderate if riding an e-bike.
Terrain description
Our Terrain description, included on our Tour web pages and Tour literature, offers a snapshot about overall challenges you might encounter on a tour, from average daily mileage and road surface to geography.
Mileage
For our Inn-to-Inn or Hub-and-Spoke tours, we list the mileage for each day's ride at the end of the description for that day. For Epic tours, mileage is listed with the itinerary, usually found at the bottom of that tour page on our website. Because our Epic tours tend to be longer in duration, we also list the average daily mileage on our website. This gives you a good snapshot of what a typical day might be like.
In some instances, you might have a shorter and longer route option on a given day, so you will see two mileage numbers.
Elevation
Of course, a 50-mile ride that is mostly flat is significantly easier than a 50-mile ride with lots of hills. To indicate what kind of hill climbs and downhill coasts that might be in store, WomanTours is adding elevation gains and losses on our tour literature and website. You will see these numbers listed with the day's mileage. There is also an overall description of what the day's ride will be like.
Here is an example from our moderate-advanced Asheville's Land of the Sky tour from our website:
Day 3 Starting from our hotel, we point our bikes north and pedal through the beautiful rolling hills of Leicester along the Little Ivy River. Lunch is on your own, but you'll have plenty of charming café options in Marshall, a quaint town that also serves as the county seat. Then we will follow the French Broad River back to town. 51 miles, +3252'/-3251'.
In this case, this ride has a cumulative total of 3252 feet of climbing or elevation gain, and a cumulative total of 3251 feet in downhill or elevation loss. Because this ride starts and ends in the same place and goes in a loop, the uphill and downhill totals are about identical.
Ratio between elevation and mileage
You can get a rough sense of how hilly a ride is by dividing the cumulative elevation gain by the mileage. In general terms, many amateur cyclists agree that if you are averaging more than 100 feet of elevation gain per mile, it's an extremely hilly ride. Less than 50 feet of elevation per mile, and it's not too bad. Between 50 feet and 100 feet of gain per mile, and you've got moderate to significant hills. If you want to put a formula to those guidelines, here it is:
>100'/mile = extremely hilly
50'/mile - 100'/mile = moderately to significantly hilly
<50'/mile = not too hilly, or fairly manageable even if there is some elevation gain
Using this formula, let's look at three different rides to see how hilly each one might be.
Day 3 of our Northern Tier Western Half Tour gains 7781' in elevation over 91 miles. That's 95'/mile (very near the threshold of extremely hilly). We definitely mark this tour as

unless you have an e-bike or take advantage of shuttling.
Day 5 of our Maine: Acadia National Park Tour gains 3059' in elevation over 41 miles. That's 75'/mile. We consider this tour

.
Day 4 of our Florida Forgotten Coast Tour gains 256' over 26 miles. That's only 2.5'/mile. This tour is as

as you'll find.
What this estimate does not tell you is how many or the type of hills you might encounter: small but numerous rollers, a few steep ups and down, or one long yet gentle ascent.
When you are on tour with us you'll receive both hardcopy and digital maps and cue sheets for each day's ride, which gives you more information about how easy or difficult a ride might be.
Mileage and elevation are only two factors that determine how easy or challenging a ride will feel. Let's talk about some others.
Wind
Wind is probably the biggest weather influence that will slow you down. Many riders find wind harder to deal with than hill: wind can last all day while at worst, a hill could take an hour or so to climb. A gentle breeze of up to 8-10 mph probably won't add too much effort. Getting closer to 20 mph and you are definitely going to be slowed down, whether it's a headwind coming straight at you or a crosswind blowing from the side.
Severe winds can make riding unsafe, either by blowing you into traffic or off the bike or projecting objects such as tree branches or road debris to fly in the air. If you ever feel unsafe because of wind, don't ride. Contact one of our guides and she'll be there with our van to pick you up.
Road and trail surface
How smooth or bumpy a surface you are riding on will also affect how easy or hard a ride feels. Perfectly smooth asphalt feels like a tailwind compared to chip seal. Dirt or gravel bike paths and trails can require more pedal power.
Type of bike
Road bikes tend to be lighter and faster than hybrids and are designed for you to ride in a more aerodynamic position. But if you like the comfort of sitting more upright, then choosing a hybrid may be worth it. For bike trails and paths, hybrids and gravel bikes are preferred. Mountain bikes are inherently slower than all these bikes, with heavier frames, knobbier tires and suspension forks that absorb shock but add resistance to your ride.
Tires
Experts used to say that thinner tires were faster, and fatter tires would slow you down. That is not necessarily the case anymore as cyclists seek out wider tires to make different terrains accessible and to add stability to their ride. Knobby mountain bike tires or snow tires are definitely slower than tires with lighter treads. Any tire, if it is underinflated, will require more exertion on your part. Our guides will help make sure your tires are properly inflated for the surface you'll be riding on before you ride.
Body weight and gear
How much weight your body and your gear add to the bike will also add or subtract to your effort. Less weight on the bike means less effort required to move it.
Extreme wind or heat
While temperature does not have the same physical effect as wind, extremes can easily fatigue your body, making a ride feel much harder than it normally would be. Dress in layers and try to avoid riding in the hottest or coldest part of the day.
Hunger and thirst
Don't let hunger and dehydration slow you down. Be sure to eat before you're hungry and drink before you're thirsty.
Duration of tour
It's one thing to average 50-60 miles a day over a long weekend. It's another to put in 50 miles a day for three weeks. The longer the tour, the more endurance you need.
Making it all easier
While you can't shrink the hills, repave the roads or change the weather, there are things you can do to make a tour feel more compatible with your abilities.
First, if you can't decide which tour is right for you, contact our office and connect with one of our Tour Specialists who can help steer you to a tour that will fit your cycling level.
Second, start or continue training. Increasing your cycling experience and overall fitness can only make your bike tour more enjoyable. Follow WomanTours' Training Schedule, or find one on your own. Even as winter approaches, you can make some simple changes to help you keep riding outdoors. If gyms in your area are open and uphold sound Covid-19 prevention protocols that you are comfortable with, consider taking a spinning class. Or bite the bullet as this WomanTours staffer did and put your bike on a trainer inside.
Thirdly, consider renting an e-bike. It's a game-changer for many riders.
Lastly, remember that the hallmark of a WomanTours experience is the full support you receive every single day. Our guides are always available to pick you up if the day's ride is too tough. Celebrate what you accomplished today, and know that tomorrow, you'll be capable of even more.