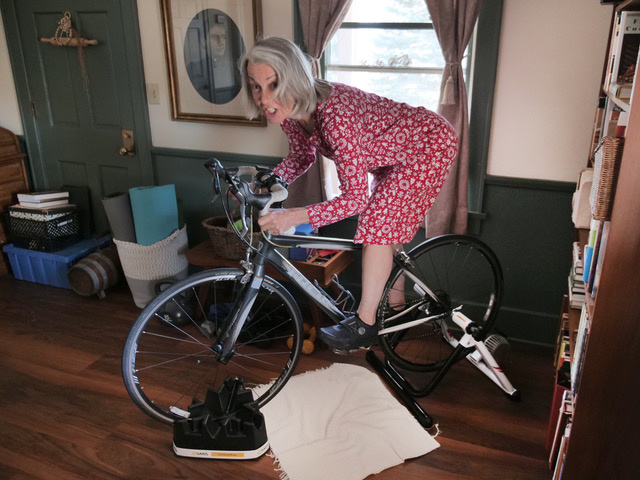 "You are one bike ride away from a good mood."
I'd bet a hundred bucks that when British cyclist Sarah Bentley said those uplifting words, she was not referring to a sesh at a cushy Spinning studio. Or pedaling up a sweaty storm on her rollers. Or banking fitness data points with the Peloton pack.
Because indoor cycling is boring. (I'm looking at you, stationary gym bike with the dragon-slaying gamification.) And deafening. (Decibel blowout sometimes beats calorie burn at Spinning class.) And messy. (Hey there, SoulCycle mate, I didn't mean to toss my sweat-drenched towel over your water bottle.)
Indoor cycling enhances my mood just about as much as a full bladder in a traffic jam. But it does kick my outdoor cycling-loving butt into shape, so I consider it a necessary misery.
In March, as the pandemic locked everyone out of their gyms, I took up a friend's offer to borrow her trainer. Using a trainer at home was a first for me, and I set this one up on my screened-in porch, thinking it would provide me with the best of both worlds: fresh air and dry pedaling. I used it exactly twice before I decided I would rather be riding in the rain and sleet.
Facing winter at its front end, I'm a little more realistic. There are days when even the hardiest winter warrior has to take it indoors in upstate New York. The following diary documents my first week's attempts in making peace with my new foul weather frenemy.
Indoor Cycling Ride #1
I have proudly crushed two cycling chores in one afternoon. My 21-year-old mountain bike has been winterized --- hello new knobby tires and fenders! And my decade-old road bike has been cleaned and attached to the trainer, converting the front corner of my home office into an ad hoc spin studio. I make sure that the computer monitor is visible without neck strain, and I put my favorite coaster on the book shelf next to the bike, for water, coffee, or more mind-numbing beverages.
Hmmm, which bike should I ride today? There's a wind storm brewing, pulling tree branches down like toothpicks, and the power lines are whipping back and forth like trout derby fly fishing lines. I change into shorts and T-shirt, grab some water and trudge over to the trainer, setting a timer for 30 minutes.
Minute 1: Holy crap, how long has that flying dust bunny been hovering under the light fixture?
Minute 2: Maybe I should vacuum instead. Doesn't that count as exercise?
Minute 3: My bulletin board is crooked. I should straighten it. But if I get off the bike now, I won't get back on.
Minute 4: How much time do I have left?
Minute 5: Is my rear wheel going to overheat and catch on fire? Maybe I should get a fan or open the window.
Minute 6: My butt hurts. I'm going to stand up for a bit.
Minute 7: My thighs hurt. I'm going to sit down for a bit.
Minute 8: My brain hurts. How much time do I have left?
Five hours later, the 30 minutes are up.
This is going to be a long winter.
Indoor Cycling Ride #2
Help!
Reflecting on Indoor Cycling Ride #1, it is clear that I cannot be left alone in my own shallow thought pool while sitting on the indoor bike. I could very well drown.
The internet has done right by me before in finding virtual Pilates, strength training and yoga classes. It doesn't take much Googling to find the freebie Spin sampler videos on Studio Sweat, an online subscription option for all kinds of exercise coaching. I take Brian's Half Hour of Power class, abbreviated to just 20 minutes. The disco soundtrack is annoying but the volume button takes care of that. In near silence and with no control panel showing RPM and resistance, I do my best to mimic the drills. One guy has the audacity to leave before the class is over. It takes all my mental strength not to follow suit.
Indoor cycling is a constant reminder that my cat's litter box needs to be cleaned.
Indoor Cycling Ride #3
A new day, a new thought: Maybe a change of scenery would help. Instead of moving the trainer and bike to the dining room, I decide to live on the wild side and log into a 50-minute fat-burning tour of the Italian Alps made expressly for indoor cyclists on a YouTube channel called Indoor Cycling Videos. Yikes! I immediately regret not wearing my helmet, as there is highway-speed traffic and no shoulder. If that Alfa Romeo SUV doesn't send me over the cliff, it will surely grind me into the village church wall. Why do Italians build so close to the road anyway?
It's a relief to catch up to Lady In Aqua Blue Shorts. Though I never see more than her back side, she seems pretty chill about the traffic, even when it is coming head on. I guess she missed the one-way traffic sign, as did I. Thankfully the last 7 kilometers of this 21.5-kilometer ride (metric measurements are an instant ego-inflator, by the way) is on a bike path, though the techno-heavy soundtrack still leaves my nerves on edge.
Silly me. Fifty minutes in the Italian Alps is not at all like a full bladder in a traffic jam. It's more like a full bladder in a traffic jam while wishing you weren't too proud to put on a pair of Depend panties before you got in the car.
Indoor Cycling Ride #4
Up and at 'em early! It's dark outside, so I can't see the first stick-to-the-ground snowfall of the year. Still in my PJs, I trade my slippers for cleated cycling shoes (definitely not an Instagram selfie), feed the cats, pour a cup of coffee and trudge to the trainer.
Just on the other side of the wall, my husband is snoring. I hate to wake him with bad music and the barks of a Spinning drill sergeant, so I decide to tone it down just enough to make sure he doesn't reach the delta sleep bliss point. After all, he still has to make good on his promise to wash last night's dinner dishes before he goes to work.
Doing my best to live in the moment, I steer my attention to the sound of the trainer in motion. It's kind of like the purr of an oversized cat that swallowed a dying lawnmower. Or a dying lawnmower that is running over a yard full of purring cats. Hmmm, perhaps I'm better off focusing my thoughts on the litter box.
I need a happier distraction. Immediately. I start reading the latest issue of Adventure Cyclist magazine, as ironic as that looks. Halfway through the letters to the editor, my husband stumbles into the room.
"Where are you headed?" he asks.
"On the road to nowhere," I mumble after he shuffles to the kitchen.
I force myself to keep reading and pedaling until all the dishes are clean.
It's good to set goals.
Indoor Cycling Ride #5
Years ago when my husband and I just started dating, I posed this question to him: "Who would you rather be stuck on a desert island with? Beatles or Rolling Stones?"
"Stones," he said without a nano-second of hesitation.
Had he answered differently, we would not be married.
Today, I posed a similarly important question to myself: "What Stones album would you rather be stuck on an indoor trainer with for 45 minutes, "Exile on Main St." or "Let It Bleed?"
Nothing makes misery more bearable --- beautiful even --- than a chance to play air guitar with one of the world's greatest guitarists. As Keith Richards says, rock 'n' roll is "music for the neck down."
I flip a coin, knowing there is no wrong answer this time.
Maybe, just maybe, I am one indoor bike ride away from a good mood.