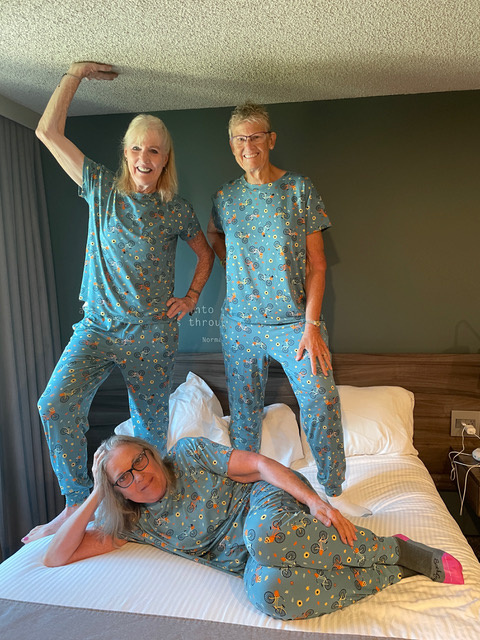 Being a roommate on a bike tour with a friend or someone you don't know (yet) definitely comes with perks. First, it's the most economical way to travel with WomanTours, as you skip the single room upgrade. But perhaps more memorably, it gives you the chance to get to know new people on the tour or strengthen a bond with someone who has been part of your life for a long time.
At WomanTours, we offer two ways for women to share a room on our bike tours. You and a fellow traveler (who might be a friend or relative or someone you befriended on a previous tour) can choose to share a room the entire trip. Or if you are coming solo (which many women do), you can be part of our roommate rotation, where you will be paired with a different roommate each time the group changes lodgings.
"Having the same roommate if you are compatible is easier but rotating has advantages too," writes Shelly N. She has done both.
Regardless of whether you're long-haul roommates or in rotation, there are accommodations both can do to make the experience as enjoyable and stress-free as possible.
"I think it all comes down to flexibility," writes Marge D., a bike touring veteran who, along with Shelly, traveled with WomanTours on the Cross-Country: Southern Tier 2020 (when the Covid pandemic forced everyone home two weeks in) and again in 2022.
Good communication and being prepared are also key.
Here are some aspects of sharing a room where putting these concepts to practice can save the day (and night).
Bike tour overnights: Managing climate control with compromise
Vacation is no place for "the thermostat wars," though from our experience at the WomanTours World Headquarters, we know that women can't all agree on the perfect room temperature. If you tend to get chilled easily, copy Marge's example and bring an extra night shirt in case your roommate likes to run the air conditioner, or ask the front desk for an extra blanket. If you tend to run hot, be ready to sleep with just the sheet covering you and/or take the bed closest to the AC unit.
Possible compromises: Each roommate can name her ideal temperature and then set the thermostat in the middle. Long haul roommates, perhaps alternate the thermostat control so that one of you selects the temperature one night, the other the next.
Bike & bike tour gear: Your stuff/my stuff
Keeping your stuff tidy and "on your side of the fence" goes a long way to good neighborliness. Be sure your bike and luggage won't cause your roommate to trip on the way to the bathroom in the middle of the night, and figure out where you each wants to store or stage her belongings.
Marge and Shelly, who were in the roommate rotation during the short-lived 2020 Southern Tier Tour then opted to be long-haulers when they completed the entire tour in 2022, confirmed early on that one would put her towel and hygiene items on the left side of the bathroom, the other on the right. They also discovered that one of them liked the bed closer to the bathroom while the other wanted to be by the air conditioner, so they naturally gravitated toward choosing those respective beds automatically.
As for shower dibs, Shelly gives this advice: "Always ask before using the shower if the other wants a quick turn in the bathroom first. Don't linger and do things you can finish in the room."
She also believes roommates need to be considerate of how much wet, hand-washed laundry they drape throughout the shared hotel room to dry.
Early birds vs. night owl and other sleepy-time polarities
So one of you hits the pillow by 9 and the other doesn't doze off until the wee hours. One person wants to watch the football playoffs on TV, the other wants to read her book in silence. One snores, the other is so quiet you'd think she's dead.
Technology to the rescue, please. Watching the game on your iPad with ear buds lets your book worm buddy do her thing as well. If you like to read late into the night, bring a small book light or set your iPad or Kindle to a night mode setting, diminishing the disturbing blue light. Silence your phone notifications.
And let's throw in some low-tech, pro-active self-protection in as well. I'm talking about ear plugs and eye shades. Practice wearing them at home so you grow comfortable using them on tour. Be honest about your snoring ahead of time, and consider gifting ear plugs to your roommate(s) as a peace offering. If the spouse calls you after your roomie is snoozing, take the conversation to the lobby or call back in the morning.
Judi W. has had good luck both in rotation and with a single roommate for the duration of the tour. On one tour, she recalls, she had a roommate who was an extremely loud snorer and Judi could not sleep. Others in rotation experienced the same. In this situation, she advises extreme snorers to sign up for a single. "Really, just follow the Golden Rule, treat others as you would be treated," she writes.
We would add to that if you are a very sensitive sleeper who is disturbed by minor snoring or hate ear plugs and eye shades, or if you use a loud CPAP machine, then you too might want to consider a single upgrade.
Lastly, plan ahead. If you wake up early, set your clothes out the night before so you aren't rifling noisily through your bags at 5am while your roommate is deep into her REM cycle.
Marge and Shelly were similarly opposed to TV and on the nights before a ride, they would agree upon on a wake-up time and set the alarm. On layover days, they got up whenever they felt like it.
Choosing a bike tour roommate vs. deciding to rotate
"Shelly and I had done a previous trip to Wisconsin, and realized that we got along fine sharing motel rooms, so figured we could travel again together without problem in the future. On the Southern Tier ride we were both in the room rotation in 2020, and because of Covid we were roommates for the 2022 completion of the trip," recalls Marge. "We never felt the need to do the same activities on the rest days, and often did not."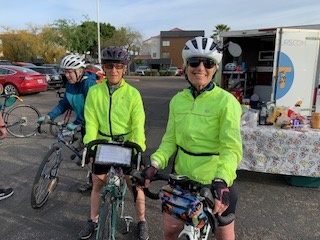 Like Marge (left) and Shelly (right), many guests first meet their future long-haul roommates while being in the roommate rotation.
Some people simply prefer the rotation so they can continue to get to know other people. If there is an odd number of women in rotation, you will eventually get a night or two when you have no roommate at all. And that's not too bad either.