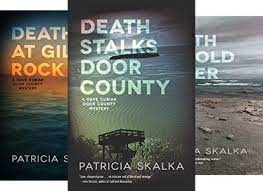 Books to read to get ready for a tour
Preparing for a WomanTours bike tour isn't all about training and packing. Getting into the right mindset is also key, and nothing helps like a really good book to give you a sense of place and spirit. With that in mind, here are reading suggestions for most of our 2023 East Coast Tours.
Florida Forgotten Coast
I Have Been Assigned the Single Bird: A Daughter's Memoir by Susan Cerulean
While caring for her elderly father who suffered from dementia, naturalist/activist/writer Susan Cerulean volunteered to help protect wild birds along the Florida shoreline. This quiet memoir is a meditation on the parallel beauty and vulnerabilities observed when nurturing our own kin and creatures of nature.
Florida Gulf Coast
Sunset Beach by Mary Kay Andrews
Who doesn't love a beach book, especially when there's a dead body involved? New York Times bestselling author Mary Kay Andrews has written both a love letter to her hometown of St. Petersburg and a compelling mystery. The protagonist is a 30-something who returns to the Sunshine City to work for her personal injury attorney father but ends up sleuthing around an unsolved murder that took place at a nearby resort.
GAP and C&O
River, Cross My Heart by Breena Clarke
The Potomac is a hauntingly cruel thief who drowns a young girl near the river's Three Sisters islands. How the child's death resonates in her 1920s Georgetown neighborhood sets the tone for this historic narrative of the African-American experience.
Island Hopper
The Movement of Stars by Amy Brill
Inspired by the life of Maria Mitchell, the first professional female astronomer in the United States, this novel is in essence a love story between two souls – a whaler from the Azores and a young Nantucket Quaker woman – whose passions for celestial knowledge (and eventually, each other) struggle to surpass the twin hurdles of 19th century racism and sexism.
Maine: Acadia National Park
The Bar Harbor Retirement Home for Famous Writers (and Their Muses) by Terri-Lynne DeFino
Reveling in their decades of literary success and lively excess, a posse of retired publishing giants in decline reflects upon their past, and in so doing, create new autobiographies and memories with deeper meaning. A spirited novel about aging, story-telling, self-reflection, redemption and the luck of living out your last day in fabulous scenery.
Ohio to Erie Trail
Buckeye State native Pete Beatty has created a machismo-deflating tall tale of biblical proportion in this river rivalry between two burgeoning Midwest towns: Cleveland on one side of the Cuyahoga, and Ohio City on the other. This satiric prism of 1837 Ohio is told through the rambunctious vernacular of Meed (short for Medium Son), whose life mission is to record the Superman antics of his brother Big Son, a legend in his own mind.
Niagara Falls Pathways
The Whirlpool by Jane Urquhart
If you lived in Niagara Falls, Ontario in the summer of 1889, the local talk would be all about who committed the latest act of idiocy trying to ride over the falls. But the cast of crazed characters in this iconic novel are equally obsessed with other dark, swirling forces: 1812 military history, Victorian poetry and retrieving dead bodies from a raging river. Oh, Canada!
New York: Women's History in Finger Lakes Wine Country
Failure is Impossible: Susan B. Anthony in Her Own Words by Lynn Sherr
Through a careful selection of letters, diary entrees, speeches, scrapbooks and interviews, journalist and biographer Lynn Sherr has curated a far-reaching pipeline to Susan B. Anthony's original and ever-evolving mind. This is essential reading for anyone who wants to embrace the spirit of the pre-19th Amendment times.
Erie Canalway Trail
"I've got an old mule and her name is Sal…" Upstate New York school children have been taught this song, by Tin Pan Alley composer Thomas S. Allen, for generations. Now a picture book cool enough to bequeath to grandkiddies of the TikTok generation will inspire a singalong.
Minnesota: Lake Wobegon Trail
The Sentence by Louise Erdrich
Native American novelist Louise Erdrich takes a short time travel back, to when Covid 19 first struck and the Black Lives Matter movement exploded on city streets. The author and her Minneapolis bookstore are both thinly cloaked characters in this modern ghost story about an ex-con book store clerk who is haunted by a deceased customer.
Wisconsin: Door County
Dave Cubiak Door County Mysteries by Patricia Skalka
Door County is a beautiful place. But the peninsula's natural beauty does not keep the bad guys out, as this series of now seven mystery novels attest. All of them involve an ex-Chicago cop, Dave Cubiak, who flees his troubled past only to get mired in more trouble as he tries to solve crimes that culminate in titles such as Death Stalks Door County and Death Washes Ashore, and Death Rides the Ferry.
Great Allegheny Passage
Meet You in Hell: Andrew Carnegie, Henry Clay Frick, and the Bitter Partnership that Transformed America by Les Standiford
Once friends and business collaborators, steelmaker Andrew Carnegie and King of Coke manufacturer Henry Clay Frick were titans of Pittsburgh, until a falling out over the outcome of the deadly Homestead Steel Strike of 1892 turned them into arch enemies. Their personal war was played out on many battlefields, including rival art collections to monstrous philanthropic missions.
We'd love to hear about your favorite books too! If you have titles to add to this list, let us know about them. Send us an email: karen@womantours.com.