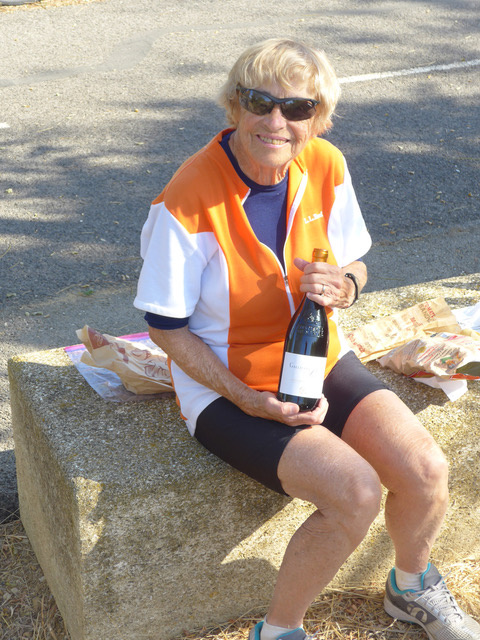 WomanTours has been offering women-only bike tours since 1995. As the company has grown older, so too have some of our guests. That fact doesn't deter many of our longtime guests from touring with us. Just ask Reg of Bath, PA. Since 2004, she has ridden 23 bike tours with WomanTours. At 84, she has no plans on stopping any time soon—and will be joining us this fall for our Death Valley tour. We asked Reg if she would share how she sees age and bicycle travel co-mingling.
How does age affect your decision to do bike tours?
Reg: Age per se doesn't affect my decision about bike tours. But as I got near to 80 I realized that I didn't have the speed and endurance that I used to. So now I look for easy to moderate tours rather than the advanced ones that I used to do. For this year, I'm signed up for Death Valley. I would have loved to sign up for the Selkirk Loop but decided that it would be beyond where I am now. But that doesn't matter as I expect to enjoy Death Valley – a WomanTours trip is more than just the riding. The social aspect is very important and that is a major part of the trip. I remember on one WomanTours trip we were all together eating dinner at a restaurant – and we were having such a good time that the server asked if we were on a high school reunion – she was astonished to hear that we had just met the previous day.
How does biking make you feel about your age?
Reg: Biking is something that I do – it doesn't make me think one way or the other about my age. I haven't sensed that my reaction to the tours has been any different than that of the younger women. Of course, the fact that most of the guests are middle-aged or older means that we all seem quite compatible. Another important thing is that WomanTours trips are not competitive – each rider goes at her own pace, without any pressure to get there "first." A male friend of ours has done several trips on co-ed tours and he has found them competitive – he jokingly asks if I could smuggle him onto a WomanTours trip.
When did you start cycling?
Reg: I have been biking all my life except for a gap between when I went to college and my early 30's. I grew up in Philadelphia, and as a kid my bike was a way to get around, to get to the rec center, to play softball, or whatever. In that era, kids didn't have parents shuttling them around. You got there yourself on bus/trolley/etc. or by bike. But there was a gap after I got a car, went to college, to graduate school, got a job, got married, etc. But in the "bike boom" around 1970 I started biking again. My husband also got a bike. He admits that it was to humor me, but we've been serious bikers ever since.
When did you start taking bike tours?
Reg: My first bike tour was when I was 14, with Girl Scouts. It was a one-week, unsupported, carry-our-own-stuff tour from Boston down the coast to Martha's Vineyard with a couple of days on the island. It was of course before cell phones, just 8 or 10 girls with 2 leaders. We were riding typical 1950's era "girls bikes," mostly single-speed clunkers though I was one of the few with a 3-speed. For panniers we jerry-rigged World War II canvas packs borrowed from the Y. The bikes plus packs probably weighed nearly as much as we did. I did one of these tours with Girl Scouts each summer of high school. What great adventures they were.
As an aside, I should mention that my husband and I have done more than 40 self-planned, unsupported, month-long trips in Europe, mostly France.
As to organized commercial tours, the first one I did as an adult was with WomanTours in 2004. I was absolutely not looking for a commercial bike tour, but there was a 3-fold WomanTours flyer in an order from Terry. I skimmed it out of curiosity and was absolutely taken by the Utah National Parks trip. I was reluctant to jump into a group tour of that length (over 2 weeks) – having visions of riding like a line of ducklings as in my Girl Scout days. So, I decided to try a shorter WomanTours trip to see what it was like – I did the Outer Banks and was absolutely hooked. Yes, I did do the Utah trip the following year, and several times thereafter. I have done at least one WomanTours trip every year since then, except for 2020 when New Mexico was cancelled because of Covid quarantine.
What do you do to prepare for a long bike tour?
Reg: To prepare for a long tour – just miles on the bike. With the weather around here (Pennsylvania), I typically can start in late March or early April and make sure that I get at least 500 miles before I go on any kind of a long tour.
What other kinds of physical activity help get you ready for a bike tour?
Reg: In the winter I go to my local Y a couple of times a week for Silver Sneakers exercise class – I don't think it does anything for my biking but it at least keeps me moving in the winter. And I do a couple of cross-country ski trips to Norway – but I don't know that they do anything to help my biking either, as the first few rides are always difficult in the spring.
What is your philosophy about aging?
Reg: I can't say I have a "philosophy" other than to keep doing what I do. An acquaintance at the Y who is still downhill skiing in her 70s has a T shirt (undoubtedly from a ski area) that says "you don't stop skiing because you get old, you get old because you stop skiing."
What advice would you give other women in their 70s and 80s considering a bike tour?
Reg: Do it! Of course, be sure you're in sufficient condition to handle the tour you have picked. Keep a positive attitude and enjoy being with the others on the tour. Within the first day or so you'll likely find a "riding pal" of similar speed and temperament.