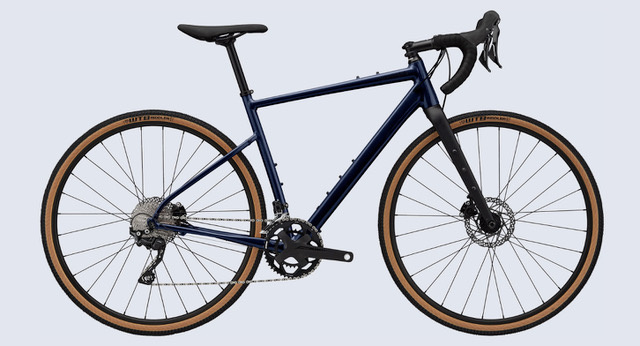 We have some exciting news for women who want to rent a bike while traveling on one of our domestic tours. This spring we acquired some new Cannondale Topstone 2 gravel bikes. These replace most of our Specialized Dolce Sport road bikes.
What's a gravel bike?

Basically, a gravel bike is a road bike with drop handlebars, wider tires and lower gearing. The handlebars give you more choice for hand positioning, which helps when you are cycling lots of miles day after day. The wider tires provide better traction and comfort on a variety of biking terrains: not just gravel roads (as the name suggests), but also city or back road asphalt, unpaved bike trails with grass or crushed stone surface, and boardwalks (a common surface along wetlands and beachfronts). The lower gearing makes it easier to climb hills, which is especially helpful when you are on unpaved surfaces.
Why ride a gravel bike?

Gravel bikes have been growing in popularity in recent years, in large part because of their versatility for both road and bike trail touring. WomanTours opted for this style of bike precisely because of the variety of terrains you'll find on our bike tours. Our Cannondale Topstone 2 gravel/road bikes are available on all our domestic tours. For women cyclists who are very tall or very short, we still have some of our excellent Dolce road bikes for you to ride.
Can I ride a gravel bike on the road?
Absolutely! The Topstone 2s are fantastic road bikes: lightweight, very maneuverable, responsive. For women who prefer road bikes, the Topstone 2s are also a great choice for our tours that are primarily on bike paths.
What are my other rental bike options?

WomanTours also offers hybrid bikes and e-bikes. Check out these options here.