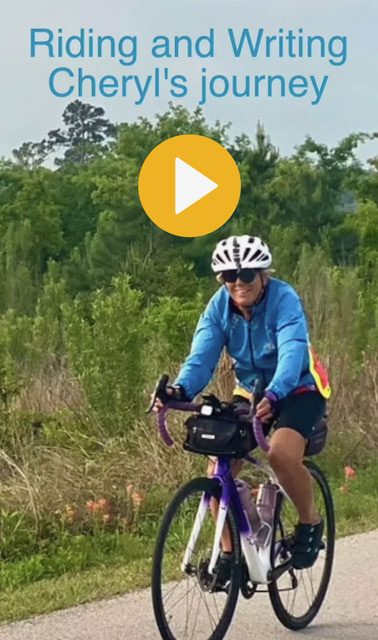 Making memories is one of the most cherished aspects of traveling with WomanTours. Taking photos and shooting videos are two ways to keep those memories intact. So too are blogs and social media posts. But I'd like to make a shout out for the low-tech method of documenting your personal bike tour experiences: the travel journal or diary.
If you are already a regular diarist, then hats off to you. You will probably just keep writing your life story while on a cycling vacation.
But if, like me, you're not that consistent, consider a travel journal dedicated to your upcoming bicycle adventure. Such a journal has a distinct beginning, middle and end, so you aren't making a lifelong commitment.
Bike tour travel journals can be standalone keepsakes, or a very personalized add-on to your other memorabilia, such as photos, social media posts and letters.
Benefits of journaling while traveling
A journal or diary of any kind is always a positive. And this is backed by a number of scientific studies. To state the obvious, journaling on a regular basis boosts memory, writing skills and creativity. What might be less obvious are the therapeutic benefits bestowed upon mental and physical health. Various studies have shown that writing in a diary, even if it's not done daily, can lower blood pressure, improve lung function, reduce depression and increase cognitive processing. Wow.
How to start a travel journal for your bike tour
Getting started is usually the hardest part, especially if you don't have a journaling routine established. Here are some tips that have helped me along the way.
Start early

Getting ready for travel is part of the experience. For example, starting your travel journal when you sign up for a bike tour allows you to record a lot of great information and experiences: useful insights about your destination you learned through research or recommendations from friends, self-motivation to get you going on those training rides, and working through any apprehensions or worries you might have, especially if it's your first time traveling by bike.
Do it daily

Consistency is key. You don't have to spend a ton of time on a travel journal. After all, you want the majority of your time to be devoted to enjoying the bike tour itself. But a few minutes in the morning or before bedtime will set the routine. Think of writing as a form of meditation that keeps you focused in the moment. Because that is exactly what writing is.
Don't let the perfect be the enemy of the good

It's your journal. Don't worry about spelling, incomplete sentences, funky grammar, sloppy hand-writing. The point is to get your point across, and everyone has the innate ability to do so.
Some days you might only have the time or energy to write down something funny that somebody said. Other times you might jot down the strangest thing that happened that day or a poetic description of a lovely streetscape. Or there might have a very strong emotion you need to process, like the frustration felt climbing that monster hill or gratitude that washes over you when getting into that warm hotel shower. Maybe the day can best be summed up in a haiku, just 17 little syllables.
Suffering from writer's block?
Pretend you're writing a letter to a friend or family member. As soon as you know your "audience," the words tend to flow. There's also nothing wrong with writing lists with headings such as Need to Do, Don't Forget, Ask About, I Wonder If, or What My Dead Dad Would Like About This Place.
In short, there is no format you have to follow every time, no rules, no expectations. Just show up and write each day for a few minutes.
Find the right notebook and pen
Find the writing tools that you like and feel most comfortable with. If it's a leather-bound tome with handmade paper, splurge! If it's the back of a napkin, write on! For decades, my go-to journal has been the 100-sheet/9.75-inch-by-7.5-inch Lined Composition Notebook. I can find them just about everywhere (office supply stores, grocery stores, drug stores, dollar stores), they are inexpensive, lightweight and fit into a zip-lock back that I put in a backpack or pannier. Later on, they stack neatly on my bookshelves. As far as pens go, I'm ruthlessly indifferent. As long as it works, I work with it.
Accessorize as much or as little as you want
Even if you think you're a terrible artist, don't be afraid to doodle in your journal. I guarantee you will crack yourself up later with your pen-scratchings. It's also fun to staple in a ticket stub, or Scotch tape an empty sugar packet or paperclip a brochure. Journals can easily do double duty as scrapbooks.
Wise words from a prolific bike tour diarist
Longtime WomanTours rider Cheryl of Bluffton, SC (pictured below) is on her final leg of our 2023 Southern Tier Tour, and has been keeping a handwritten diary describing each day's ride. Then she posts a page on Facebook to share her adventures with friends and family. I asked Cheryl via email why she decided to keep a hand-written journal for this tour. And here is what she wrote:
I have used this journal (which was a gift for this trip) since arriving to San Diego. I found that instead of rewriting over and over again, my journal entry has allowed me to communicate easier and faster to many. Why a journal? Just to help me remember on a daily basis where I have been, what I have accomplished and what I have seen. This ride has been an incredible experience for me, pushing myself to accomplish a goal I have wanted for many years as well as making 25 new friends. I am very blessed to be doing this with such a great group of Gals!
Watch this video to hear of some of Cheryl's journal entries narrated. I'm sure you'll agree that she is nothing short of awesome and inspiring. Thanks, Cheryl!