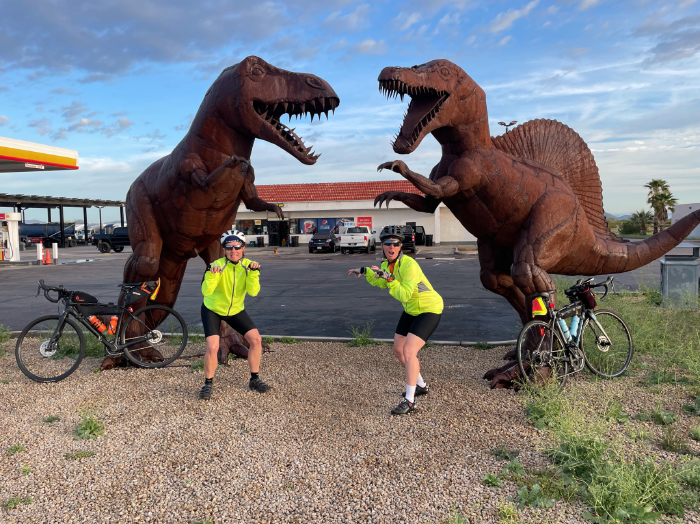 Our Cross-Country: Southern Tier Epic Tour started March 8 in San Diego with 26 cyclists and three guides. If you want to keep tabs on the group's progress, then check out these blogs.
Taking the Swedish view
It's always interesting to learn how people from other countries experience the United States. Elisabet O. from Stockholm, Sweden is giving us her view here. Spoiler alert: Mileage is in "kilometerage!"
And then there's the dinner menu
Carole M. and Cristine Z. from Las Vegas, NV give us not just a lot of fun pictures (like the one with the dinosaurs above), but also the down and dirty details, from daily mileage and elevation to the most important fact of all: what the chef cooks for dinner. The couple are also fundraising for the Crohn's and Colitis Foundation and have a link for donations from their blog site.
Testing her mettle
Laura A. from Sarles, ND doesn't hold back. Hills are hard. Chain mishaps are annoying. Rest days are good. But most importantly, "Every day just gets better and better," she says in her blog. Write on, sister.
Dream-Plan-Act
Monica S. from Middletown, OH starts her blog long before the tour, when the idea of riding across the country was still a dream. She had a bike built especially for the occasion. We like her sense of vision and planning.
These Southern Tier riders are scheduled to arrive in St. Augustine, FL on May 3. We wish them miles of smiles and tailwinds to all!