Italy: Bike and Barge - Mantua to Venice
8 Day Barge Tour
Tour Information
Date:
10/12/24 - 10/19/24
This was the first Bike and Barge tour we offered because it's one of our most favorite places in the world – Italy. Bike all day, dine all evening and sleep in our own private barge at night. The cycling is flat and the scenery is stunning as we travel from Mantua to one of the most beautiful cities in the world - Venice.
Almost Sold Out
The tour is guaranteed and has only one or a couple spaces left.

Leisurely
Flat terrain on paved bike paths and roads along rivers and canals. Leisurely cycling level.
7 nights lodging, 7 breakfasts, 6 sack lunches, 6 dinners, cue sheets and maps, rental hybrid bicycle, cheese tasting, shuttle from Zelo to Adria, guided walking tour in Mantua, and trained bilingual guides.
Step-thru hybrid bike included.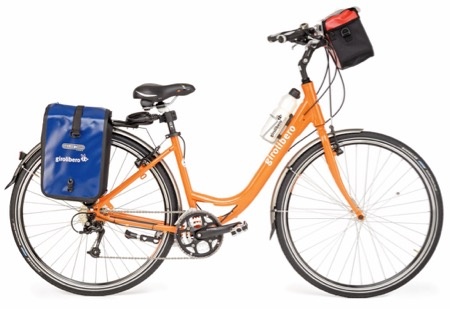 Electric-assist e-bike available for $250.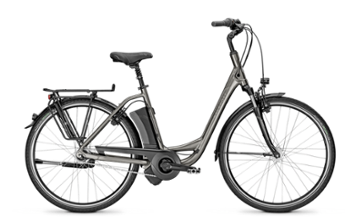 Our barge, the Vita Pugna, has 10 air-conditioned cabins and holds 20 people. Each room has two twin beds and its own bathroom.
Fly in and out of Venice, Milan, Verona, or Bergamo, Italy and use the train to get to the starting and ending points of the tour.
"I couldn't have imagined how wonderful this trip would be. The sights, accommodations, leaders, boat crew (Lucianio, Vera and Sylvia) made this trip one I will never forget."
Tour Itinerary
DAY 1: We meet at 6:30pm onboard our boat, the Vita Pugna, docked in Mantua, Italy. Our home away from home holds 20 guests. Each room has two beds and its own bathroom. After introductions to the crew and an orientation, we'll enjoy our first dinner together on the barge. 0 miles.
DAY 2: In the morning, we'll enjoy breakfast on the boat and then be fitted with our bicycles. We'll spend the day discovering the gem that is Mantua, first on our bikes and then with a guided walking tour. Once a city-state ruled by the Gonzaga family, its center-city was declared a UNESCO World Heritage Site for its beautiful Renaissance architecture. We'll explore the three man-made lakes built centuries ago that surround the city like a moat. Then we'll explore the narrow lanes that wind through the town center. We'll return to our barge for dinner. 20 miles ±365'.
DAY 3: We'll begin our day with a short cruise down the Mincio River to the town of Governolo. From there, we'll begin our cycling along the Po River through the charming small riverside towns of Libiola and Ostiglia. The Po is the longest river in Italy and winds its way to the Adriatic Sea through a delta near Venice, where we are headed.
We'll stop to visit the National Museum of Carousels and Entertainment in Bergantino. Its fascinating collection not only documents the history of amusement parks but also explores the human need for escape and entertainment. After a cheese tasting of the local Grana Padano, we'll finish our cycling in Zelo, on the Canale Bianco, and head back to our barge for the evening. 28 miles +401'/-378'.
DAY 4: Today, we cycle to Ferrara, the bicycling capital of Italy. Bikes are everywhere. The town is also a UNESCO World Heritage Site. It still has 500-year-old walls surrounding it, which have been transformed into a beautiful linear park. You can't miss the 14th century moated medieval castle in the center of town. Then we'll shuttle to Adria, which was connected to the Adriatic Sea and an ancient Greek port. A local museum highlights the town's Etruscan, Roman and Venetian heritage. 34 miles ±368'.
DAY 5: We start our day by motoring down the Po River a short distance to the town of Porto Viro. Then we hop on our bicycles to explore the Po Delta, yet another UNESCO World Heritage Site. The Po Delta is a protected area and one of the most biodiverse in Europe. Keep your eyes peeled for some of the 300 species of birds here, such as ibis, grebes, herons, and pink flamingos.
We'll then follow the Adige River waterway to the Venetian lagoon where we'll stop in the bustling fishing town of Chioggia for our overnight. Situated on the coast just south of Venice, it has small canals, stone-arched bridges and narrow alleys, earning it the title of "Little Venice." 27 miles ±454'.
DAY 6: We ride north along Pellestrina Island, a humble and tranquil fishing community dotted with cottages, boats and nets. After a short island hop by ferry, we land on the island of Lido, site of the famous International Venice Film Festival and its galaxy of celebrities. We also visit a historic glass factory on the island of Murano. Finally a relaxing cruise in front of St. Mark's Square takes us to our night's destination: Venice's serene Giudecca Island. Dinner is on your own tonight. 15 miles ±389.
DAY 7: Today is the day to explore the Island of Venice at your own pace. It was once the capital of the ancient Serenissima Republic of Venice and ruled over much of the Mediterranean. Today it's one of the most romantic cities in the world, and an easy one to get lost in. You can spend the afternoon exploring this unique place on your own before returning to the barge for our last dinner together. 0 miles.
DAY 8: We say our good-byes after breakfast this morning. You are free to travel to the Venice airport or train station for your return home. Ciao! 0 miles.