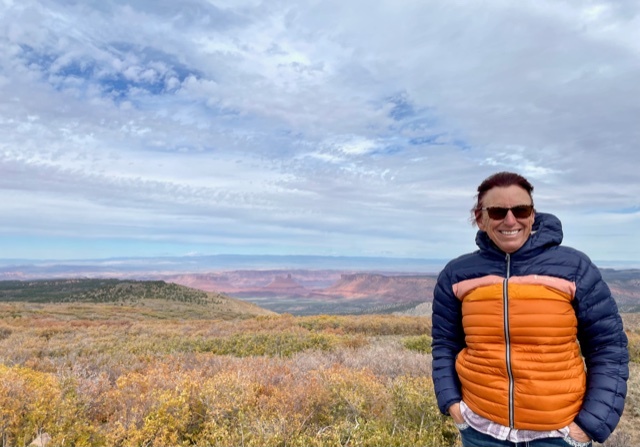 Patient. Caring. Great chef. Fun gal. Quintessentially competent human being. Absolutely the best.
Those are just a few of the words and phrases WomanTours guests have used over the years to describe Tour Leader Patty Jackson, who, after 22 seasons of cooking meals, driving the van and trailer, leading map meetings, and making sure cyclists on her watch stay safe, happy and well-fed, has decided to retire. Her last WomanTours rodeo was the Idaho Greenways tour Aug. 29-Sept. 3.
"I knew it was time, but it was still a hard decision," says Patty.
Patty's first trek on the WomanTours circuit was back in 2000, cooking for the riders on the three-month-long TransAmerica cross-country tour.
"It was such a different time back then. There was no Ride with GPS, no cell phones. Somehow we ended up where we were supposed to be."
Patty came to WomanTours with plenty of culinary smarts, having already spent many years in the restaurant industry in Seattle, Idaho and eventually, Utah. She also was savvy about outdoor adventure travel, having guided and cooked for backpacking, horseback riding and dog sledding outfitters.
Cross-country touring was more primitive in those days, and early WomanTours cyclists often camped at state parks or church camps, Patty recalls. When Jackie Marchand took over the company in 2004, hotels became the norm. Within a few more years, smartphones and GPS were ubiquitous. WomanTours guests have not only grown accustomed to these comforts and conveniences, they expect them, notes Patty. And they've made her job easier.
Some of the qualities that have made Patty such a beloved guide is the empathy, strength and resilience she has shared with guests. Those traits were hard-earned. In 2008, Patty lost her sister. A year later, her husband's deep depression led to suicide.
"I have had a lot of things not go well in my life. So when I see guests (struggling through a loss or hardship), I understand what they are going through. I think I am patient and deal with it well. I try to be understanding and listen when they have something to say. A lot of them do," says Patty.
Last year Patty's mother died. Patty was also in a horseback riding accident that shattered her left ankle and broke her lower back and several ribs. While she has made a remarkable recovery and is back in the saddle (on her horse and on her bike), the veteran tour guide admits that, "after my accident, it's just not the same. Hoisting those e-bikes, my back just can't take it."
Retirement will be busy. Happily remarried, Patty and her husband Mike will be channeling their energy on several projects around their home near Moab, Utah. And they have a lot of four-legged creatures who depend on them: two dogs (Bob Barker and Redman), three cats (Rudy, Cajun and Fred), and four horses (BJ, Andi, Voodoo and Dakota).
And Patty hopes to stay connected with WomanTours by helping out here and there when she can.
"I have been to some amazing places and met some amazing women who have been very inspirational and who have shown me that age is just a number. … I have been lucky enough to have worked with some of the best guides in the business," says Patty.
The WomanTours office staff and guides know we are not alone in feeling gratitude for all Patty's hard work and wishing her all the best in her next chapter.
"I knew when I purchased WomanTours in 2004 that the guides helped make the company special. I held my breath that guides like Patty would stay on. I knew I couldn't do it without them. I've learned a lot from watching Patty over the years and I will miss her wisdom, her stories and her laughter," says President Jackie Marchand.
"I always looked forward to working with Patty, and would check my schedule every winter to see if we got a couple of tours together. I remember when we finally met in 2006. I was a little intimidated to meet the legend. When we finally started working together that next year, it was awesome. We always had fun, no matter the challenges we faced, and Patty met every one of them like a champion. She could whip up dinner for 30 in the eye of a hurricane, running out of propane halfway through; she's an ace bike mechanic, and has the uncanny ability to deal with every emergency with grace and strong leadership, and with a sense if humor all her own that I have always appreciated. She will be missed!" says longtime WomanTours Guide Michelle Slusher.