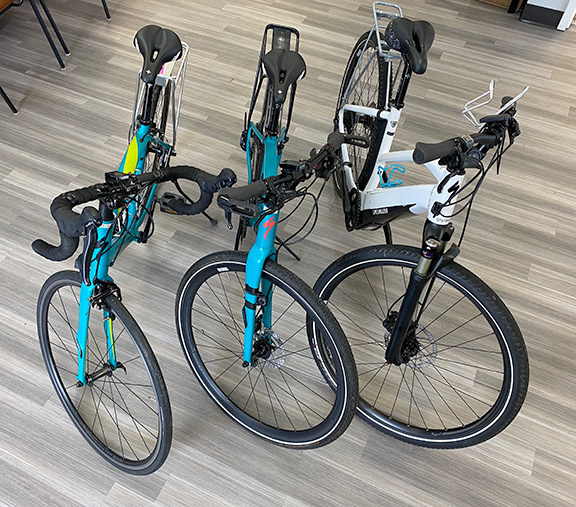 For most WomanTours domestic excursions, you have a choice of bringing your own bike or renting one from us. Unless you are driving to the start of a tour, most guests find that renting one from us is most convenient. Here is just about everything you need to know about renting a bike from WomanTours.
Type of rental bikes
We have three styles of bikes in our rental fleet. All of them are made by Specialized, and all of them have a women-specific build.
Our road bikes have racing-style drop handlebars. Most of our road bikes have 25mm tires, which are ideal for road cycling. We have a limited number of road bikes that have wider tires, making them appropriate for our trail tours where you might encounter unpaved bike paths. The rental cost is $195. Let us know if you're interested in one of these bikes.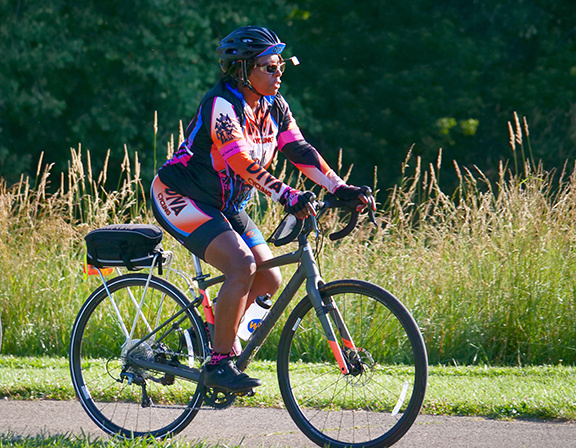 Our hybrid bikes have straight handlebars and allow you to sit a bit more upright. The tires are 30mm, a bit wider than a typical road bike. These bikes are ideal for bike paths and trails where you might encounter unpaved surfaces such as crushed limestone. But they are also fine for road riding. We have a few hybrids that have a step-through frame (so you don't have to swing your leg over the rear tire to mount the bike). Let us know if you would like one of these. The rental cost for all hybrids is $195.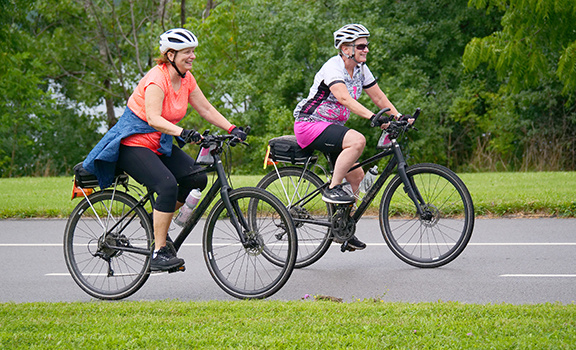 Our e-bikes, or electric-assist bikes, have straight handlebars for a more upright sitting position. They have three levels of pedal assist, but can also be ridden with no pedal assist at all. They also have 9 gears. The tires are 50mm so can easily handle roads and paths. WomanTours has a limited number of e-bikes that it can support on each tour. E-bikes are significantly heavier than our road and hybrid bikes, making them impractical to transport on our van's roof rack. If you want an e-bike for a tour, we encourage you to register early. The rental cost is $295.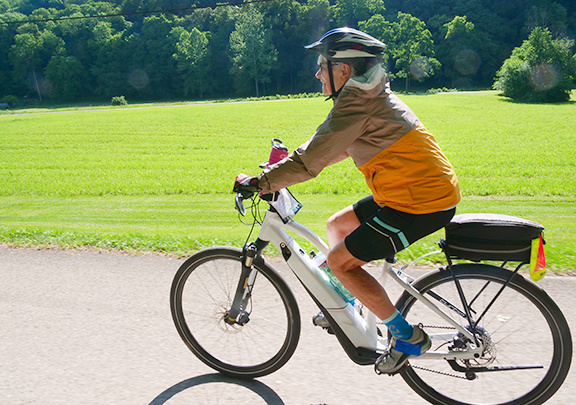 Changing your mind about the type of bike you like
Please note that if you want to change the type of bike you are renting, the earlier we receive your request the better. Our guides often must transport rental bikes from our storage areas weeks before a tour starts. Once they are en route to a tour, they do not have time in their schedule to drive back and retrieve a different bike.
What's included
All of our rental bikes are equipped with the following:
Two water bottle cages
One WomanTours water bottle
Rear rack with trunk bag that is large enough to carry wallet, snacks, jacket
Bike computer to track mileage and speed
Tube in case you get a flat tire
Flat pedals, with limited selection of toe cage pedals (You are always welcome to bring your own pedals if you prefer them—guides will assist in putting them on.)
Variety of saddle options—guests can also bring their own saddles and the guide will assist in putting it on
Kickstand—because it's not always possible to lean your bike against a tree or wall
Additionally, WomanTours gives all guests a reflective safety triangle and a map holder that attaches to the handlebars (with viewing window that measures 8 inches by 6 inches). Guests keep the triangles but return the map holders at the end of the tour.
What's not included
Mirror—we recommend you bring your own, preferably the type that mounts to your glasses or helmet or arm
Phone holder—you can bring your own and guides can assist in mounting it to the rental bike handlebars
Clipless pedals—you can bring your own and guides can assist in putting them on the bike
Front handlebar bag or saddle bag—most riders don't need these but if you would like to use them, by all means bring your own
Helmet—we require that you bring your own
Limited supply
Each tour has a limited supply of the following items, so guests share them with each other or bring their own:
Bike locks—We have enough for guests to share, but if you tend to ride solo, we recommend bringing your own
Portable tire pump—bring your own or share with another guest if you're bringing your own bike. These portable pumps will get enough air in your tire until the next SAG stop, when a more powerful floor pump is available to fully inflate the tube.
Knowing your size
If you are renting a bike from us for the first time, we will ask for your height and inseam (the measurement from your crotch to the floor when barefoot) so we can assign you the correct size bike.
Rental bike fitting
At the beginning of each tour, we set time aside to show you the ins and outs of your rental bike, make adjustments to the saddle and handlebars so your cycling will be most comfortable and efficient, and show you how to change gears and use the brakes. If you are renting an e-bike, we will show you how to use the pedal-assist. Please come to your rental bike fitting wearing your helmet and biking shoes.
Want to bone up on how to change gears before the fitting? Watch this video by our bike wrangler Annette Lein.
The guides can make adjustments to your bike throughout the tour if you find it's not comfortable after the fitting. Be sure to let them know as soon as possible if an adjustment is needed.
Mechanical issues
Our guides are knowledgeable in making minor repairs and adjustments to our rental bikes and carry all the tools and supplies to do so in our support vehicle. For major repairs, they will take the bike to a professional mechanic. It is helpful to let guides know as soon as possible if there is a mechanical issue with your bikes. It's always a good idea before each day's ride to make sure your bike has properly inflated tires, that the wheels spin smoothly and evenly, that the brakes, crank arms and pedals are working properly and that the chain is lubricated and moving smoothly. Don't struggle with a bike that isn't working or fitting properly - let us know as soon as possible!
International and epic cross-country tours
WomanTours does not offer rental bikes for our cross-country tours. You are expected to bring your own. We do, however offer information to help you get your bike to and from the tour.
We do not recommend bringing your own bike for our international tours. The price of these tours already includes the cost of a rental bike (with an upcharge if you prefer an e-bike).
Taking good care
We love our rental bike fleet and take great pains to make sure our bikes are clean, safe and in the best working order before every single tour. We trust you'll treat these bikes with the same care and respect as if they were your own. Riding safely and paying attention to your bike will go a long way in making sure your rental bike serves you well on tour.