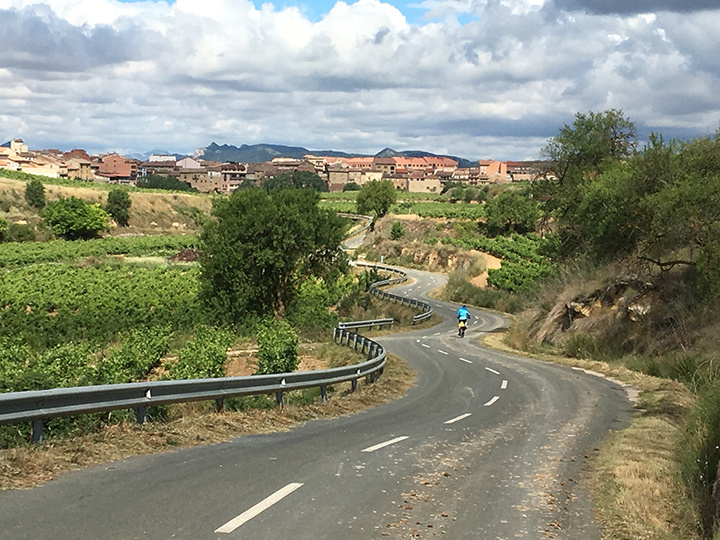 WomanTours offers dozens of bicycle tours each year. But only one of those tours, Spain: Camino de Santiago, (Sept. 18-25, 2022) doubles as one of the world's great pilgrimages.
Camino de Santiago, also known as the Way of St. James, is a collection of walking paths that historically brought believers from different corners of Europe to Santiago de Compostela, a small town in northwestern Spain's Galicia region where the relics of St. James the Apostle are said to be buried. Centuries after these routes were first traveled, they are still in use today.
You don't have to be Christian to find Camino de Santiago a moving and inspiring journey. Each year, thousands of modern pilgrims from all walks of life and all corners of the globe hike or cycle the paths each year for a multitude of reasons: spiritual fulfillment, cultural and historical awareness, athletic challenge, outdoors appreciation.
How did James, one of Christ's 12 disciples, become Spain's patron saint? The son of a Galilee fisherman, James did spread the gospel in Galicia after Christ's death. He traveled back to Jerusalem, where he was martyred in a gruesome beheading. Legend has it that his remains were shipped back to Spain where they were buried. The grave was forgotten until the early 9th Century, when a local hermit had a vision about the saint's tomb. A cathedral was built at the site, and a shrine was born.
Through the next several centuries, Christians traveled by foot for hundreds of miles to pray at the tomb of St. James. The trek itself is believed to be as relevant to the pilgrim's spiritual rejuvenation as the destination itself, a time to atone for sins and strengthen their faith through struggle. A white scallop shell worn on the traveler's clothing became the reigning symbol of this pilgrimage, with the lines of the shell all leading to the same place, just as the many paths of Camino de Santiago lead to St. James.
With the coming of the Protestant Reformation and Age of Enlightenment, the popularity of the pilgrimage declined but never quite died out. Fast forward to the 20th century when a Spanish priest named Elias Valifia Sampedro helped lay the groundwork for Camino de Santiago's current popularity, drawing maps, painting trail markers and writing guidebooks through the 1960s-1980s. By 1987, the Camino de Santiago was granted status as the Council of Europe's first official Cultural Route.
"It was an incredible experience," says Patricia S. of Minneapolis, MN, after she traveled with us along the Camino.
"(Guides) were very informative about history and points of interest along the way," says Candace A. of Traverse City, MI.
WomanTours still has openings for this tour, which runs Sept. 18-25, 2022, and we would love to have you join us. You can sign up here.
This year promises to be an extra-special time to embrace the experience. The 2021 Camino Holy Year Celebration, also called Ano Xacobeo, has been extended to 2022 due to the pandemic. The Holy Year marks when the July 25 Feast of St. James holiday falls on a Sunday (which it did in 2021). Those who wish to enter the Cathedral of Santiago de Compostela through the special Holy Door will be able to do so this year.