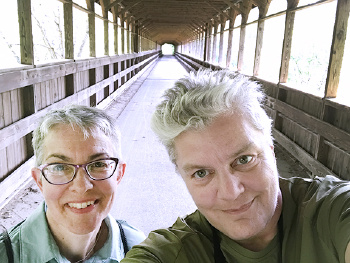 What is vacation, and more specifically, a bicycle vacation, if not an excuse to take pictures, and lots of them? In fact, my inner statistician estimates that 95% of all the photos I have shot over the past two decades have been taken while riding my bike. You see the world in a different way on two wheels.
Unlike my talented colleague Annette Lein, most of us who travel by bike are not professional photographers. In fact, statistics suggest that most of us don't even own actual cameras anymore. InfoTrends, a company that analyzes imaging trends for the global marketplace, estimates that 85% of the 1.2 trillion photos taken in 2017 were shot with a smartphone. Digital cameras, whose sales have dropped a precipitous 84% since 2010, account for only 10.3% of all photographs from 2017.
The argument for smartphone-only travel photography is compelling: it's lightweight, compact, easy to use, and you are going to travel with it anyway. Mobile photography vanguard Chase Jarvis puts it this way: "The best camera is the one that's with you."
You don't have to be a camera pro -- or even a spirited amateur -- to make the most of your smartphone camera. I'm certainly neither. But my pictures have improved over the years by learning a few fundamental skills. None involved upgrading my phone with special apps, lenses or stands, or taking any formal photography lessons. Here are the 12 lessons that have helped me the most.
And if you would like to learn some even smarter tips from a professional photographer, read on. My talented colleague Annette Lein follows up my basic pointers with her own savvy habits for capturing amazing images.
Karen's 12 Smartphone Tips
Tip1: Keep your phone handy.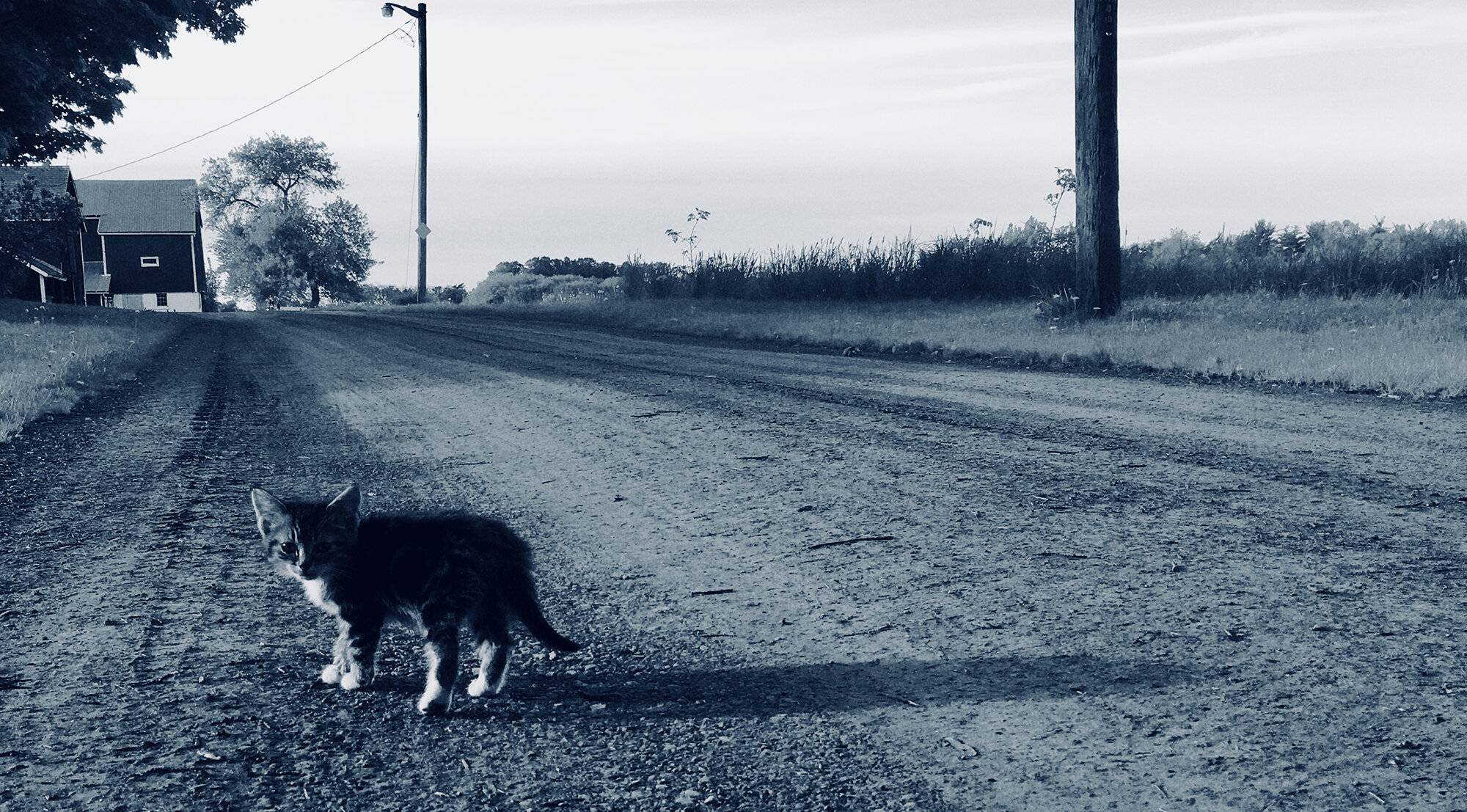 You never know when the perfect moment will happen. I keep my iPhone in my back jersey pocket so I can get at it quickly. I also learned how to quickly open up the camera app: hit the home button once and swipe from right to left. (For Samsung phones, be sure to enable Quick Launch in your settings. Then from the lock screen you can tap and swipe the icon on the bottom of the screen. From the home screen, just double tap the home key. Don't have a home key? Double press the power key.)
Being able to grab my phone and open up the camera quickly enabled me to steal this picture of a skittish little country kitten. Seconds after I took it, she disappeared into the field.
Tip 2: Let your eyes wander - safely.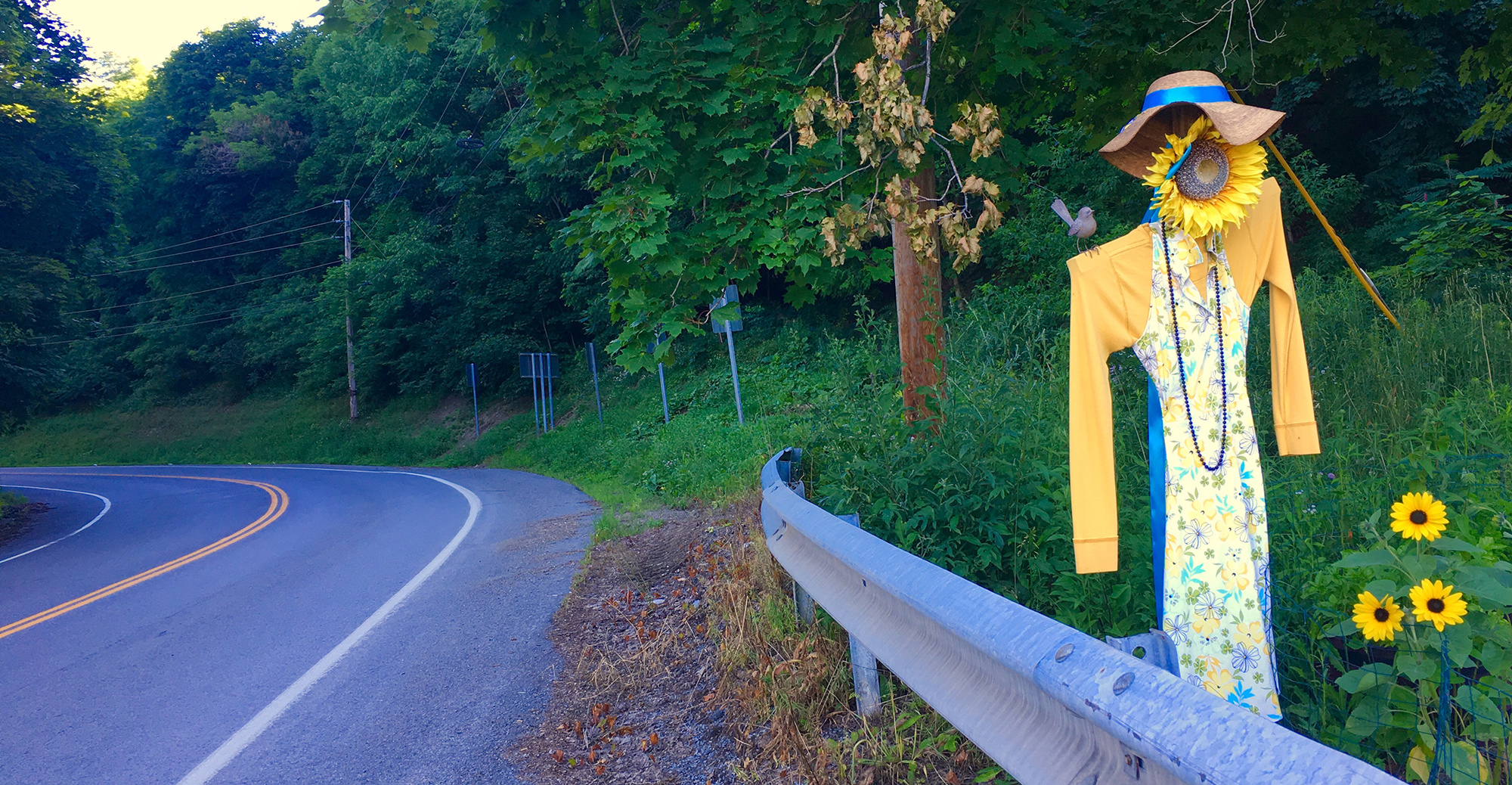 While safety is your very first priority, there is a way to let your eyes roam the landscape so you can spot potential subjects that you otherwise miss. This typically means cutting down on speed. I'm A-Okay with that tradeoff, because I love a cool photo as much as a great bike ride. The day I snapped this fashionable photo, I had no intention of taking this road, but I caught a flash of yellow out of the corner of my eye and decided to take a detour. I am so glad that I did, as I appreciate anyone who likes to dress up my ride!
Tip 3: Follow the rule of thirds.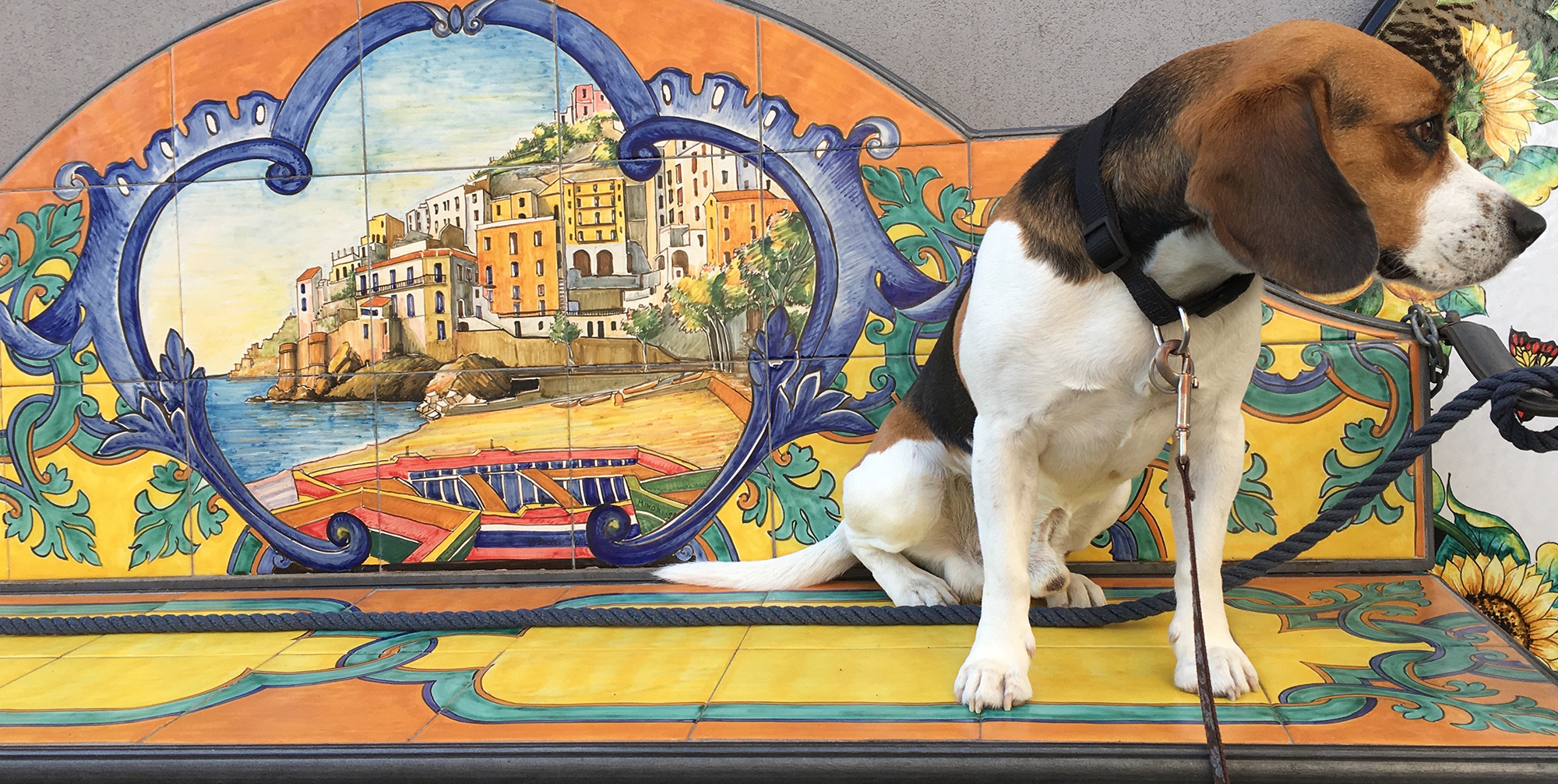 No matter what technology you are using, the most tried and true method for composing a good picture is to follow the rule of thirds. That rule states that you don't put your main subject in the smack-dab center of your picture. Instead, imagine a tic-tac-toe grid as you look through the camera and align your subject in one of the four intersections where your two vertical and two horizontal lines meet.
The rule of thirds works because it gives the eye a place to go, preventing the image from feeling static. You can easily set up this grid in your iPhone in your camera settings by turning on the grid feature. Or after you take the shot, you can crop your photo to place your subject in such a way that the eye will more naturally be drawn to it.
This adorable beagle had no interest in smiling for the camera. Instead, I am guessing he was looking for his owner.
Tip 4: Celebrate symmetry.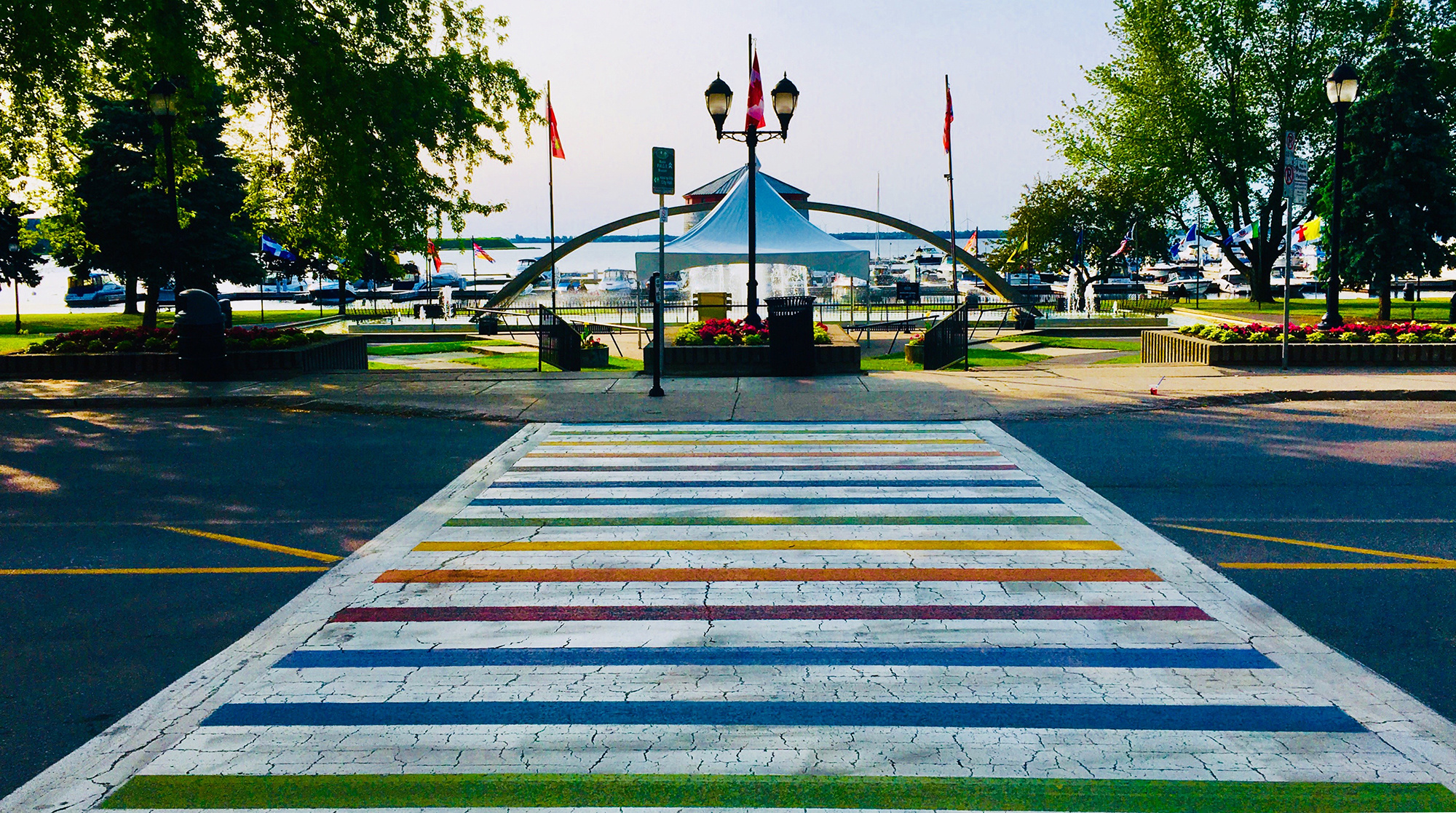 Of course, rules are occasionally worth breaking, and this is especially true when you find an image that boasts beautiful symmetry. I love how the city of Kingston, Ontario, decked out its downtown during Pride Month. I tried the shot from a couple different angles, but found that the colorful crosswalk looked best when it was featured precisely front and center.
Tip 5: Take a break from Technicolor.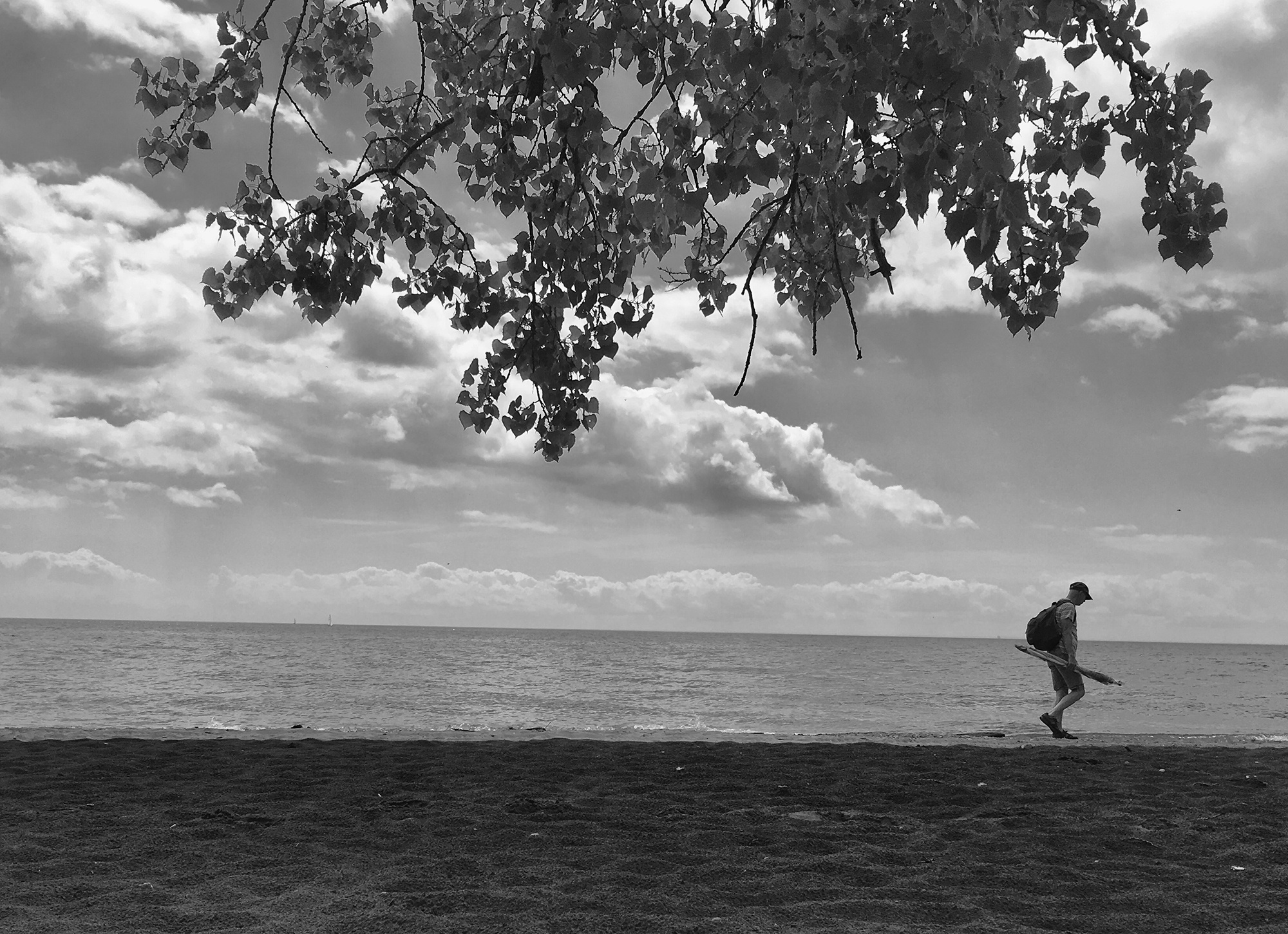 While color is fun, sometimes black and white can pump up the drama. I originally shot this beachcomber in color, but the easy-to-use editing tools on my cameraphone allowed me to make a more compelling B&W version.
Tip 6: Look for the signs.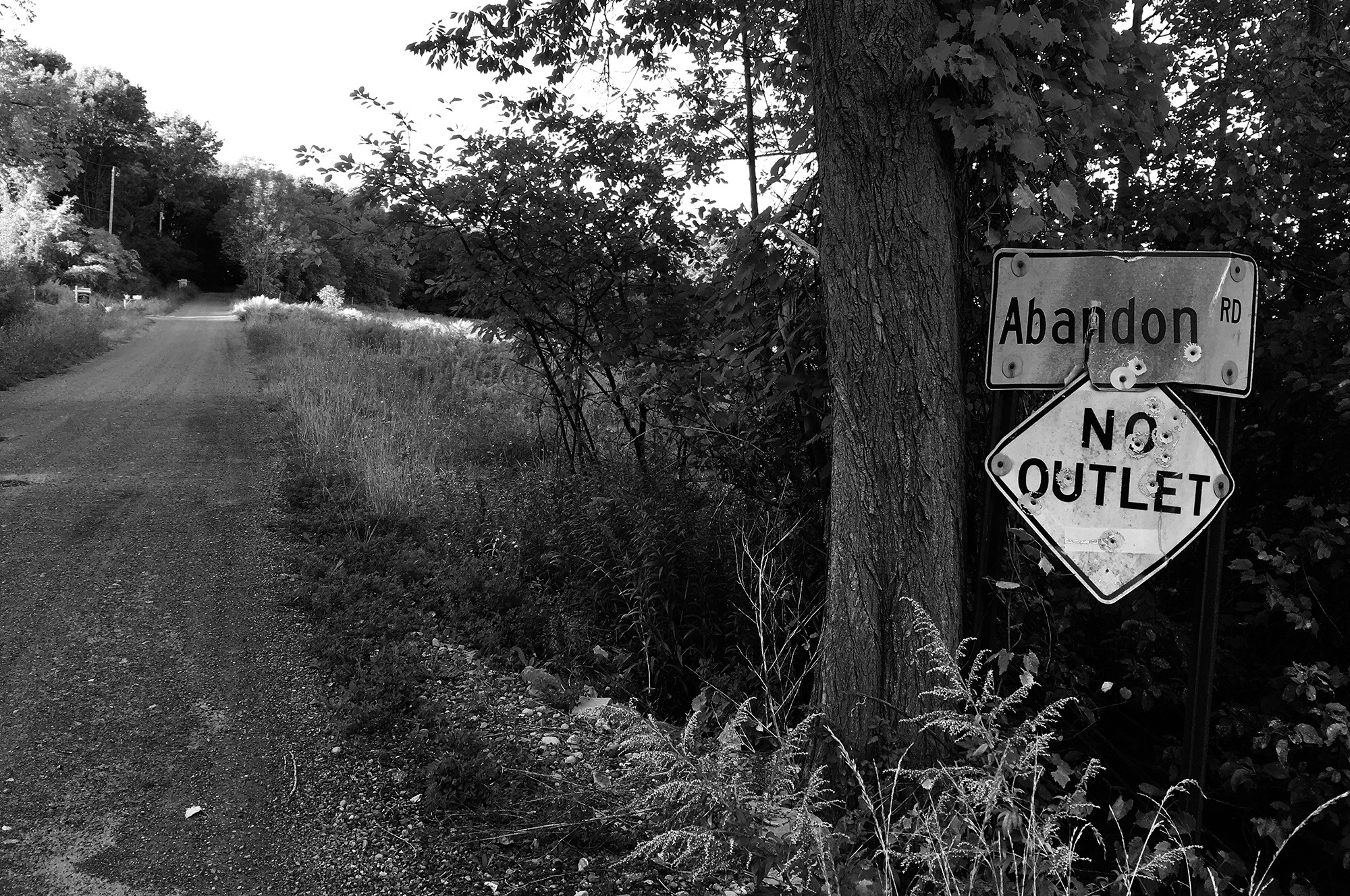 Roads with interesting names, historic markers, mailboxes, billboards, political posters and other road signs are all fabulous fodder for interesting photos. Plus, these pics are shorthand for details I might want to add to my travel diary or letters home. I hate scary movies, but wandering onto this dead end dirt road gave me thrills and chills. (Note the bullet holes in the signage. So glad I wasn't around for target practice!)
Tip 7: Sweep the landscape.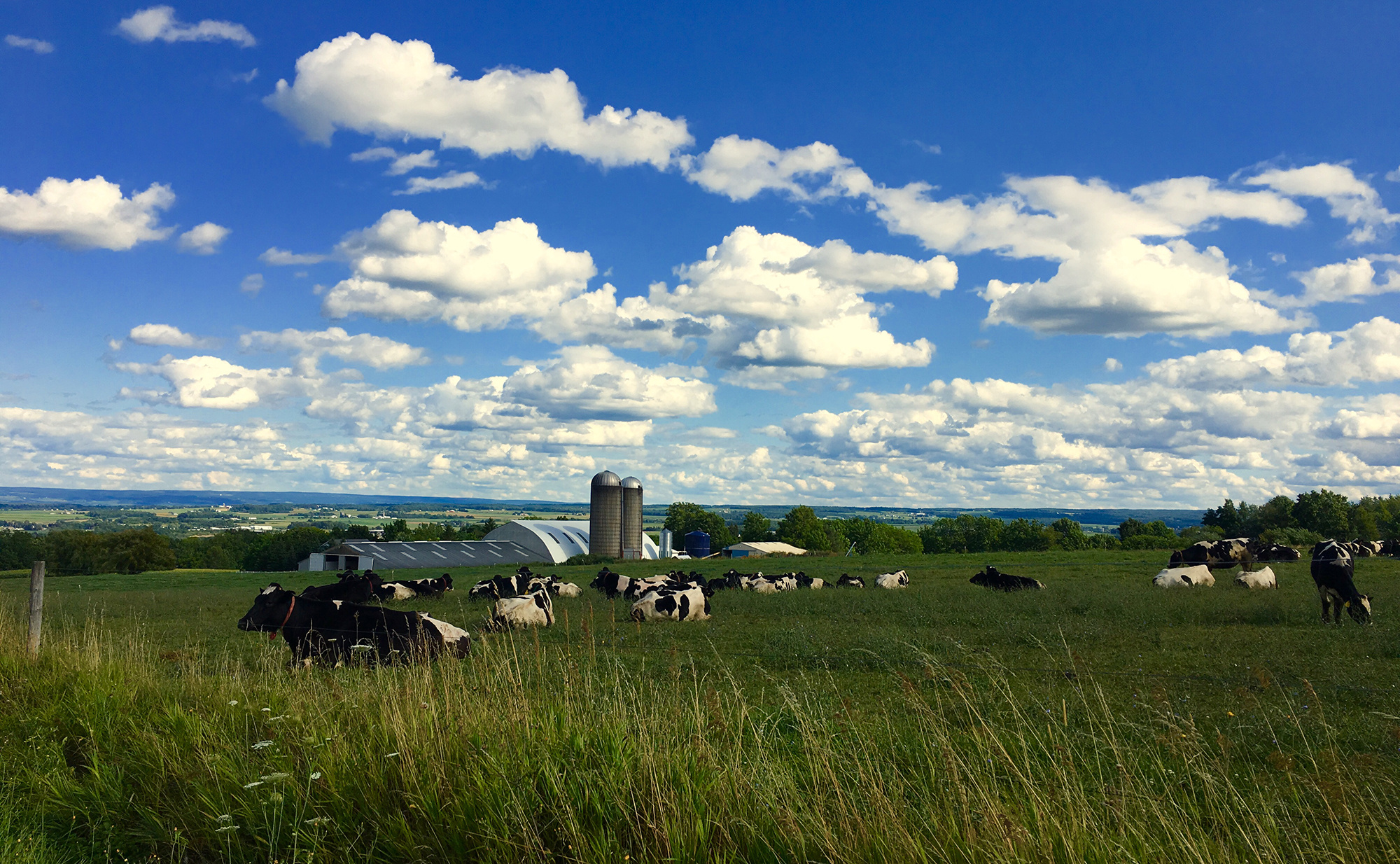 A good landscape is hard to capture with a cameraphone, but composing the photo with a little extra attention can go a long way. In this bucolic scene, I deliberately wanted to hold onto three layers of focus: the grass and cows in the foreground, the barn and silos in midground, and the faraway fields and hills in the background. Connecting them all together are the puffy clouds and blue sky. How did I keep all these layers crisp, bright? I used the HDR (High Dynamic Range) button that comes with my iPhone's camera app.
Tip 8: Get up close and personal.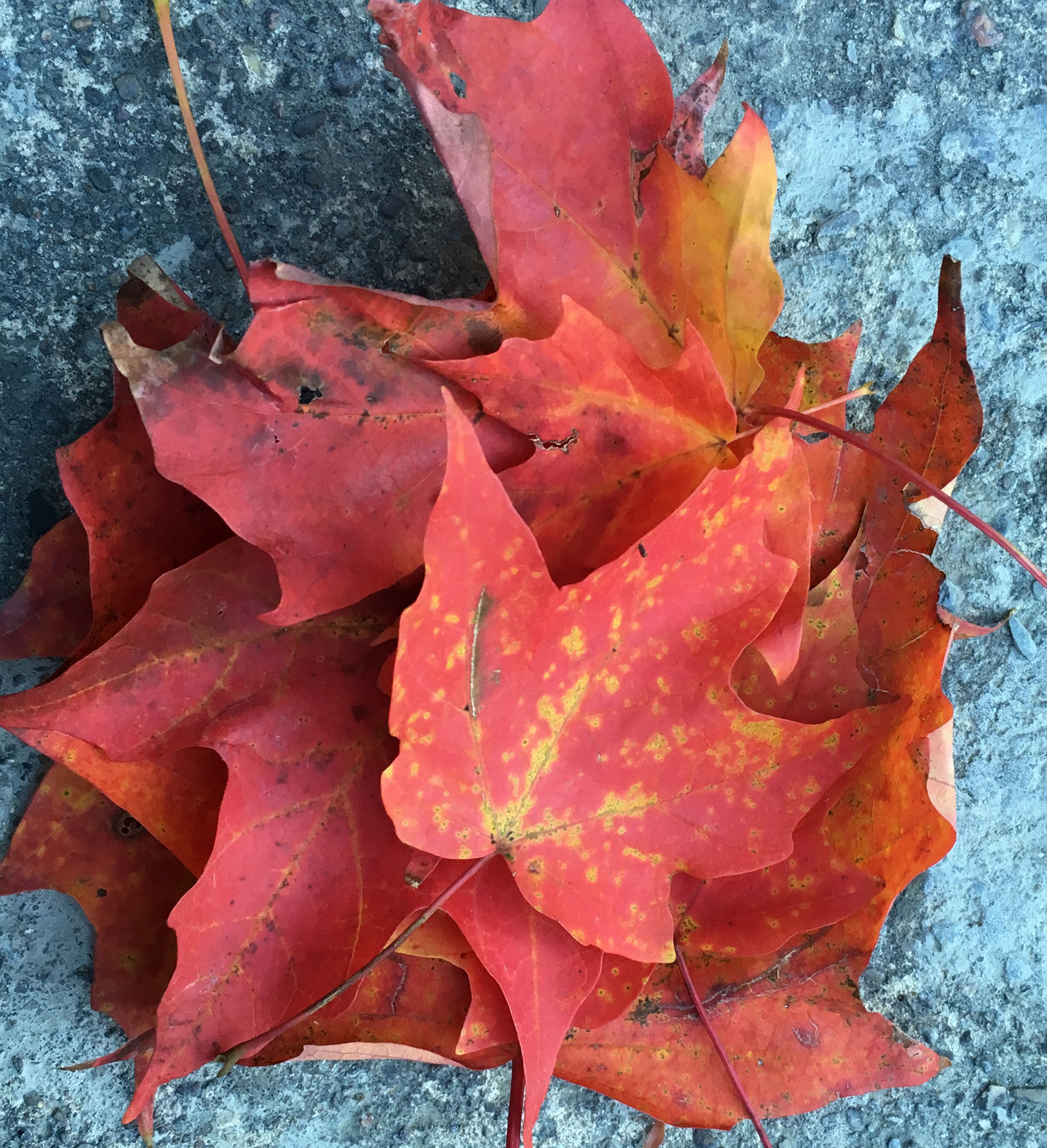 I appreciate bike photos that show small objects as well as large. This leaf pile was resting on a stone wall where I happened to take a quick snack break. I actually took the shot while standing on the wall then cropped the photo later. Avoid using the zoom feature while taking photos—you lose too much detail. Getting closer to your subject or cropping the photo later will give you greater intimacy.
Tip 9: Find a different angle.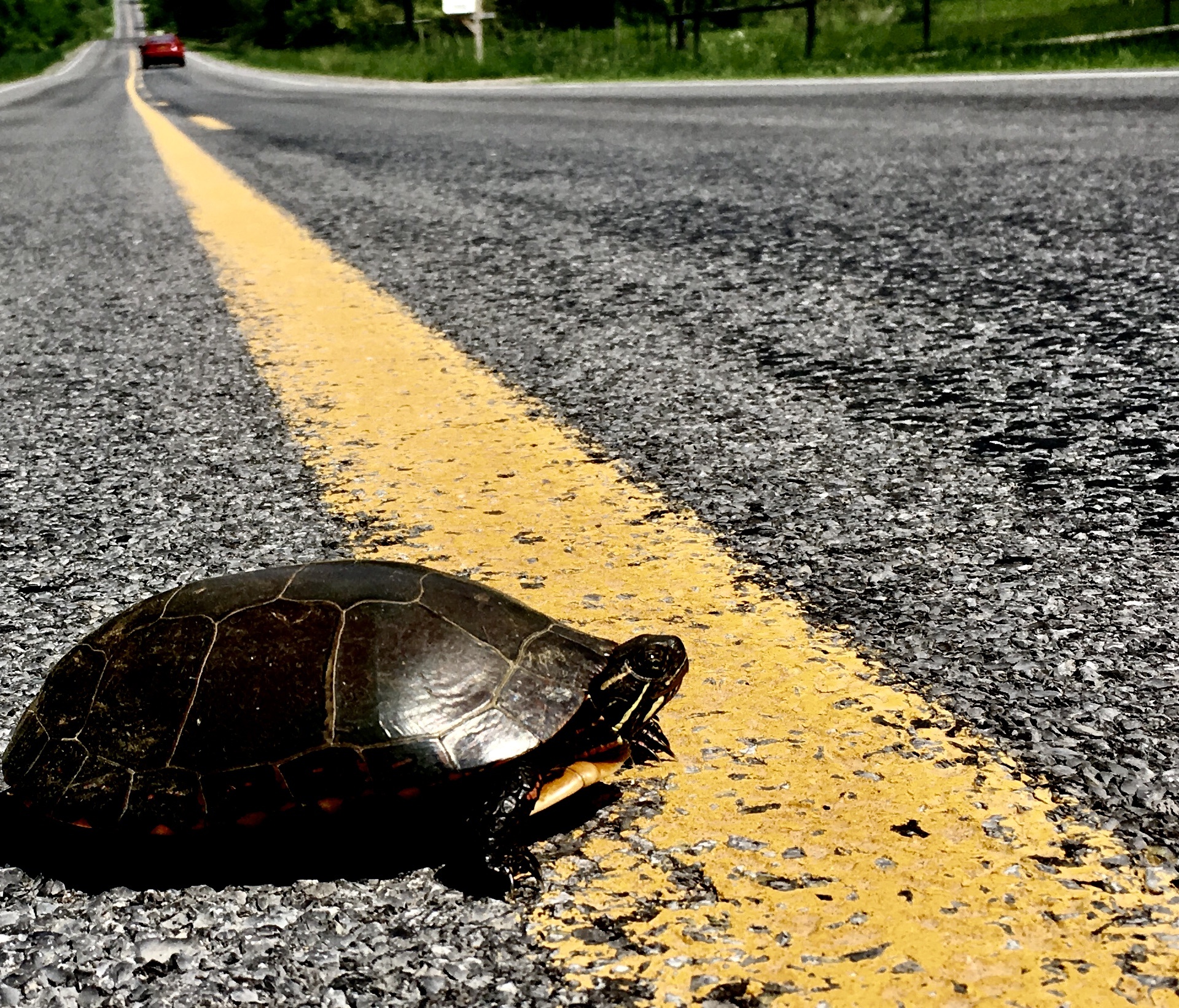 Yes, I had to wait a few minutes for this turtle to get to the middle of the road. But what makes this shot most captivating is the angle from which I took it: off the bike and squatting low, balancing my smartphone close to the pavement. (Of course, I made sure there was no traffic threatening either me or my subject, and I made sure this little guy made it safely to the other side of the road before continuing on my way.)
Tip 10: Get your subjects off the bike too.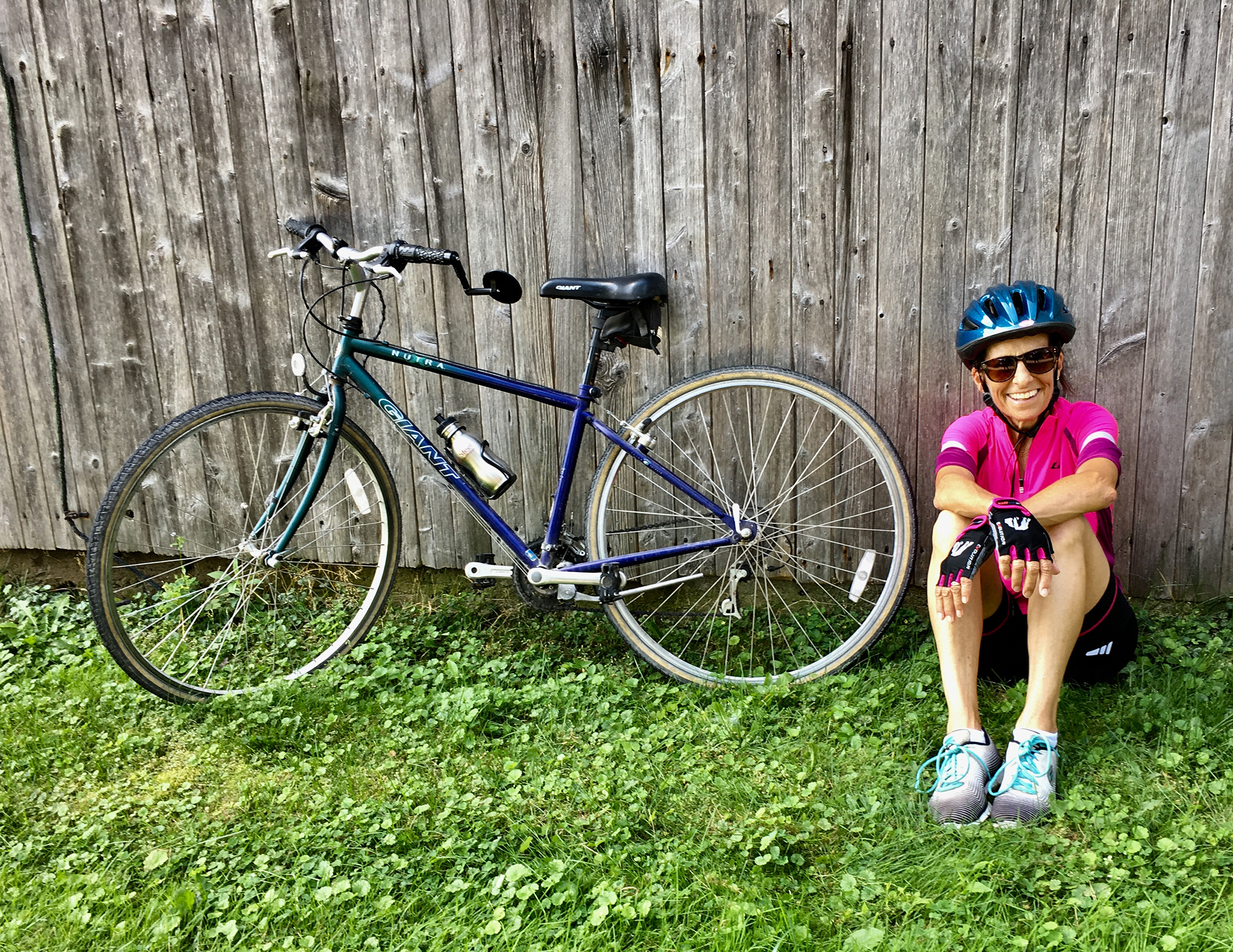 While I think I take better pictures when I take the time to get off the bike, I sometimes think I take better pictures of my biking buddies when they get off the bike too. Here, my friend Jan (who happens to be a professional photographer) looks so natural and relaxed as she leans against a nicely textured barn. Her bike looks relaxed and happy too.
Tip 11: Don't be afraid to shoot strangers.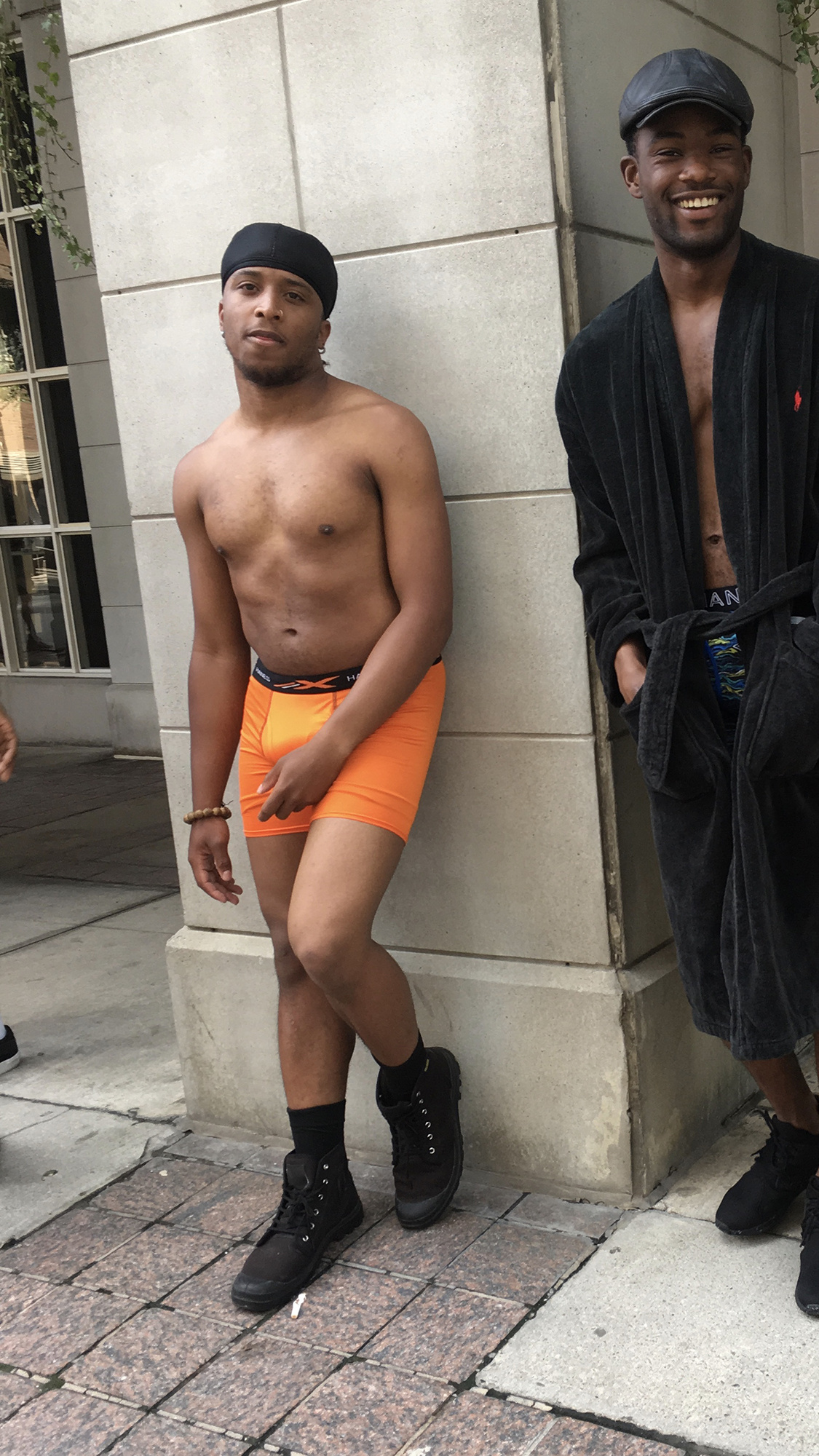 Bike trip photos lend themselves to a lot of landscapes. So any chance I get to put people in my pictures, I take it. And who can turn down guys walking around a city street in their underwear? (These fellows happened to be on set of a Haines underwear commercial that was being filmed in front of my hotel.) Jackpot!
Tip 12: Make fun of yourselfie.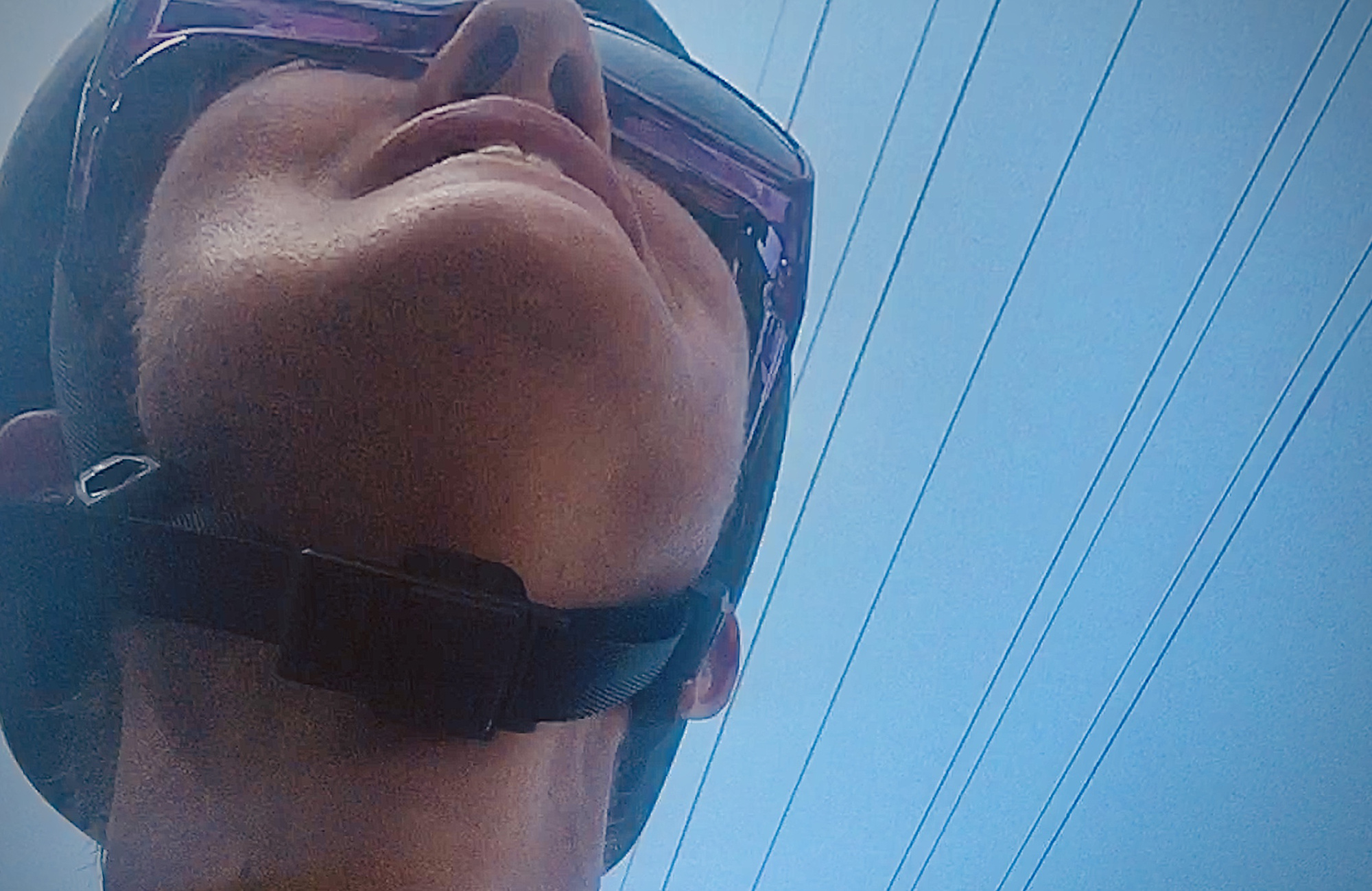 I have about a million "under the chin" shots where I forget that the camera app is open while I'm holding my iPhone. Most go to the trash. Here's one I found amusing enough to save.
Annette's 5 Smartphone Tips
As a former photojournalist, I am always seeing pictures, no matter what I am doing. I can't help myself. I find this is part of what makes riding a bike such a joy for me. I see pictures on every ride and almost always stop along the way to take them. Though I have a high-end point-and-shoot camera that I often carry on the bike, many of my images are simply taken with my iPhone. All of the photos in this blog were taken with my iPhone.
The ease and convenience of using a phone camera is undeniable, especially since the newest phones offer various lens lengths from wide angle to a medium telephoto, but the average phone camera can take some wonderful photos if you just give a little extra thought.
Good photos are all about quality of light, combined with composition, emotion and a decisive moment. If you get the right light plus any one of these three elements (good composition, emotion or a decisive moment,) you can have something truly special. Capture any one and you can still come home with a great memory suitable for framing.
Tip 1: Get your camera ready.
In terms of shooting while biking, I always have my phone fully charged before leaving for a ride. I make sure I have room on my phone to shoot a lot and won't be hindered by running out of space. I occasionally transfer my photos off the phone to an external hard drive so I have space on my phone to continue shooting. I have my phone set to shoot the largest image possible so that I have the best quality.
Tip 2: Pick the right time of day.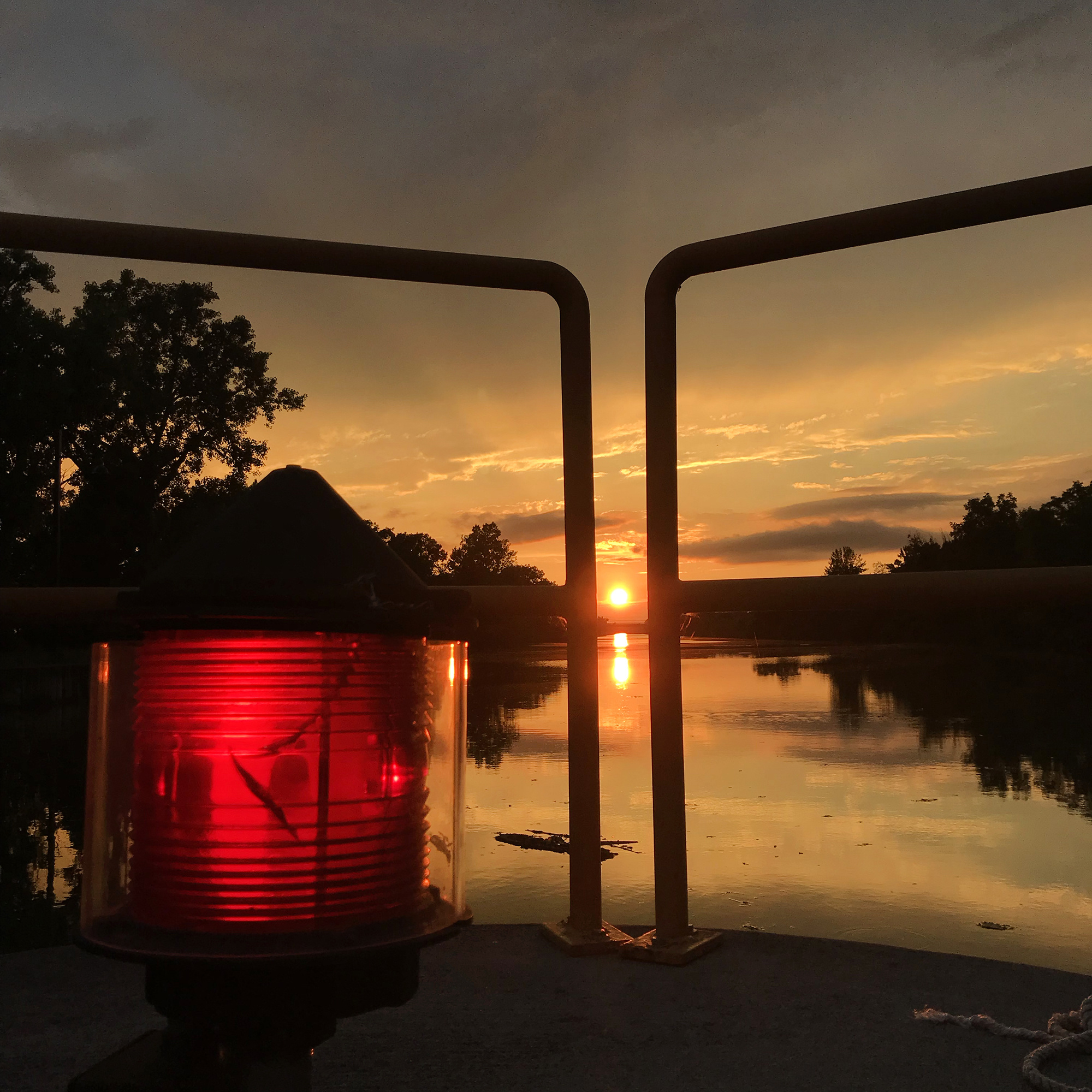 When I ride, I keep my phone in a front pocket or handlebar bag so it's easily accessible. I am always willing to stop and get off the bike to take a photo to truly make the image I think is best. Often early mornings or late afternoon light can be the most stunning.
I have ridden my bike past this Erie Canal lock many times but the sunset framed between the railings combined with the red warning light made a beautiful picture. I walked onto the platform, kneeled down and positioned myself so the sun would be in the middle, the red light in the foreground and the orange sky would be reflected on the water. You would not make this image if you were standing up or shooting from the trail.
Tip 2: Incorporate your bike (and animal life) into the picture.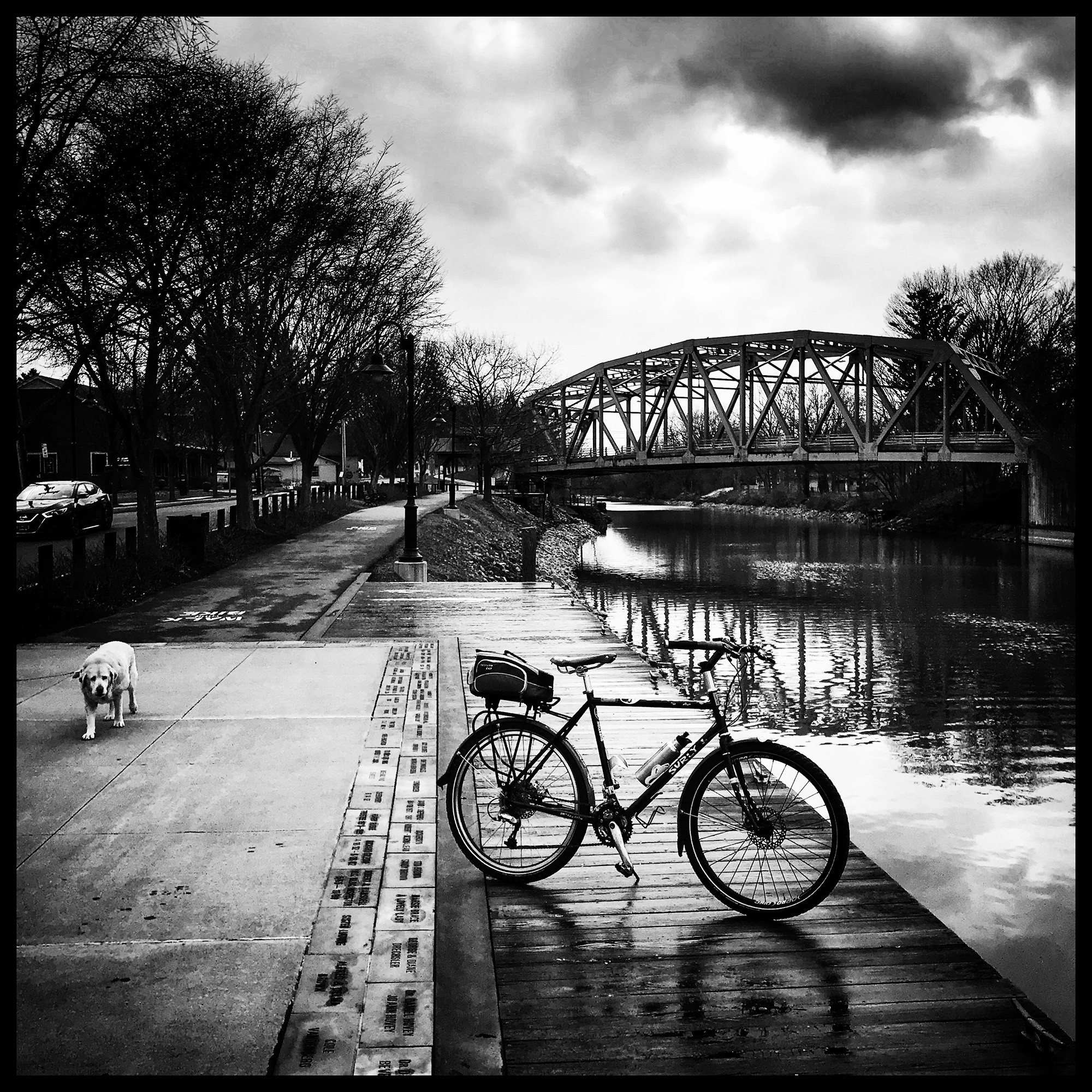 On this wet and overcast day, I was shooting my bike against the ominous clouds along the canal and a visitor's dog happened to walk into my frame, which I thought added some humanity to it. As an animal lover, I always try to get critters into my photos. I made this photo black and white on my phone as I thought it added to the drama of the day's weather. I always shoot several frames as you never know who or what could wander into your photo.
Tip 3: Be patient, take your time, and enjoy yourself.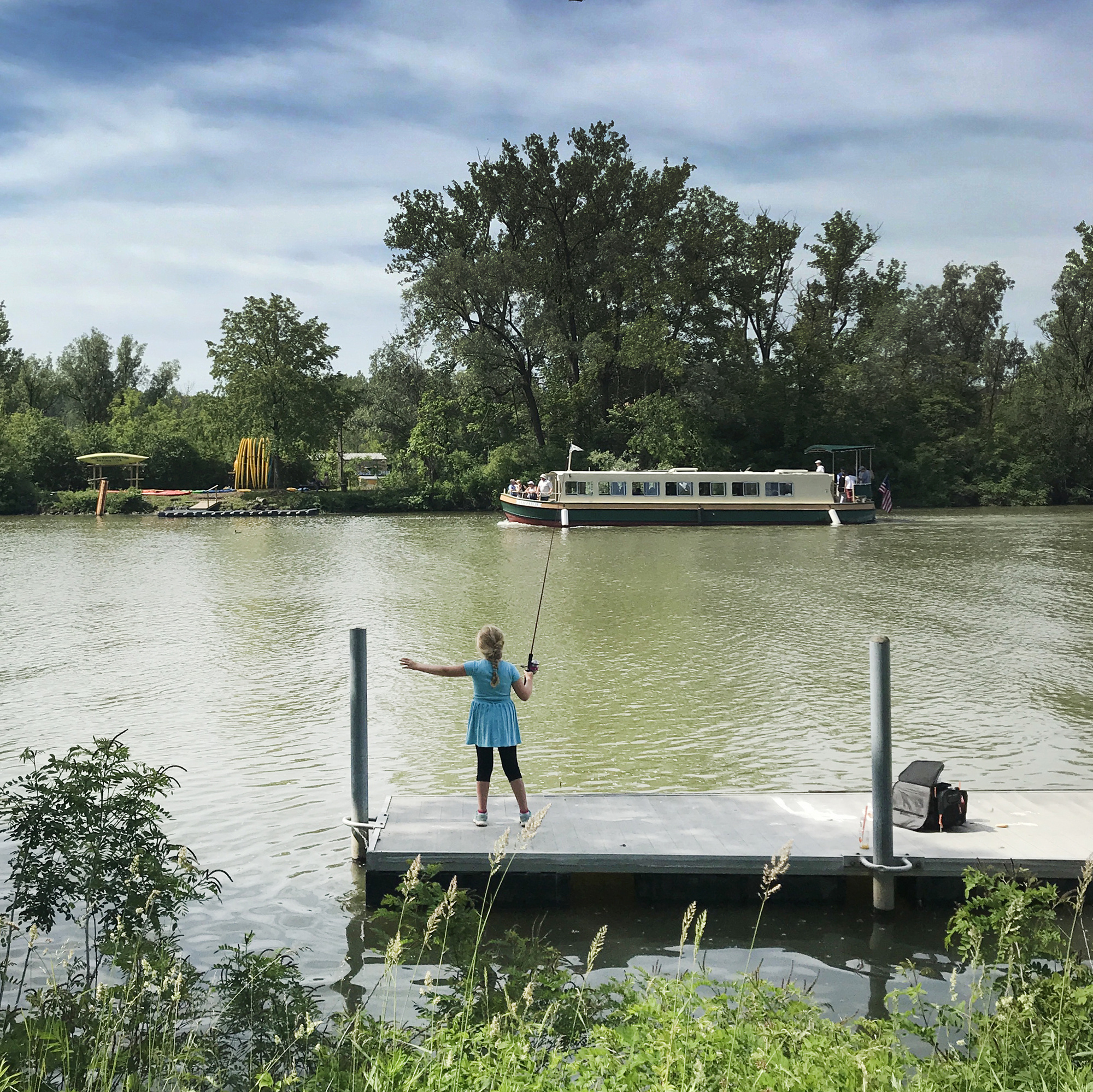 Another thing that I think is I required when taking photos on your bike travels is some patience to wait for things to happen before you. I saw this little girl fishing on the dock and a canal boat approaching her from the right. I knew it would enhance the picture to have the boat in the background, so I waited for the boat to come along and got the added bonus of her waving to them. It just makes for a better picture with more information about the place I was riding and it only took about 10 minutes of my time. I often enjoy my time off the bike as much as my time on.
Tip 4: People make the place.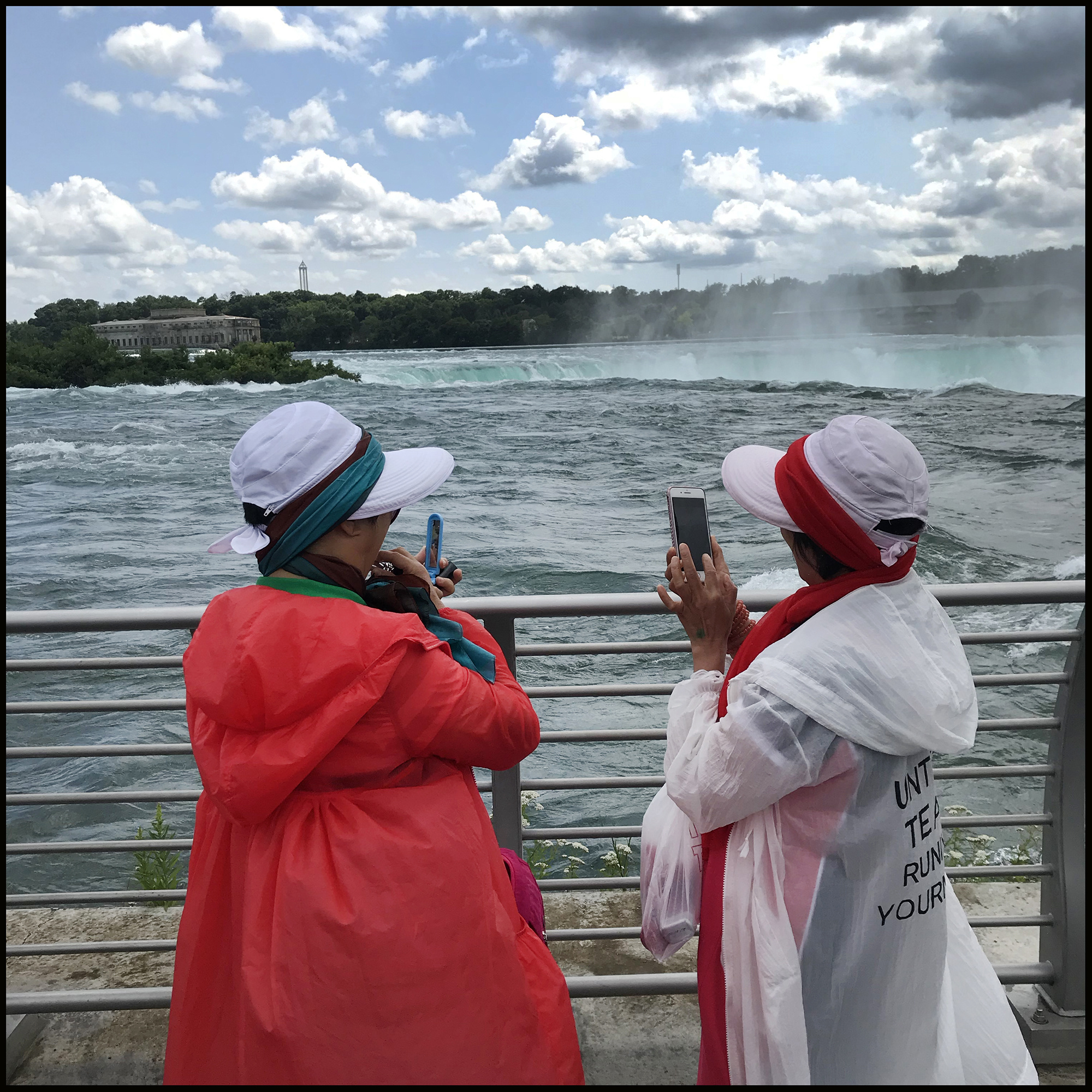 When I am at an interesting destination, I always shoot the people in that environment, like these women photographing Niagara Falls. I want to document what the whole experience of a place is like, not just take selfies or pictures of my friends (I do that too) but I love observing how a place affects others.
Tip 5: Put your selfie someplace interesting (including bad weather).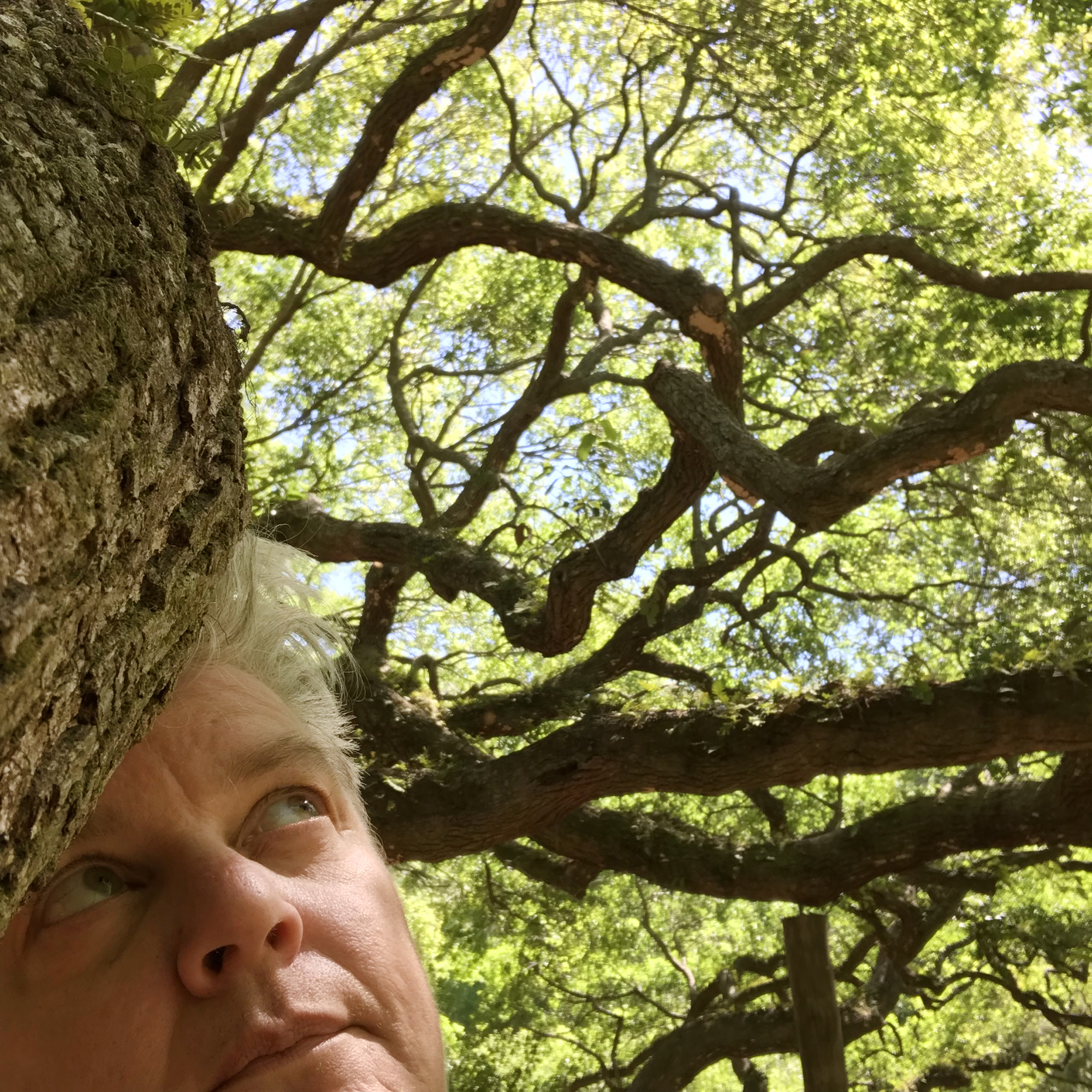 I do like to do selfies in cool places, especially when I have arrived in a place and am by myself, like this amazing ancient oak in South Carolina. Looking up at it I knew I wanted to put myself in the picture and the backwards camera on the phone makes that so easy. I could frame it so that the majority of the frame showed the beauty of the tree. Again, just a few minutes of thought to make a better photo.
The other thing that often makes memories and memorable pictures are adverse conditions. Riding in bad weather is hard but we get through it and then talk about it. I always photograph it!!!! Again, it takes a few extra minutes, but I love having the record and the memory.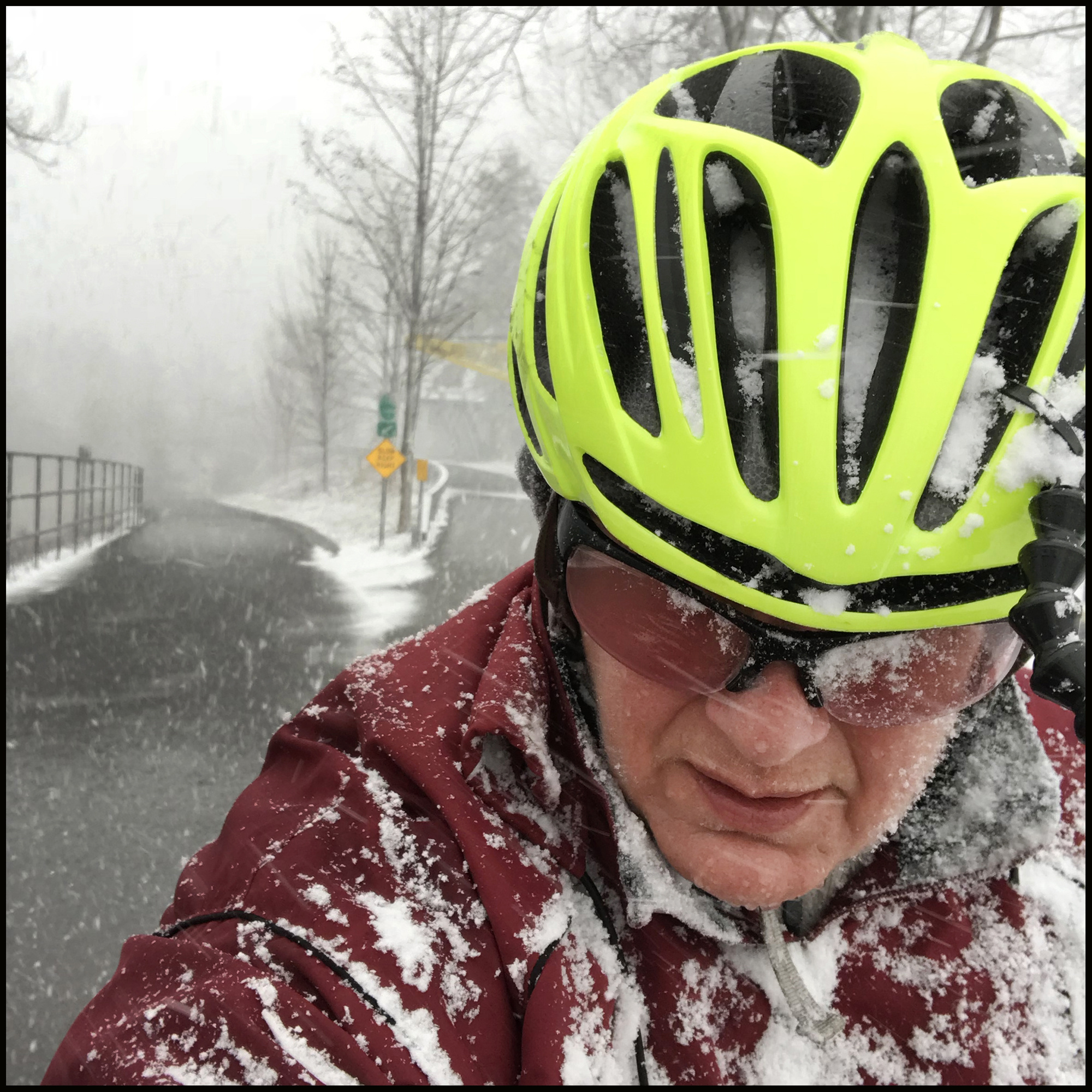 The wrap up from Annette…
So, be patient, get off your bike, take your time and frame your photos. Look around you as you ride, don't just hammer away the miles, and you'll learn that there is so much to see out there! The bicycle is such a wonderful vehicle for exploration -- use it as such! Look for the beautiful light and how it hits your subjects.
I get so much joy looking back at photos from my rides and I often go back to favorites places at different times of the year to shoot again.