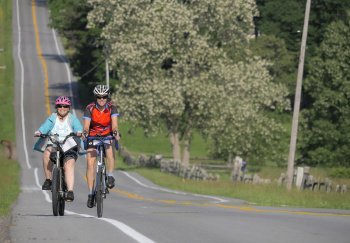 "The greatest thing since sliced bread."
That is how WomanTours guest Jane H. described her experience riding an electric bike in Germany a few months ago.
"I had a knee issue before the trip so ordered the e-bike. I enjoyed the trip so much more because I didn't have to struggle on climbs or worry about injuring it more," Jane adds.
Electric-assist bikes, or e-bikes as we like to call them, have been a game-changer for cyclists. They enable folks who might otherwise limit or eliminate cycling because of injuries, health issues, fitness level or age to ride with pleasure and gusto. But even people who have none of these limitations are embracing e-bikes because they can ride faster and farther with the same amount of effort. Instead of seeing e-bikes as a way to "cheat," they see them as a bit of extra insurance to get through the rough patches.
"The e-bike was exactly enough to give a little boost as needed. Especially in the winds!" writes Sandy H., who joined us on our debut tour of the Frisian Islands in the Netherlands this summer.
So how exactly do e-bikes work? For the most part, pretty much like a conventional bike, except when you pedal, you can opt to have a little (or a lot) of help.
For Class 1 e-bikes, which are the most common type of e-bikes found in North America, you must pedal the bike to gain any motor assistance. The motor stops working when you reach a speed of 20 miles per hour. The assist is available in different levels, depending on how much help you want or need. And you always have the choice to ride the bike without any assist at all. Like regular bikes, e-bikes also have gears that make the bike harder or easier to pedal.
Class 2 e-bikes have a throttle that allows the user to ride without pedaling up to 20 mph. Some jurisdictions have outlawed this type of e-bike on their bicycle paths.
Class 3 e-bikes are pretty much like Class 1, except they offer electric pedal assistance up to 28 mph. These e-bikes are prohibited in some jurisdictions as well.
E-bike motors rely on rechargeable batteries. How far you can travel on one charge depends on the level and duration of pedal-assistance you use as well as the battery and motor size, terrain, wind, and weight of bike, rider and luggage. We recommend you use the pedal-assist as conservatively as you can to avoid the worry of running out of charge before the day's ride is done.
WomanTours is always thrilled to give women the chance to fall in love (for the first time, or again) with cycling, and e-bikes are another way to do so. We offer e-bike options on nearly all of our tours, and have a rental fleet of Specialized Vado Class 1 e-bikes designed specifically for women.
At the start of each tour, we'll teach new e-bike riders how to operate their e-bikes safely, and we make sure they start each day with fully charged batteries. We keep an extra battery on hand for back-up, and offer mechanical assistance as needed.
Are there any downsides to riding an e-bike? They are heavy. The WomanTours e-bikes weigh about 50 pounds each, including the battery. So we shy away from transporting those bikes on the top of our vans. And because e-bikes are more expensive than conventional bikes, our rental fee is higher.
But as many guests have found, the benefits of touring on an e-bike are worth it.
"The ability to have an e-bike took me from a place of worrying about keeping up, to a place where I didn't have to use it all the time. By knowing the help was there, I was totally relaxed and enjoyed every minute of the trip," writes Mary Louise C., who rode on our Erie Canal Epic Tour this summer.