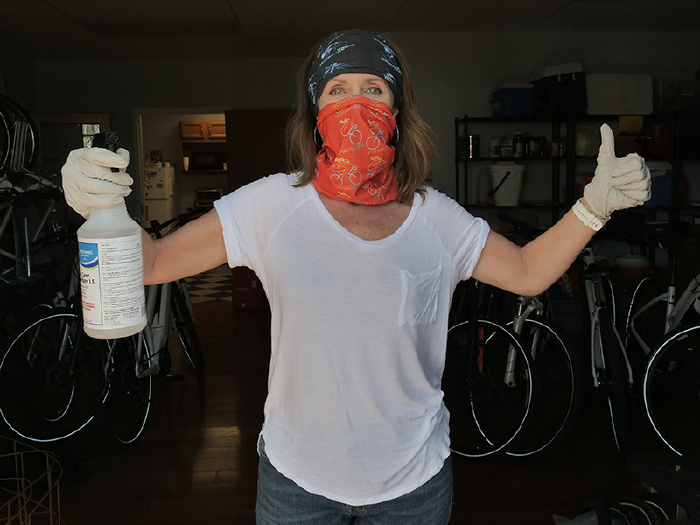 Updated 5/24/2022
We realize that COVID-19 is a reality that is going to be with us for a while. Rest assured, you will still experience great biking, camaraderie and adventure that are the hallmarks of all our tours.
Vaccines
As of September 19, 2021 we require that all tour participants be vaccinated against COVID-19 and provide proof prior to the tour. All WomanTours staff including our guides are vaccinated. Unfortunately, we cannot guarantee that all of our international guides will be vaccinated.

Masks
All guests and guides are required to bring their own masks on tour. We recommend high quality medical masks now that they are available, such as the N95, KN95 or KF94. Always wear a mask when it's required by an establishment or when it makes you feel more comfortable. Mask wearing is optional in WomanTours vehicles until there is a verified case of COVID on tour, when it will become mandatory.
Hand sanitizer
WomanTours will have hand sanitizer available during meals and group gatherings. We ask guests to have their own supply with them for times when there is no hand sanitizer available, such as when they are cycling.
Physical distancing
During orientations and other gatherings, we will be outside as much as possible. Inside, we encourage social distancing and spreading seats apart.
Meals
All meals will be from restaurants, catered or prepared by WomanTours guides. Sometimes we will eat indoors. If someone is uncomfortable with the dining arrangements, she can order a meal to go and dine separately from the group. Snacks and meals by our trailer will be prepared by our guides or SAG volunteers wearing gloves. Please use hand sanitizer before serving yourself.
Roommates: Now that everyone on our tours is vaccinated, we have reinstated our system of rotating roommates. If you sign up alone in a double room and would like a roommate, we will match you with one. You'll rotate roommates every night that we change hotels with everyone else who has come on her own. If you do not feel comfortable with this arrangement, you can come with a friend as your roommate or pay for the single upgrade.
Wellness
Pay close attention to your health a week before the start of the tour, during the tour and a week after the tour. If you start to feel ill during the tour, let your guide know immediately. If you show signs of experiencing COVID-like symptoms, you will be required to get tested. We strongly recommend bringing at-home rapid tests with you on the tour, as WomanTours will not provide these. Our guides can also assist you in getting to a test facility for a COVID test.
If you receive a positive test result, you will need to self-isolate for five days and make your own arrangements to get to the next hotel or your own hotel room if necessary. If you feel well enough, you may ride your bike but you must stay a distance from other people. You will need to eat separately from the tour group and wear a mask indoors for ten days, per the CDC.
If you start to feel ill within a week of returning home, get tested and notify the WomanTours office immediately if you're positive.
Cancellations
We anticipate running all of the bike tours on our schedule within the U.S. We will continue to closely watch directives to determine if we can safely run our tours outside the U.S. If we deem it necessary to cancel an international tour, we will inform tour registrants a minimum of 60 days before the start of the tour. Tour balances will not be due until the time we decide to run the trip. If tour registrants choose to cancel a tour before that time, our normal cancellation policy applies. If you cancel later due to government policies restricting your travel, we will issue a full credit toward a future tour. If you cancel for another reason, then our normal cancellation policy applies.
Travel Insurance
For travel insurance that covers all issues around COVID-19, consider obtaining Cancellation for any Reason (CFAR) insurance from Global Rescue or Allianz. For more information, read our blog post: www.womantours.com/blog/travel-insurance-in-the-age-of-covid-19.
We reserve the right to amend these policies as circumstances around the pandemic change.