To say that everyone at WomanTours misses being on tour with our guests is an understatement. We miss you oh so very much, as our guests are our main reason for doing (and loving) what we do.
But we take comfort in trusting that you are the safest place you could possibly be right now during this crazy Covid-19 pandemic. At home.
WomanTours has canceled tours through May and will make the decision about tours beyond that as we get more information from authorities about when it will be safe to travel again.
We wish we could offer you assurance about the immediate future. Instead, we offer you some easy yet delicious recipes of comfort from a few of our beloved guides. We are sure that if you have been on tour with them, you will remember them. And you may even be lucky to remember a couple of the recipes, as these are dishes that have gained a favorable reputation on tours.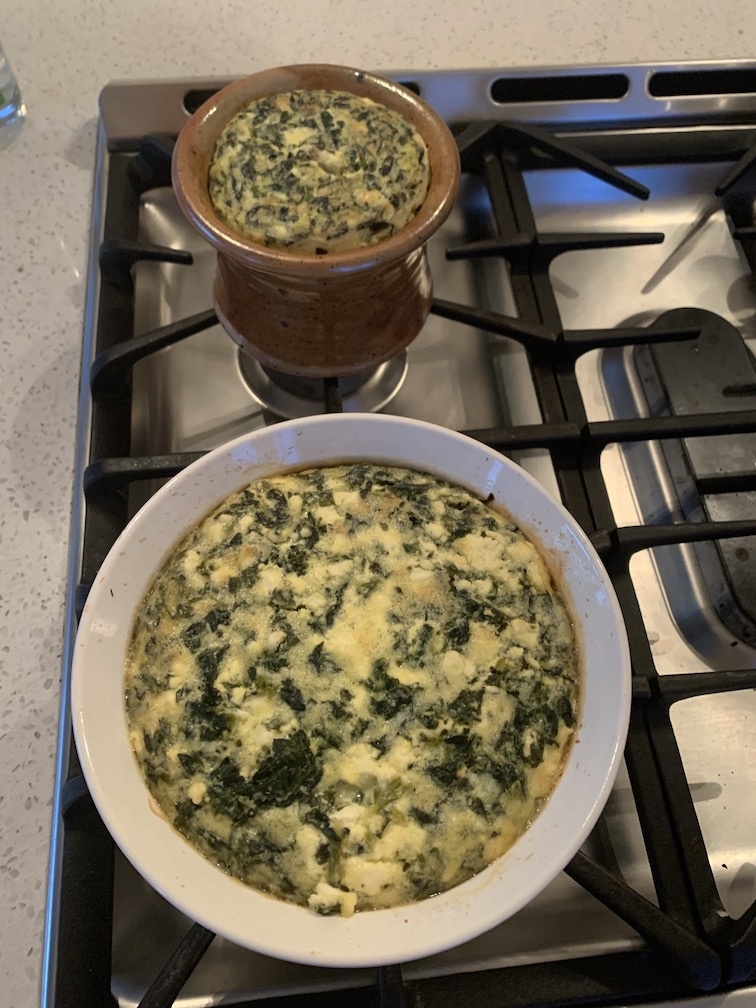 Kimberly Masters's Quiche
When Kimberly's in charge of breakfast and has an oven available, this quiche is what she likes to serve guests.
Flexibility and customization are hallmarks of this dish. "You can use a pastry shell, or if you're looking for a gluten-free option, you don't have to use the pastry shell and it's a little more frittata-style (pictured above). The Greek yogurt makes it really light and fluffy and you can add a variety of fillings to it," she says.
2 tablespoons unsalted butter, melted and cooled
6 eggs
2 cups plain Greek yogurt (fat-free or full-fat are fine)
1 cup milk (any kind)
1/2 teaspoon salt
1/4 teaspoon pepper
Optional fillings (see below)
1 9-inch frozen deep dish pastry shell (do not thaw)
Preheat oven to 325 degrees. In a large bowl whisk together the butter, eggs, yogurt, milk, salt, pepper and optional fillings until completely mixed. Pour into pastry shell, place filled shell on baking sheet to prevent and spills from burning on the bottom of the oven and bake for 90 minutes or until quiche is set and cooked through and golden on top. Allow to sit for 10 to 15 minutes before serving.
Gluten-free version: Bake filling in a greased 9-inch deep dish pie plate.
Optional fillings:
--Stir in 1 1/2 cups cooked broccoli florets and 3/4 cup grated Cheddar into the egg mixture.
--Saute 3 thinly sliced medium pears sprinkled with a tablespoon or two of sugar in a little butter until soft. Add to egg mixture, along with 1/2 to 3/4 cup crumbled blue cheese.
--Stir in 1 1/2 cups cooked and drained spinach and 3/4 cup crumbled feta cheese into the egg mixture.
---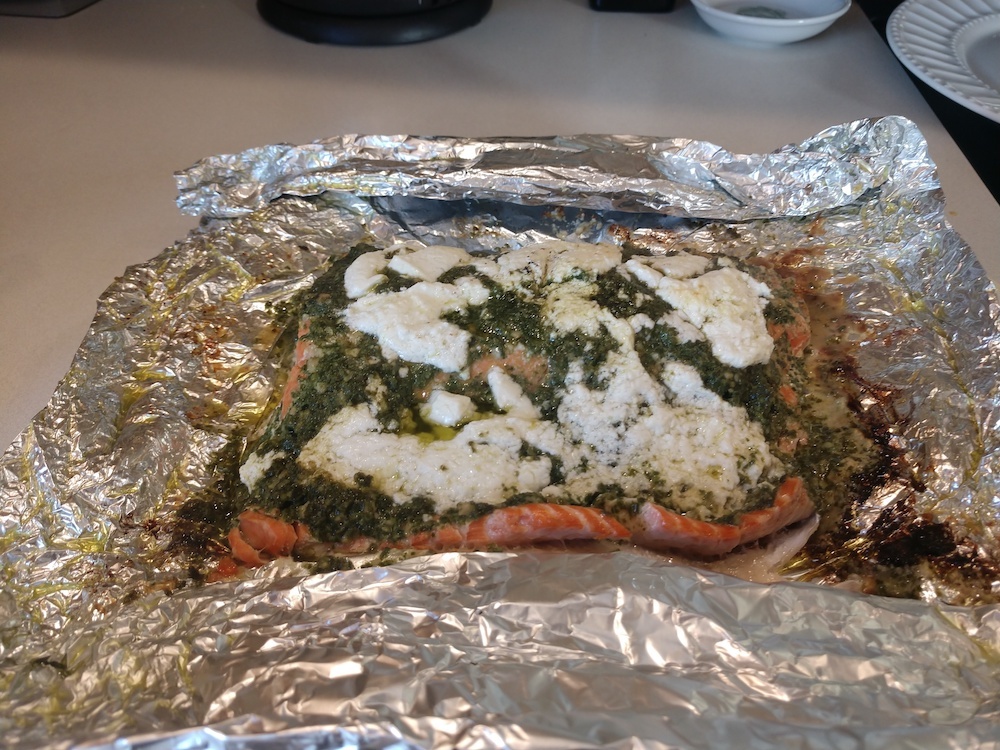 Michelle Slusher's Pesto-Goat Cheese Grilled Salmon
Michelle got this recipe from Patty Jackson, but she has made it so often on epic tours that it's now part of her favorites repertoire.
1 12-ounce salmon filet
2 ounces plain or herbed goat cheese, crumbled (not sweet)
1/4 cup basil pesto
Spray a large sheet of foil with cooking spray and heat up a grill to medium heat. Lay salmon skin-side down on center of foil.
Spread pesto liberally all over the top of the salmon. Dab chunks of goat cheese over the pesto. Seal up the foil packets nice and tight and place on a rack in the closed grill, preferably above the direct heat so the salmon does not burn.
Depending on the thickness of the fish, it could take 10-20 minutes to reach the perfect internal temperature of 125 degrees. Move it closer to the fire after 10 or 12 minutes, then check the temperature with a meat thermometer at 15 minutes by puncturing the foil with the thermometer (no need to open packet). Once the temperature reaches 125 degrees, remove from the grill, carefully open the packet so you don't burn yourself with steam and serve immediately. Serves 2-3 people.
Alternate cooking methods: You can also cook the foil-wrapped salmon in the oven. Preheat oven to 425 degrees and place in the oven on a baking sheet. Cook until the fish reaches 125 degrees. If you are cooking outside with charcoal, place hot coals on a sheet pan, place foil packet on sheet pan, cover with another sheet pan and place more hot coals on top of the second sheet pan.
---
Silvia Pezzetti's Tiramisu
If you've been on one of our bike and barge tours in The Netherlands or Italy, then you may have had the pleasure of being guided by Silvia Pezzetti. Silvia is now home in Bergamo, the province that has seen the most coronavirus cases in Italy. We are happy to report that Silvia is safe and healthy, though growing restless (like the rest of us) as she hibernates at home. To help pass the time and say hello to Womantours guests, Silvia put together this delightful video about her favorite dessert, tiramisu, which literally translates as "pull me up." Even if you aren't a fan of tiramisu, this video will definitely cheer you up.