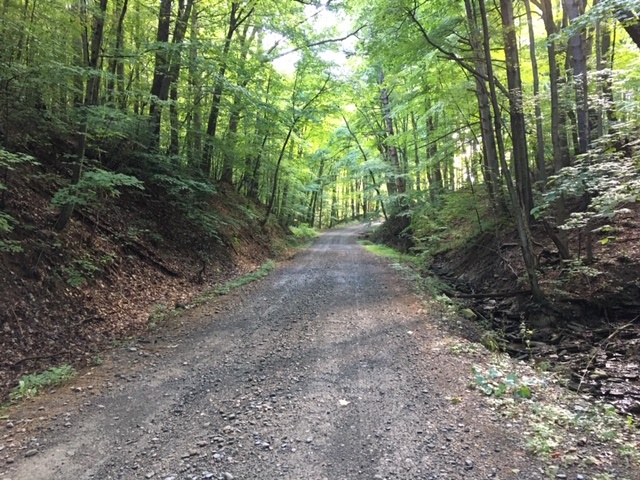 Like a lot of sports, cycling has found many creative niches, from road racing, track cycling, mountain biking to snow biking, BMX and cyclocross, just to get the list started.
At WomanTours, we are of course partial toward tried and true bike touring, traveling from place to place on roads that are as bike-friendly as possible. But we are also quite fond of off-road cycling, and have several tours that offer some cycling on unpaved bike paths (see "Taking if Off Road with WomanTours" below).
This year, as the pandemic motivated me to take on a new challenge of riding all the roads and trails in the largely rural and sparsely populated county adjacent to the one where I live, I have discovered a plethora of unpaved roads and trails that I never knew about. In essence, 2020 is squaring up to be my summer of potholes, loose sand, muddy lanes, unruly rocks and teeth-grinding gravel. The biking world call this gravel biking (or grinding). I call it a ton of fun, sweat and low gears.
Leaving the relative smoothness of pavement for more challenging terrain does require a different cycling mindset and skill set. But the perks, as I am discovering, are wonderful: little or no vehicular traffic, a quieter, more peaceful, more wilderness-type setting and the sense of accomplishment that comes with taking on a new mental and physical challenge.
Here is what I've learned from my own dirt road adventures.
The type of bike is important, but it's not the be-all end all.
Last summer I was fortunate enough to acquire a gravel bike designed precisely for this type of riding. Black Betty (as I call this bike) been my dear companion on so many rides this summer. She has a super-sturdy frame, 42mm-wide tires with deep treads and flared drop handlebars that are a bit wider than a road bike, offering more leverage. My road bike's skinny tires could never handle the kind of riding that Black Betty does. But my husband's 10-year-old hybrid bike (which I ride more than he does) and my 22-year-old mountain bike are perfectly capable if Black Betty weren't around. Don't think you have to buy a new bike to tackle gravel. Read on.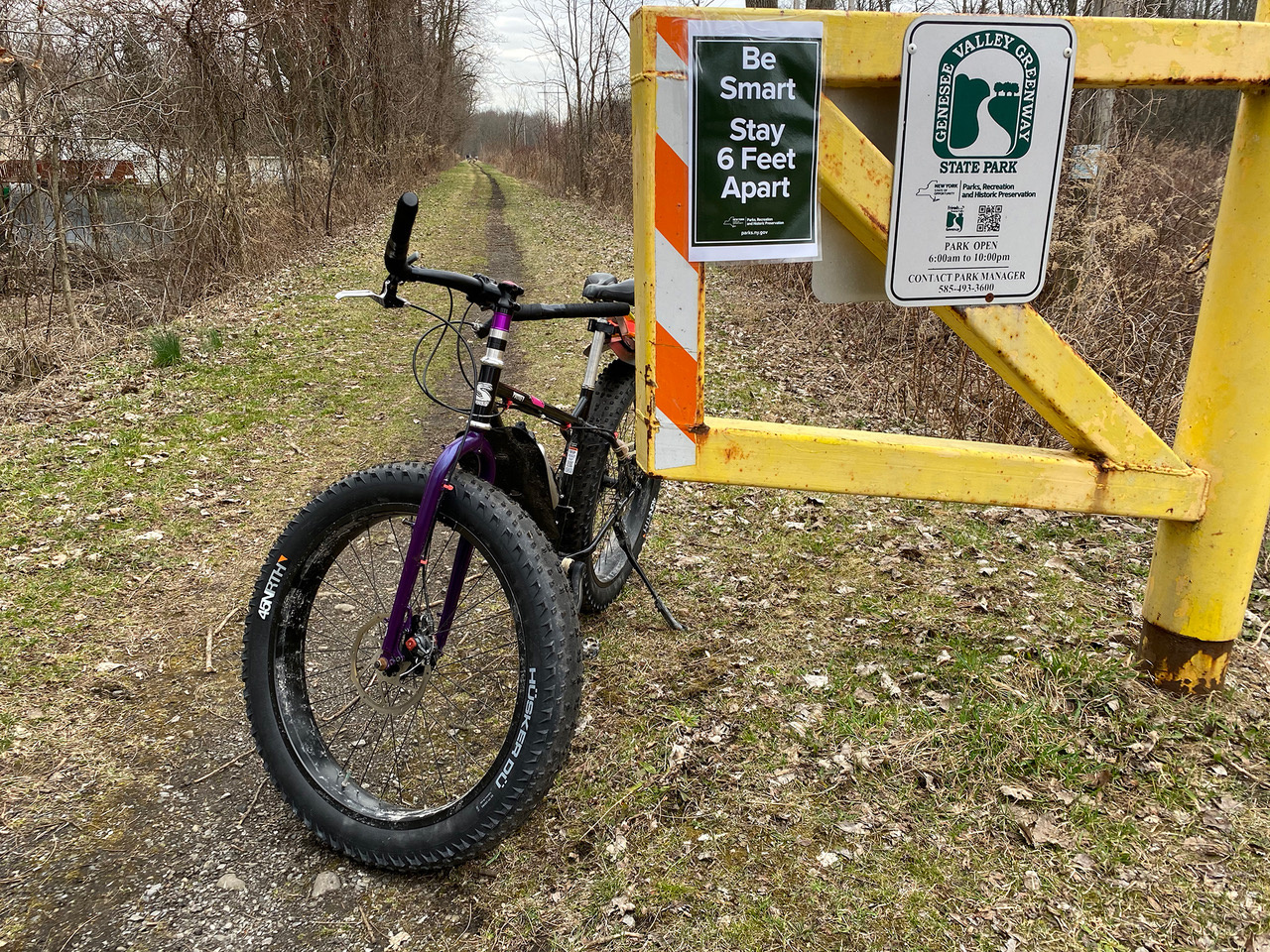 Tires and tire pressure are important.
The rougher the surface, the better off you are with wider tires that have grippier, deeper treads. Many gravel riders have retrofitted existing road, touring or hybrid bikes with wider tires (the general recommendation is 32-48mm wide) that are better at maneuvering rough surfaces. Talk to your trusted bike mechanic to see if your bike frame is large enough to accommodate such a switch. It's certainly less costly than investing in a new bike.
Whatever tires you have, you will definitely want to let some air out. Riding at a lower PSI (pounds of air per square inch) gives you better traction and momentum. Finding that ideal PSI takes into account a lot of factors: your weight, your bike's weight, how gnarly the road is, whether you'll also be riding on paved roads, so be willing to experiment.
Find the smoothest groove in the rough road.
There can be a lot of variability on dirt roads, so the trick is finding the smoothest, flattest, firmest groove possible while still keeping on the right side of the road for traffic safety. Understand that weather makes dirt roads more susceptible to surface changes, adding mud, rocks, fallen trees or branches. Just as you cannot step into the same river twice, you rarely pedal the same dirt road twice. Constant change to the environment is another attribute that makes gravel riding so exhilarating.
Do not expect to ride as fast. But expect to be a little more tired (in a good way).
If you know the difference between walking two miles on a city sidewalk and hiking two miles on a wilderness trail then you know that the first will take less time than the second. That's pretty much the same analogy you can make between road riding and gravel riding. But riding slower off-road does not equal riding with less energy. In fact, you'll probably use more muscle than you are accustomed to with road riding. Sleep feels especially good at the end of the day.
So adjust your mileage expectations accordingly, and don't bite off more than you can chew, especially when you are new to gravel riding.
Plan on extra water and food.
Because gravel riding typically requires more energy, be sure to pack extra water and food to stay fueled and hydrated. Gravel riding is mostly a two-handed affair, so I find myself stopping more often to drink and eat rather than steering with one hand while reaching for a water bottle or back pocket snack with the other. Better safe than sorry, right?
Learn a new way of braking.
With sand or loose dirt or stone, coming to a stop takes extra time and skill. It's important to know how your bike will behave on different surfaces.
In general, it's best to be conservative with your speed, especially on descents. If the surface is compact and relatively smooth, you will have an easier time. On loose dirt, mud or sand, or when coming down a hill, use light pressure and rely more on your rear brake (right handlebar), and give yourself extra distance to come to a stop or slow down. Avoid clamping down hard and fast, as that can cause the brakes to lock or your wheel to spin out. Keep an eye on what's ahead and slow down before you get to those more treacherous spots, especially if they include a curve.
Stay low when climbing high.
Hill climbing on dirt roads can sometimes cause your back wheel to spin out, especially in sand or loose gravel. That's why it's important to stay seated in the saddle to keep weight on that rear tire. You also want to balance some of your weight on your front wheel to prevent it from bucking up. Hinge at the hips with elbows slightly bent, and keep your center of gravity low and centered.
Get ready for the downhill.
Similarly, there is a good way to hold your body when riding downhill on dirt. The biking pros call it the "ready position" as it lets you react quickly to swift changes. Pedals should be positioned at 3 and 9 o'clock, with your heals tilted slightly downward. Knees should be slightly bent and tucked in close to the bike. Your bum should be just hovering over the saddle, in case you encounter any unexpected bumps. Your elbows should be slightly bent and your hands should be ready to brake. Your grip should be firm while you keep the rest of your body as relaxed and flexible as possible. And of course, your gaze should be straight ahead on the road. Your bike can take all the bumps of the road while you float comfortably above it.
There is no shame in walking the bike up or down a really steep hill.
There have been roads that are either so steep or so rough that my back wheel spins out as I climb, even as I stay seated in the saddle. That's when I cry mercy and walk the bike up the hill. Ditto if the descent is super steep and my hands get overly fatigued squeezing the brake levers. I get off the bike and walk. Instead of feeling bad, I am glad to have the chance to stretch my legs, take a tiny break and stay safe.
And lastly, can we talk about shoes?
A footnote on footwear: Because there is a good chance you will be walking on slick or uneven surfaces on your dirt road adventure, choose non-skid footwear. I am especially fond of closed-toe cycling sandals with SPD cleats like these. The rubber soles keep me from slipping on wet rocks or slick wooden foot bridges, and the recessed cleat lets me clip in for better pedaling efficiency without being a hinderance when walking. But a lot of days, I wear my plain old Keen sandals with no cleats and don't clip in at all (or on colder days, my hiking shoes), using the flat side of my pedals.

TAKING IT OFF ROAD WITH WOMANTOURS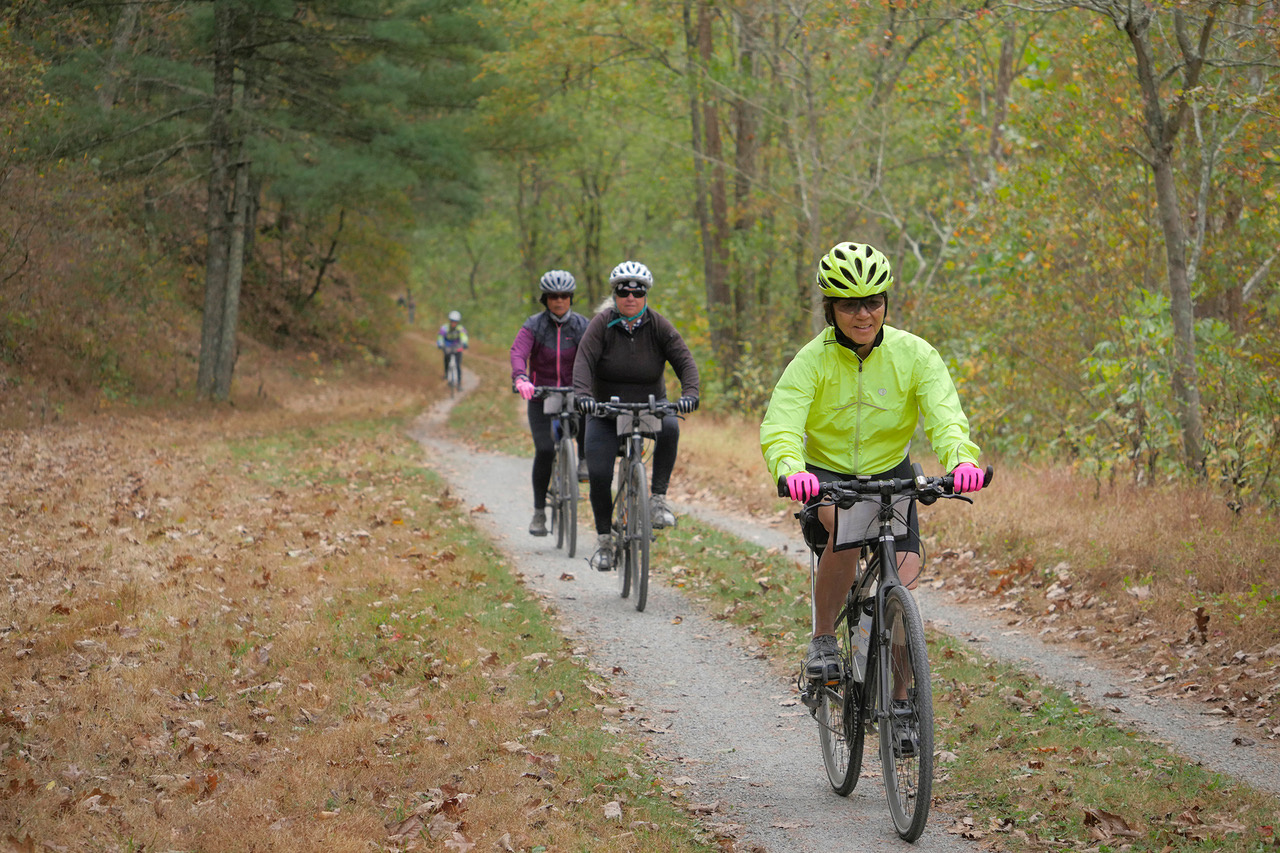 Want to get a taste of gravel trails? Here are some of our upcoming 2021 tours that offer a chance to pedal off pavement. If you have already ridden some of these tours, then you already know how much fun you can have on the road less paved.
South Dakota: Black Hills, Badlands and Mickelson Trail, May 29-June 4, 2021
While pedaling South Dakota, we ride two days on the Mickelson Trail, a crushed stone path that cuts through the heart of the Black Hills.
Ohio to Erie Trail Epic Tour, June 19-27, 2021
Most of this stellar 326-mile trail is paved, but the section that runs through Cuyahoga Valley National Park along the old Ohio and Erie Canal Towpath is crushed stone that frequently has a dirt road vibe.
Idaho Greenways, August 29-September 3, 2021
The gravel-laden Hiawatha Rail Trail, which is the final ride on this tour, winds through nine tunnels and over seven train trestles with plenty of elevation gain.
GAP and C&O Towpath Epic Tour, September 26-October 5, 2021
If you want trail riding that is predominantly unpaved, then the Great Allegheny Passage and C&O Towpath is your kind of tour.