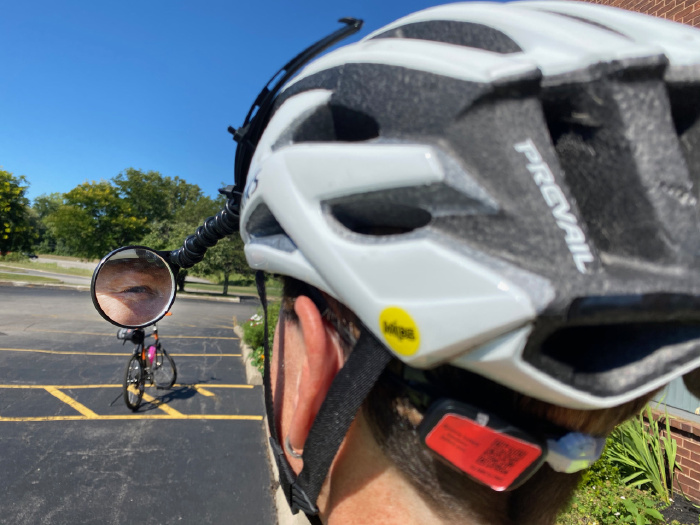 When it comes to bicycle touring safety accessories, helmets seem to get all the attention. We require all our guests and guides to wear them when touring with us, and we have recommendations about the types of helmets that are best to buy.
But mirrors don't enter into the safety conversation quite as often, even though they should. So this month we are taking time to, uh, reflect on the importance of mirrors in cycling safety.
Serious racing cyclists generally shun mirrors because they want to keep their bikes and gear as lightweight and streamlined as possible. Mountain bikers tend not to bother with mirrors because they don't ride in traffic. At WomanTours, we think all cyclists benefit from riding with a mirror, and here is why:
Your ears don't give you all the information you need. Sure, you can tell a truck is approaching, but do you know how close to the edge of the road it is, and if there are other vehicles right behind it?
On bike paths, you can't always hear other cyclists who are passing you, though if they had your safety in mind, they would make themselves known with a bell or a friendly call out as they pass you.
If you are riding with a biking buddy, a mirror can also help you keep track of her if she starts to fall behind.
Turning your head to check on the traffic behind you all the time puts you at risk of accidently swerving and hitting something or someone. (That being said, we recommend looking behind you before making a turn or changing lanes, to make sure nothing harmful is lurking in your blind spots.)
If you haven't yet committed to using a mirror when you ride, there are several styles on the market. Expect to pay $10-$40, a small price for added safety, in our opinion. Here's a brief overview of each, along with their pros and cons.
Handlebar Mirrors
These mirrors attach directly to your handlebars via hardware, a Velcro strap or some kind of special attachment.
The good:
Offers wide field of view.
You can mount a mirror on both handlebars for more visibility.
Sturdier than other types of bike mirrors.
The not-so-good:
Can be tricky to mount on your handlebars, and you need to make sure the model you buy will work with your bike.
Can add width to your bike, and can get knocked or broken when mounting your bike on a bike rack.
Handlebars are not always facing in the direction that makes looking in the mirror feasible. Plus, you may have to adjust your gaze far away from the road so you are paying less attention to what's in front of you when you check the mirror.
If you have more than one bike, you need more than one mirror.
Mirrors and other bike accessories are susceptible to theft.
Helmet Mirrors
Helmet mirrors have a long arm that attaches to your helmet via straps, adhesive or clips on one end and hold a small, adjustable mirror at eye level on the other.
The good:
You can keep the mirror attached to the helmet. As long as you have your helmet, you have your mirror.
You don't need to lower your gaze or turn your handlebars to view in the mirror, so you do a better job of keeping your eyes on the road. A small turn of the head is all that is needed.
Some models are easy to put on and take off the helmet for storage, if that is your preference.
The not-so-good:
Sometimes the arms break or snap easily.
Some riders find the mirrors give them headaches or neck discomfort.
Eyewear Mirrors
Eyewear mirrors mount on your sunglasses or prescription eyeglasses via three prongs that snap onto the temple, and have a long stem that holds the adjustable mirror at eye level. They share some of the same benefits and drawbacks of helmet mirrors.
The good:
Super lightweight.
Easy to mount on your eyeglasses and take off.
You don't need to lower your gaze or turn your handlebars to view in the mirror, so you do a better job of keeping your eyes on the road. A small turn of the head is all that is needed.
The not-so-good:
These mirrors can break easily. Some critics say they have bent or broken their eyewear using them.
Some riders find the mirrors give them headaches or neck discomfort.
On-Lens Mirrors
These are tiny mirrors that stick to the inside of the lens of your glasses and can be adjusted, thanks to a rotating base.
The good:
They're tiny and practically invisible and weightless.
The not-so-good:
Cannot be used with wrap-around sunglasses.
It attached permanently so you cannot remove it or put it on another pair of glasses.
Not helpful to people who wear prescription glasses as it is not viewed through those glasses.
Arm/Wrist Mirrors
Think of a compact that lies flat on your arm or wrist but snaps open when you need it. That's the idea behind an arm or wrist mirror, which attaches to your limb with an elastic or Velcro strap.
The good:
Easy to put on and off.
Wider angle mirror.
The not-so-good:
Harder to get on if you are wearing lots of layers of clothing.
WomanTours does not require our guests and guides to use mirrors, but we do strongly recommend them. Deciding the type of mirror that is best for you may take some trial and error, and all mirrors take time to get used to. Everyone has her personal favorite, and ours happens to be the EVT Safe Zone Bicycle Helmet Mirror, which we love for its sturdiness, wide-view lens and ease of attaching to your helmet.
The type of mirror you choose is less important that making sure you use one consistently and safely.