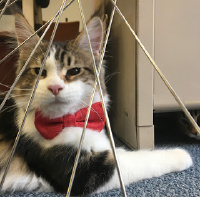 I worked in downtown Rochester in a large building for a large corporation for the local newspaper for twenty-six years. It was a fascinating job and I had a great career. In any job with layer upon layer of managers all answering to someone above them, there are rules, restrictions and meetings, endless meetings.
I knew that when I left to join WomanTours, it would be a drastic change in environment. We are five women in a two room office here in Rochester. Everyone gets along, we all share ideas and everyone works hard to make our tours the best they can be for our guests. But some of the perks were unexpected.
In November, Jackie and her sister Jen adopted two Maine Coon kittens. Jen's kitten Francis is a beautiful, sweet strapping boy cat. Jackie's kitten had some serious health problems that through surgery and medication are now under control and she too, is growing into a sweetheart of a cat. Because of her illness, Jackie started bring her to the office so we could all keep an eye on her as she recuperated. As she improved, they decided to reunite them on Fridays in the office. We have dubbed it Furry Friday.
We are all animal lovers and look forward to their Friday visits. Running and chasing each other around our desks turns into sleeping on laps or desktops. Having a purring creature on your lap as you work is great for the soul.
Workplaces can and should be places of inspiration and enrichment. It's so detrimental to mental and physical health that so may workplaces are just the opposite. Adding fur to the mix, when possible, is a great way to start. Meow…