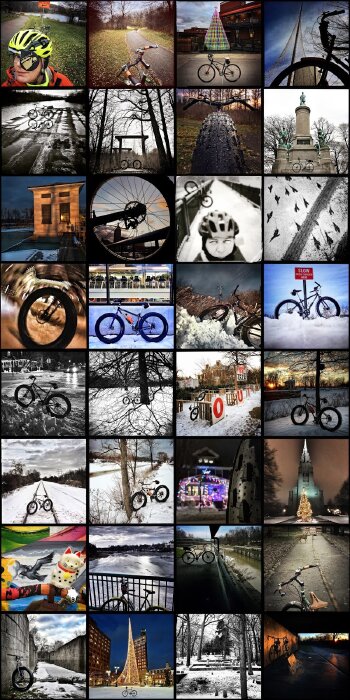 I welcomed 2017 with a sunset bike ride around the city of Rochester after riding my bike everyday in the month of December. It was a great way to start the year. On January 2nd, a gloomy day, I took an afternoon nap. It was great too.

What I took away from my personal challenge is that you don't have to ride far to get a benefit from daily riding. On my worst days, I rode a couple of miles and ran back inside, both for safety and sanity. On my best days I rode to new places or to favorite places made new by being snow-covered. I tried to take joy in each little journey by also challenging myself to make a picture on my ride everyday. It's nice to have a visual record of the month.

The cold isn't your enemy if you are dressed correctly. A good balaclava and lobster gloves are essential when it's under twenty degrees. The snow isn't bad on the right bike with wide enough tires. The wind is tolerable if you ride into it first and have it at your back when homeward bound. Don't ride far if it's too windy, too icy and too cold all at once. Always wear bright clothes and use lights.

Once I was out there, I was almost always happy. (OK, the seventeen degree day with a thirty mile an hour wind was hard). I am going to try and keep riding as much as I can through the rest of the winter, but taking the day off yesterday and snoozing on the couch sure was nice too. A balance is what I'm going for now. That, and the joy of knowing in three months my butt isn't going to hurt on those first warmer spring rides.