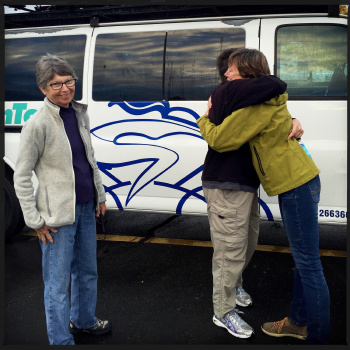 As a small company, we like to get to know our guests. This is made easier by the fact that we have so many return customers. They become family to us. We have women who have done over a dozen trips with us. We have women who regularly do a tour every year with us, some who do two. It's inspiring and we don't take it lightly.
Mary from Florida lets us store our east coast van and trailer on her property for the winter. Julie personally brought us her first publication, a zine about women over forty who ride bicycles. Barb always stops in to chat when she is in our area visiting her sister. Peggy does the same whenever she is in town. Nancy and Carlyn drove our new trailer out west to begin its life on the road. The friendships formed on tours last for years, often leading to reunion tours or get togethers.
We are beginning another tour season today in beautiful Hawaii. It is not lost on us how lucky we are to be running a company where we can bring the joy of cycling to women and help support them as they grow into bicycle travelers. Sometimes women are traveling alone for the very first time, getting on a bicycle to see a part of the world they have never been to.
We take women across the country, up and down the coasts. We traverse the cultural landscape in our international offerings. New communities are formed on each one of our tours. Each woman finds her pace and her people. The limbs of our family tree just keep growing. It is this that we treasure and we thank all of you for taking the journey with us.
"She who succeeds in gaining the mastery of the bicycle will gain the mastery of life"
Francis Willard, 1895