Netherlands Sail & Cycle Tulip Tour
8 Day Sailboat & Bike Tour
Tour Information
Date:
04/20/24 - 04/27/24
Meet:
Zaanse Schans, Netherlands
This sail-and-cycle trip takes place in the land known around the world for its spring flowers. The Netherlands is probably the most bicycle-friendly country on Earth too. We'll see it all while sailing the calm, protected waters of the Wadden Sea and IJsselmeer Bay during peak flower season. Join us on our own tall ship and experience Dutch floriculture, cuisine, and history at its finest!
Call Us!
The tour is filled, but call us. We may be able to squeeze you in.

Leisurely
Flat terrain on paved bike paths and separated bike lanes. Leisurely cycling level.
7 nights lodging on the sailboat Wapen fan Fryslan, 7 breakfasts, 5 sack lunches, 1 lunch on board, 6 dinners, Wi-Fi, bus excursion to Keukenhof Gardens, admission to Hortus Bulborum and Zaanse Schans, guided walking tour of Volendam, rental hybrid bicycle, and trained bilingual guides.
(WomanTours reserves the right to increase the price of the tour a maximum of 5% for reasons beyond our control, such as new or increased taxes or fuel hikes.)
Hybrid bicycle with 7 gears is included in the price of the tour. Electric-assist bikes are an additional $350.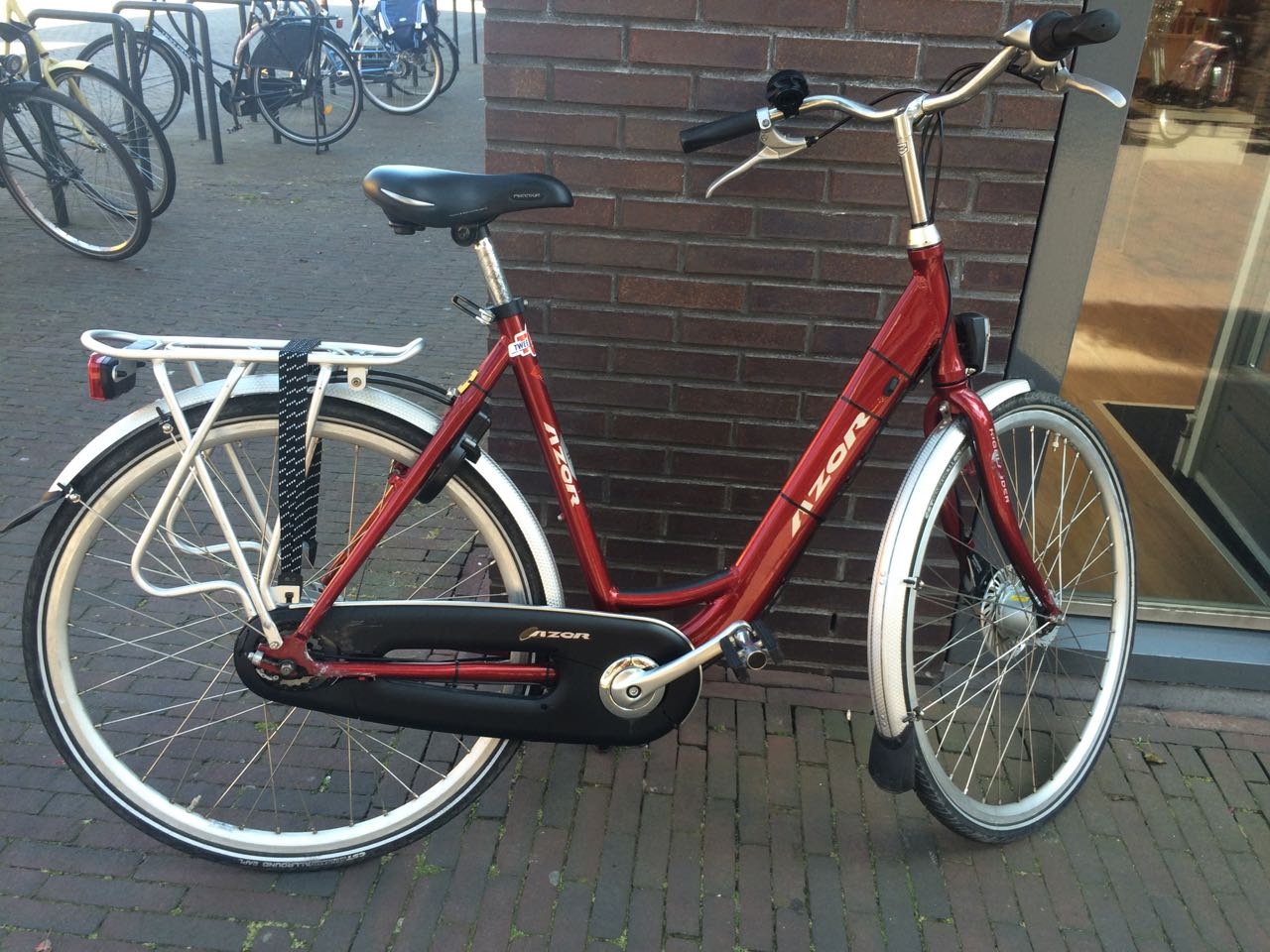 The Wapen fan Fryslan is the largest two-masted schooner on the Dutch waterways. It has 10 heated guest cabins, a dining room, bar, jacuzzi and sundeck. Each cabin has two twin beds and a private bathroom. Triples are available by adding a third bunk bed to a cabin and come with a 10% discount.
Fly in and out of Amsterdam Airport Schiphol (AMS), Netherlands. Then take a train to our boat.
"The sailboat was beautiful and quite expertly handled by captain Koney and Lueiwa her first mate. The cabins were spacious enough and comfortable. All meals were fabulous!"
Bike Tour Itinerary
DAY 1: Check in to the Wapen fan Fryslân sailboat by 2:00 pm. Our home away from home holds 20 guests. Each room has two beds and its own bathroom. A third roommate can be added with a bunk bed if desired. We'll be fitted with our bicycles and take a short test ride.
We are docked at the open air museum of Zaanse Schans, where we'll watch wooden clogs being made and spices being produced in a windmill. We'll learn how windmills have been replaced by turbines to pump the water and reclaim the land from the sea all over the Netherlands. 5 miles.
DAY 2: It's a morning of flower power! We'll cycle through a myriad of tulip fields to the Hortus Bulborum, a garden museum where you'll see nearly 3,000 heirloom varieties of tulips, daffodils, crocuses and hyacinths. Some will date back to the late 16th century when the tulip was first introduced to the Netherlands. It's living history in a kaleidoscope of shapes, colors, and fragrances.
We will finish our ride in the lively, colorful town of Alkmaar, known as "Cheese City." Its weekly cheese market is a 400-year-old tradition and one of only four cheese markets still in existence. We'll meet our sailboat in this lovely town, near the well-preserved 17th century buildings and narrow, winding canals. 27 miles ±492'.
DAY 3: Goedemorgen! Wake up to what will be one of the most colorful days of spring you might ever experience. After breakfast, we'll set off by bike through the historic tulip fields, known as the "Bulb Belt."
Next, we head to the North Holland Dune Reserve on the North Sea, where the dunes are a wild, windblown landscape of sand, grasses, shaggy red Highland cattle, birds and wooded enclaves. 19 – 31 miles ±758'.
DAY 4: Today we set sail for Texel, the largest of the West Frisian Islands that lie in the Wadden Sea. A UNESCO World Heritage Site, the Wadden Sea is the world's largest unbroken system of intertidal sand and mud flats.
Get ready for a fantastic bike ride exploring sand dunes and beaches and being in the company of birds, seals, and grazing sheep. Known as a cycling paradise, Texel is an island of unique flora and fauna, all of which can be seen from its 85 miles of bike paths.
More than a third of the island is deemed nature reserve, and we'll explore the Dunes of Texel National Park that stretches along the entire west coast. At the end of the ride, we'll visit a local brewery in Oudeschild before heading back to our boat for dinner. 27 – 30 miles ±442'.
DAY 5: We set sail for Enkhuizen in the morning. You can volunteer to lend a hand hoisting the sails during the 6-hour trip. That exercise will help work up an appetite before our 3-course lunch onboard. Or just relax on deck in the jacuzzi and watch for friendly sea lions.
We'll have time to explore the adorable town of Enkhuizen later in the day. Consider having an aperitif on your own at one of its charming restaurants and cafés overlooking the water. Make yourself a sandwich to bring with you to explore the fishing harbor or the Maritime and Beachcombers Museum, or stop in town for dinner on your own. 0 miles.
DAY 6: In the morning, we'll sail the vast freshwater lake Ijsselmeer until the major port city of Hoorn, after which Cape Horn is named. Then, with bag lunches ready to go, we'll start our bike ride by cycling through the town of Edam. Its red and yellow wax-covered cheese became recognized around the world during the 17th century. Sailors took wheels of Edam on their trips because it didn't spoil and could be traded for spices in the East Indies.
We'll end in the harbor town of Volendam. You'll understand why this picturesque village with its cobbled streets and pointed red-roofed houses was once an artist's retreat, home to Picasso and Renoir. 15 miles ±215'.
DAY 7: We trade our bikes for a private bus to take us to the Keukenhof Gardens. Considered the most beautiful spring garden in the world, the park is open only a few weeks every year. You can tip-toe through 800 tulip varieties that are among the park's 7 million blooming bulbs spread over 80 acres. What a spot to savor a picnic lunch!
We'll end the day back on our sailboat in Amsterdam and celebrate the beautiful week at our final dinner together. 0 miles.
DAY 8: We'll say our good-byes after breakfast and disembark by 9:00am. We'll help direct you to the train station or airport for your trip home or onward in Europe. Tot ziens! 0 miles.