Belgium & Netherlands Bike & Barge Tour - Bruges to Amsterdam
8 Day Bike & Barge Tour
Tour Information
Date:
09/23/23 - 09/30/23
If you've enjoyed our other bike and barge tours, then join us on this newest tour through two countries! Embrace the best of Flemish Belgium and the Netherlands. This trip gives you time to explore the world-famous cities of Bruges, Antwerp, Ghent and Amsterdam full of medieval history. We'll also introduce you to quaint villages, breathtaking river deltas and impressive canal systems. After full days of flat easy cycling and sightseeing, you'll dine and sleep aboard a cozy barge.

Call Us!
The tour is filled, but call us. We may be able to squeeze you in.

Leisurely
Flat terrain on paved bike paths. Leisurely cycling level.
7 nights lodging, 7 breakfasts, 6 sack lunches, 6 dinners, cue sheets and electronic GPS cues, rental hybrid bicycle, guided walking tours of Bruges and Dordrecht, and trained bilingual guides.
(WomanTours reserves the right to increase the price of the tour a maximum of 5% for reasons beyond our control, such as new or increased taxes or fuel hikes.)
Hybrid bike is included in the price of the tour. E-bikes are available for $250 each but quantities are limited.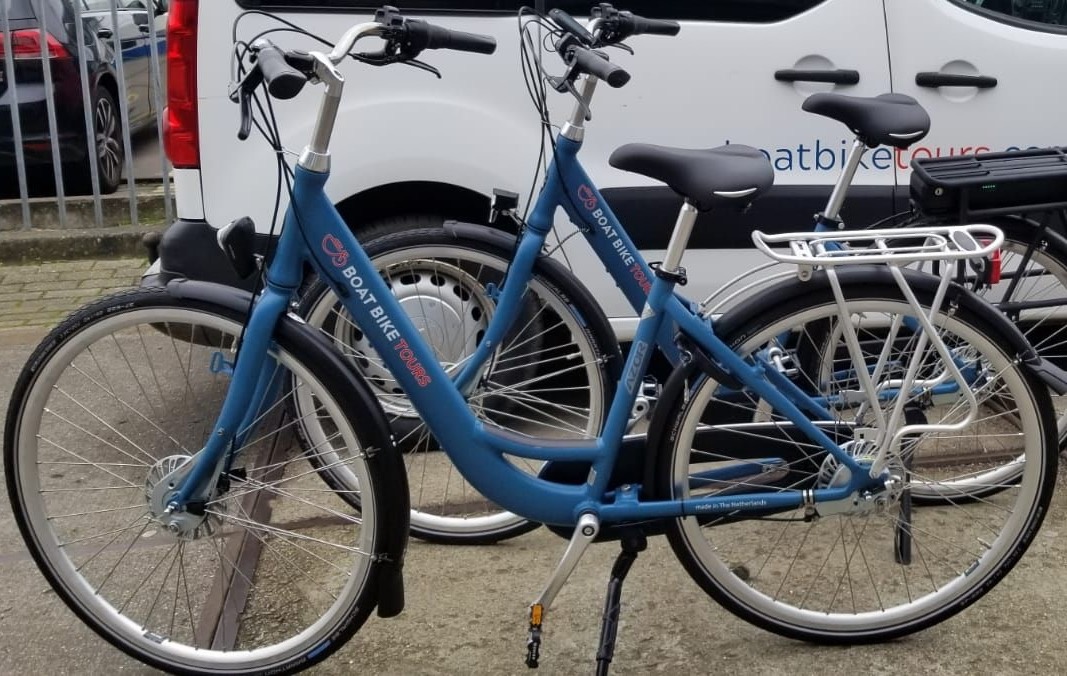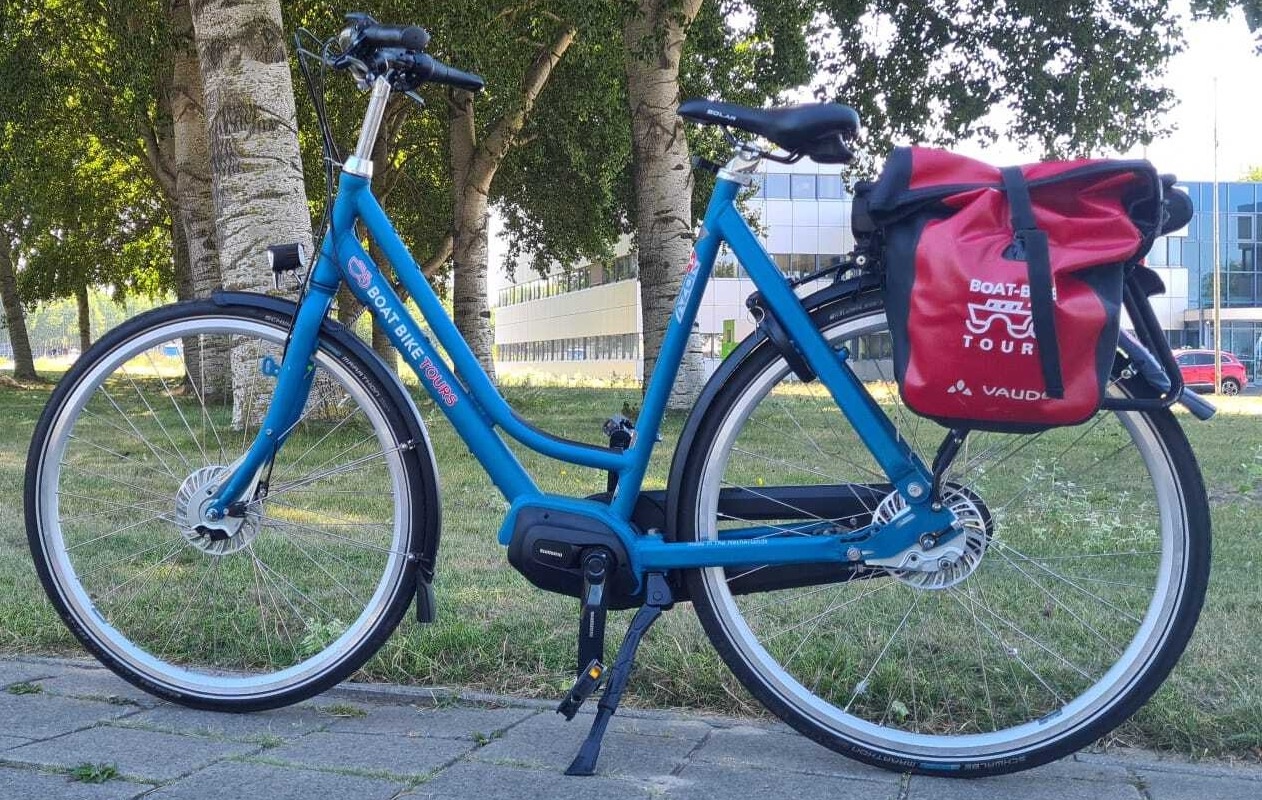 Our Lena Maria barge has 12 cabins. Each room has two beds and its own bathroom.
Fly into Brussels and out of Amsterdam or round-trip to either city and take the train.
I never expected the barge room to be so comfortable, the boat so lovely, the food so utterly fantastic, the scenery so beautiful, the history we learned so amazing, and the weather turned out better than expected. Win win!
Bike & Barge Tour Itinerary
DAY 1: We hope you arrive at least a day early so you can spend time exploring Bruges, Belgium's UNESCO World Heritage Center dubbed "The Pearl of Flanders." Stroll the historic neighborhoods and study the stained glass, tapestries and paintings at the Gruuthuse Museum.
The crew of the Lena Maria will be ready to welcome you at 1:00pm. Renovated during the pandemic with a clean modern look, our barge has 12 rooms, each with two twin beds and a bathroom. Meet your guides and crew for an orientation and bike fitting at 2:00pm. Then we will take our bikes for a short test ride through the Bruges outskirts and savor our first dinner together on the boat. Afterwards, we'll enjoy an easy walk through the center of town before bedtime. 7 miles.
DAY 2: Today we pedal through the Flemish countryside to Ghent, a university hub and port city known for its authentic medieval castles, canal houses and church towers. During the Middle Ages, Ghent ranked among Europe's largest and most prosperous cities, second only to Paris. Today its entire city center is open to pedestrians only. Be sure to try the local cone-shaped Flemish delicacy called a cuberdon in Flemish or neus for "nose" in Dutch. 35 miles.
DAY 3: After breakfast it's back on the bikes as we follow the Schelde River downstream to Dendermonde. You'll see farm fields and grazing sheep as we ride along the river. Once in the town's charming main square – the Grote Markt -- consider sipping a Belgian beer and contemplating those who have come before you doing the same thing in this square for centuries. 25 miles.
DAY 4: Once again, the barge-friendly Schelde is our guide today. The river has been a vital commercial waterway since Roman times. We head to Antwerp, known for nearly five centuries as the diamond trading capital of the world. Baroque artist Sir Peter Paul Rubens worked and lived here as well, and his home is now a museum. You'll have time to see this and other highlights of the city, such as the towering Cathedral of our Lady and the medieval Steen Castle. Dinner is on your own tonight. 30-39 miles.
DAY 5: In the morning, we will sail through the Schelde-Rhine Canal and see firsthand how the canal's Kreekrak lock system keeps salt water from the North Sea from invading inland waters. After crossing the border into the Netherlands, we start today's ride through the wooded region of Wouwse Plantage to Tholen, a pretty village and popular fishing destination.
We board our barge again, passing through the Volkerak lock system before docking in Dordrecht for the night. We'll explore the town with an after-dinner guided stroll. 12-22 miles.
DAY 6: A quick "waterbus" ferry will shuttle bikes and riders to our cycling route this morning. Then we'll bike to the famous Kinderdijk windmills. Listed as UNESCO Cultural Heritage sites, these windmills were originally built to pump water out of low-lying land tracts known as polders.
From Kinderdijk we pedal through the town of Schoonhoven, historically famous for its community of silversmiths, to Vianen, a fortified city since the 14th century. Situated on the Lek River, Vianen has many charms, from the Grote Kerk (Grand Church) to the city wall. You'll have time to roam the town after dinner. 35 miles.
DAY 7: Enjoy an early breakfast cruise before we begin our final day of cycling in Breukelen, a university town nestled on the Vecht. In the 17th century, wealthy merchants built beautiful mansions along this river, and you can admire them, along with the small castles and impressive gardens. The route then winds its way through several picturesque villages, including Nigtevecht, where we will have a tasty stop at a cheese farm. Finally it's on to our final destination of Amsterdam for our last dinner together on the barge. 24 – 30 miles.
DAY 8: We'll say our good-byes after breakfast. It's a short journey to the train station for your trip to an airport. Tot ziens! 0 miles.