Holland: Bike & Barge - Maastricht to Amsterdam
8 Day Barge Tour
Tour Information
Date:
06/01/19 - 06/08/19
Meet:
Maastricht, Netherlands
Our bike and barge tours have proven so popular that we are thrilled to bring you a second itinerary in Holland. This trip starts from the southern border of the country and meanders north along the Meuse River before ending in the country's capital of Amsterdam. Come explore more of the country where children learn to ride a bike in second grade, where there are more bikes than people, and where bikes rule the road.
Call Us!
The tour is filled, but call us. We may be able to squeeze you in.

Leisurely
Flat terrain on paved bike paths and separated bike lanes. Leisurely cycling level.
7 nights lodging, 7 breakfasts, 6 sack lunches, 7 dinners, rental bicycle and bike insurance, Royal Leerdam Crystal factory tour, guided windmill tour, and trained bilingual guides. There are a limited number of triple rooms available that come with a 10% discount per person.
Hybrid bicycle with 7 gears is included in the price of the tour. Electric-assist bikes are an additional $195.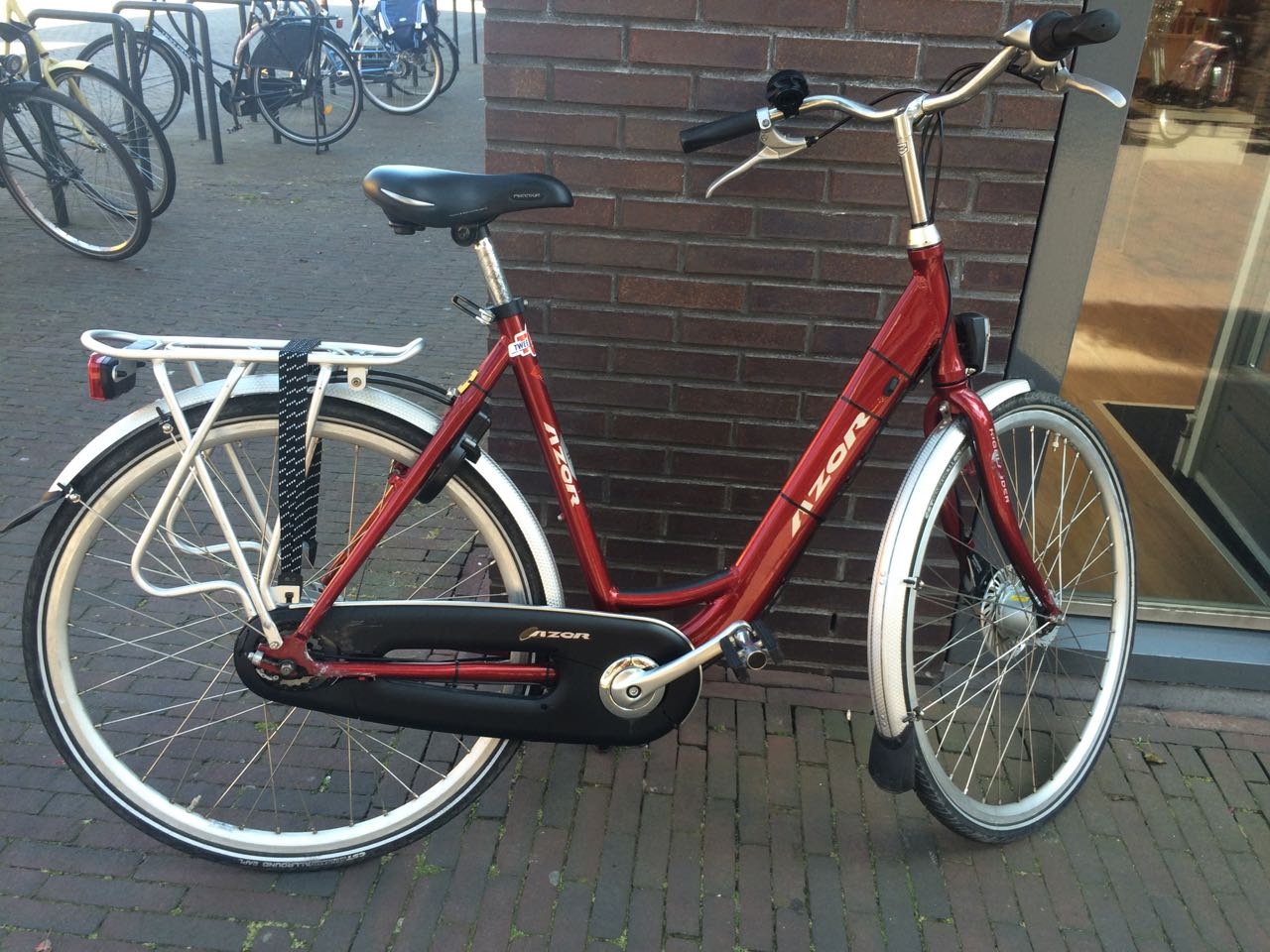 Fly into Amsterdam or Brussels, and take a train to the start of the tour in Maastricht. Fly home from Amsterdam.
"I have to say that having the ability to totally unpack makes these boating trips so appealing. Not having to constantly pack and unpack, is just the best stress release. I can't tell you how much I appreciate you continuing to make this type of biking/barge/boat adventure available. It truly does something amazing to my soul!!
Tour Itinerary
DAY 1: We meet at 6:00pm onboard our boat, the Sarah, docked in the beautiful city of Maastricht. Begun as a Roman settlement, Maastricht is best known today for the Maastricht Treaty and birthplace of the euro. It's a charming city with a lively central square.
Try to arrive early, as there's even more to take in than the sidewalk cafés and river promenades. Be sure to take a guided tour of the Maastricht Underground. The fort and vast labyrinth of caves have been used for four centuries for reasons as varied as mining stone, hiding precious artwork, and shelterning people from ongoing wars. The drawings on the walls help illustrate the fascinating stories.
Our barge, the Sarah, holds 20 guests. Most cabins have two beds and every room has its own bathroom. After introductions to the crew, a bike fitting, an orientation, and our our first dinner together on the barge, we'll stretch our legs on a quick bike ride. 6 miles.
DAY 2: We'll motor to the town of Born as we eat breakfast on the boat this morning. Then we'll start our cycling by crossing the Belgium border and entering the quaint town of Maaseik. You can stop on the tree-lined central square and treat yourself to one or all of the delicacies for which Belgium is famous – waffles, mussels, beer and chocolate!
In the afternoon, it's back to Holland as we continue to the "white village" of Thorn. The only non-white building in the town is the 14th century church in the center. We'll finish our cycling at the junction of Rivers Roer and Meuse in the city of Roermond. It is the home of the famous 19th century Dutch architect Pierre Cuypers, who designed the stunning Rijksmuseum and the central train station in Amsterdam. You can't miss either building once we get to Amsterdam. 27 miles.
DAY 3: We'll start our cycling right after breakfast and ride along both banks of the River Meuse until we reach the tiny town of Arcen. There you can visit the beautiful gardens surrounding an old castle turned museum. There are rose gardens, waterfalls, fountains, sculptures, and ponds full of koi. The Dutch love their flowers! 30 miles.
DAY 4: Today's bicycle ride may be your favorite of the tour. We'll cycle past the magnificent Well Castle, a beautifully restored 14th century medieval castle, complete with moats, ramparts, and a watchtower. Then we'll continue through Maasduinen National Park, full of forests and grasslands, stone ruins covered in vines, and parabolic dunes that move with the wind.
We'll complete our ride in the town of Cuijk, where St. Martin's Church is home to one of the country's oldest organs. We'll see beautifully painted windmills to remind us how much of The Netherlands would be under water if it weren't for the windmills and turbines constantly displacing the sea. 29 miles.
DAY 5: We continue along the Meuse River today as we cycle to the medieval cities of Grave and Ravenstein. We'll see the John S. Thompson Bridge in Grave, named for the American lieutenant who led his platoon in an attack against enemy forces at the bridge during WWII. He returned home decorated with two Purple Hearts and became a professional baseball player.
We'll end our day back on the barge with a leisurely sail down the river to Heusden. This picturesque town looks quintessentially Dutch. It's surrounded by walls, water, and windmill covered dikes. 24 miles.
DAY 6: Our destination today is Leerdam, a small town on the banks of the Linge River and a major center for glasswork. We will visit Royal Leerdam Crystal, founded in 1765 and still manufacturing glassware today. If you watch the 1958 short Dutch documentary about glassblowing, you can compare it to the master glassblowers we'll see during our visit. The exquisite film won an Academy Award for Best Documentary Short Subject and makes glassblowing look like a jazz music ballet. 25 miles.
DAY 7: Our last bike ride will take us along the Vecht River past beautiful mansions originally constructed during the 17th century by wealthy merchant families from Amsterdam. Along the way, we'll stop to visit a windmill, not unlike the ubiquitous mills that we've cycled past all week. We'll learn about the crucial role they've played in the history and prosperity of The Netherlands.
We'll end our last ride back in the nation's capital city of Amsterdam, and celebrate our tour at our last dinner together on the barge. Be sure to save some energy to experience the lively Amsterdam nightlife tonight! 26 miles.
DAY 8: We'll say our good-byes after breakfast. If you have the time, plan to spend another day or so in Amsterdam on your own. Visit the Anne Frank House, the Van Gogh museum, or the Rijksmuseum full of paintings by Rembrandt and Vermeer. Otherwise, we'll direct you to the train station and airport for your trip home. Tot ziens! 0 miles.