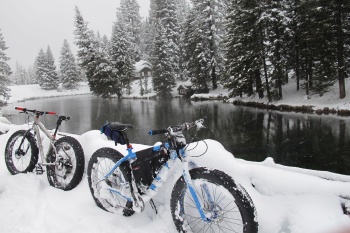 Winter Motivation
Last April I took the 30 Days of Biking Challenge and I felt that it really helped prepare me for the cycling season. As I sit at my desk feeling like a lump after the Thanksgiving holiday, it occurred to me that if I gave myself that goal again in December, it might keep me riding all through the winter. I realize that having a goal really helped me get out there every day, if only for a few miles.
The worst of our weather here in Rochester, NY usually comes in January and February. If I build up a good base in December, I figure that I can make it through the coldest and snowiest days either outside for a short ride or on my trainer. I should also add that I am almost finished building up my own Surly Pugsley Fat bike with 3.8 inch tires!! I guess between that and setting a goal, I have no excuses.
The 30 Days of Biking Challenge will come around again this April. I hope I am in better shape to take it on in the spring. We will see how it goes.
Does anyone out there have similar goals for riding through the winter and if so, what's your plan? Any other fat bikers??? Feel free to share and encourage me:)