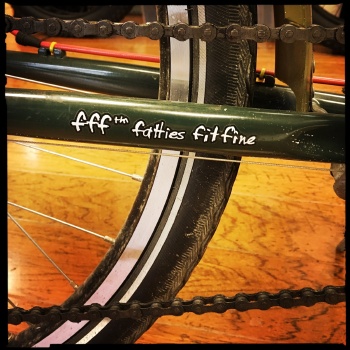 I love the bicycle both as a means of transportation and exercise and as a work of art. It's wonderful invention. I am a total bike geek in that I love to build my own bikes from the frame up.
In 2003, I had the mad idea to buy a frame and learn how to build it to my own specifications. I learned as I went along, buying mostly used parts off of eBay. I scoured the internet for how to articles. I made a lot of mistakes… I learned how to correct them and sometimes in the process made more mistakes. Through it all I ended up with a bike that felt all the more mine for the comfort it offered and the sweat I put into it. My brain was enjoying learning a new skill. There were bike parts all over my house. Needless to say, I lived alone at the time.
Many frames later, as I have bought and sold quite a few, I have truly gotten to know how I want a bike to fit me and how I want it geared for my riding style. I know that as a middle-aged, heavier woman, I need a wider gear range, a more upright riding position, a truly comfortable saddle, wider tires, a rack and some fenders to keep my butt dry in crappy weather. Last but not least, it needs to have a kickstand. I do not care if anyone thinks that is uncool or that it adds weight to my trusty steed. I am not a racer, If I want a lighter bike, I should lose ten pounds.
I love that I am able to re-invent a bike just by changing out a few things. I would encourage women who are uncomfortable on their bikes or are afraid of hilly terrain that there are components that you or your bike shop can change to make cycling much more pleasurable. In turn you will ride more and gain a true love of cycling as so many of our guests have.
Next week I will feature one of the bikes I have built and show the components I chose to make riding a better experience for me.
Annette