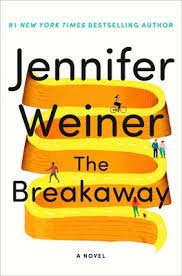 Anyone who has ever been on a guided bike tour or actually guided a group bike tour herself will relate to Jennifer Weiner's new novel, The Breakaway. It's about a 30-something woman named Abby who's at a critical juncture in her life. Does she move in with her podiatrist boyfriend Mark, a genuinely nice guy she met at a fat camp when she was a teenager? Can she find a career path that is both meaningful and pays the bills? Will she make peace with her mother, a thin woman who has always prodded her plump daughter to lose weight? After all, Abby is finally happy with both her zaftig, athletic body and her healthy appetite for pasta and croissants. And when she's riding a bike, she's even happier.
A last-minute opportunity to lead a two-week bike tour from New York City to Niagara Falls gives this soul-searching millennial an unlikely place to start working on these big questions, thanks to two head-whirling surprises. The first is that her mother has signed up for the tour. The second is that so has Sebastian, the handsome dude with whom she had the perfect one-night stand two years ago shortly after resurrecting her romance with Mark. What, beside a few flat tires, could possibly go wrong?
No spoilers here. But I will divulge that The Breakaway's setting is familiar to WomanTours, as Abby's tour starts in New York City and ends in Niagara Falls, following the Hudson Valley Greenway and then the Erie Canalway, both of which are part of the Empire State Trail. We'll be running the Hudson Valley Greenway tour in June and September next year, and we frequently offer the Erie Canalway Tour, though we're giving this tour a break in 2024.
Crowned as the queen of chick lit, Weiner (author of the best-selling Good in Bed as well as Big Summer) has crafted a cycling-specific story that covers current feminist themes, from body image acceptance and mother-daughter relationships to social media scandals and a woman's right to choose both her physical and spiritual destiny. Weiner herself is an avid cyclist. Naturally, she has the biking descriptors down to a T, describing one uppity rider as "clad in entitlement and spandex." She is probably one of the few writers of her generation who not only includes derailleurs in her narrative, but also knows how to fix one.
For these and other reasons, The Breakaway is both a fun read and a fun ride.