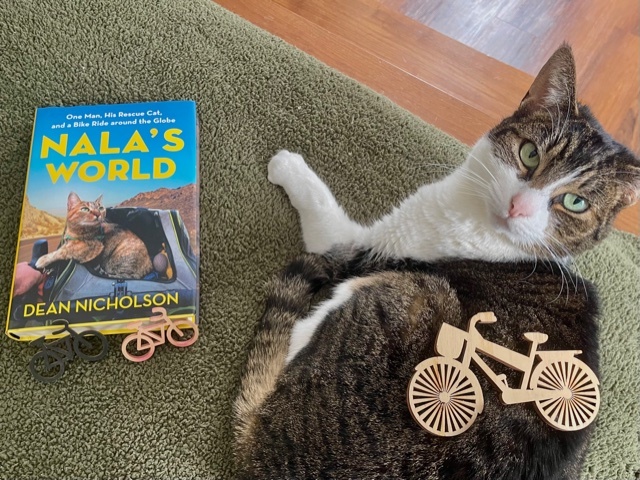 Happy Valentine's Day!
What, you say, I'm late? How did the holiday of love slip me by? Oh yeah, I got sucked into a really romantic book, and am only now catching up on chocolate.
I wish I could offer those delicious bon bons to you. But I ate them all. So instead, I am going to share this sweet love story I just finished reading.
A good love story is better late than never, especially when it takes place on a bike.
It starts in Scotland in the fall of 2018, with an aimless, party-loving, 30-year-old day laborer named Dean Nicholson who sets off to see the world by bike with his partner in beer, Ricky. A good drinking buddy isn't always the best biking companion, especially as the hangovers mount. The two part France, reunite in Italy, and then finally call it quits in Bosnia, as Dean realizes he needs to dry out a bit and pedal solo if he's going to accomplish his goal.
Dean is not alone for long. Climbing a zig-zag mountain road in southern Bosnia, he hears a squeak and sees a flash of gray and white. Looking behind him, Dean is shocked to find a scrawny, starving kitten scampering to catch up.
Her piercing green cat eyes stop him in his tracks. Against his better judgment, Dean scoops up the mangy critter, carves out a pocket for her to sit in his handlebar pouch, and begins pedaling again. Within a few minutes, the feline leaps out of the bag, perches herself around Dean's neck and shoulder and falls asleep, knowing she has found her new home.
From this point on, Dean's journey is filtered through those innocent green eyes, which tie his heartstrings to hers in an unbreakable bond --- he is traveling through Nala's world. Nala is the name he later gives to this cat, and "Nala's World: One Man, His Rescue Cat, and a Bike Ride around the Globe" (Grand Central Publishing, 2020) is the title he gives to the book he wrote (with Garry Jenkins) about their remarkable two-wheeling love story.
Learning to travel with a cat has steep learning curves. For starters, how do you get through border crossings? (Answer: Get a pet passport.) How do you acclimate a cat to sleeping every night in a tent? (Hint: Don't feed her pesto, unless you enjoy waking up to a stinky, slimy mess in the morning.) What do you do when kitty gets a serious respiratory infection or the time comes for Madame Meow-Meow to be spayed? (Spoiler alert: Get ready for long layovers in Balkan towns where veterinarian care is good.) And what do you do when you can't find a cat sitter while you work as a kayak guide in Santorini, Greece in order to pay for said vet bills? (Feline myth buster: Find out for yourself, as Kitty naps contentedly in cockpit or sniffs the ocean breeze inquisitively at the bow, that cats actually do like being around water.)
While this love story initially makes Dean out to be the hero who saves an abandoned cat, in time we see that Nala is Dean's savior on many fronts. She wakes him from a deep sleep in the Turkish forest as a bear lumbers near the tent, triggering Dean to run to the road for safety. She teaches Dean to quit worrying about gobbling up the miles and instead slow down and enjoy the sunsets. And as an adorable, friendly creature perched on the shoulders of a big, burly tattooed guy traveling alone, she invites a constant flood of kindess and fascination from strangers, who offer everything from a beer and kibble to home-cooked meals and free lodging.
Most importantly, Nala helps close the chapter on Dean's prolonged adolescence, ushering him to a more purpose-filled adulthood as he learns to put Nala's needs above his own. While Nala is the only critter that Dean adopts, he rescues two sick, stray dogs along the way, taking them for vet care and finding a home for one of them. The Instagram page @1bike1world, started as a modest way to chronicle his globe-trotting, morphs into the vehicle through which Dean raises awareness and funding for dozens of animal welfare charities. (Merch alert: You can buy Nala calendars, T-shirts, backpacks, tote bags, cat sweaters and jigsaw puzzles at Dean's website, 1bike1world. Proceeds from the calendar sales support many animal welfare organizations across the globe.)
"Nala's World" is not only a tale of devotion between man and cat, but also a three-way love story between man, cat and world that could only transpire in the 21st century. It was The Dodo's YouTube video from April 2019 that turned Nala and Dean into Internet sensations. The video, which to date has garnered 5.6 million views, drove so much traffic to Dean's Insta page that the pair would often be discovered by strangers as soon as they arrived in a new location. Last February, for example, just weeks before the coronavirus threw Europe into lockdown, a woman actually stalked Dean and Nala out in the Serbian woods while they were still sleeping in their tent, welcoming them with a thermos of coffee, a can of tuna, and an invitation for breakfast at her house a few minutes away.
I met Dean and Nala first through their book, and was sad that the pandemic brought "Nala's World" to what felt like a premature end. But I am glad that Instagram has updated me on their adventures: Nala and Dean continue their love story in Austria. Instead of eating chocolates, Dean is swimming in ice cold lakes, Nala is sporting a smart Nordic sweater and both are working hard to help animals around the world.