Around Lake Erie Epic Bike Tour
14 Day Epic Bike Tour
Tour Information
Date:
07/07/24 - 07/20/24
Join us on the second of our series of bike tours circumnavigating America's Great Lakes. We start in the "Comeback City" of Cleveland, Ohio and head east around Lake Erie, stopping for a layover day in Buffalo. You can use the day to visit one of the natural wonders of the world, Niagara Falls. After our day off, we bike through quiet Canadian farmland and then cross back to the USA on a ferry through charming Pelee Island. If you like to bike a lot of miles and stay in comfortable hotels, then this is the tour for you.
Guaranteed
$150 discount if you sign up by October 1, 2023 with a $300 nonrefundable deposit.

Moderate

Advanced
600 miles around Lake Erie through Ohio, Pennsylvania, New York and Ontario, Canada. Average 49 miles per day with one rest day. Mostly flat and gently rolling terrain. Advanced cycling due to the daily miles, but moderate to leisurely in terms of terrain, especially with an e-bike.
13 nights lodging, all breakfasts, dinners, and snacks on riding days, daily SAG support along the route, luggage transfer, mechanical support, detailed maps, cue sheets and GPS files, and trained guides.
$375 for Cannondale Topstone 2 adventure road bike. $550 for Gazelle T10 Ultimate low-step e-bike or Specialized Vado step-thru e-bike.
Topstone
Gazelle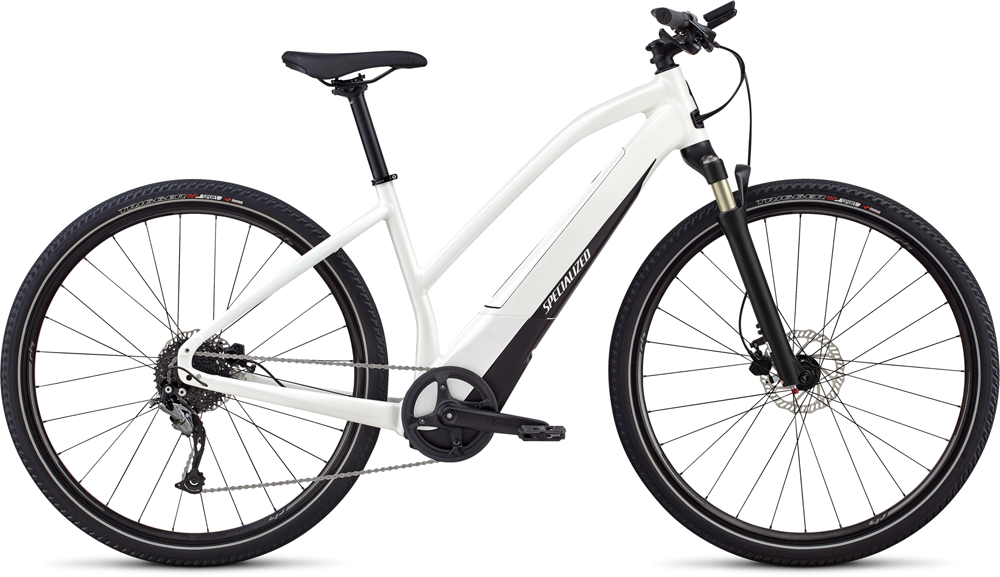 Vado
Fly or take the train in and out of Cleveland, OH. Or drive and leave your car in Cleveland during the tour.
"My goals were to get fit, lost some weight and enjoy the scenery. Those were met, and I met some wonderful people."
"Such a great ride with so many opportunities to add stops and swims."
Bike Tour Details
DAY 1: We meet at our hotel in the heart of the North Coast Harbor of Cleveland, OH. You'll be within walking distance of the Rock & Roll Hall of Fame, the International Women's Air & Space Museum and the Great Lakes Science Center. We'll start our tour at 2:00pm with an orientation, followed by a bike prep and then dinner together. 0 miles.
DAYS 2-11: We'll ride out of the city on the Cleveland Lakefront Bikeway. Once out of town, the landscape will become gently rolling and flat, as we roll by farmland, vineyards and orchards.
We'll run this tour as we do our cross-country tours. We start early with a light breakfast provided by the hotel. Then you'll pack your bike bag with a snack of raisins, nuts, energy bars or a peanut butter sandwich. Make sure you have an extra layer of clothing and perhaps a rain jacket with you. Everyone leaves on her own, usually between 8-9am and follows the electronic GPS cues or printed cue sheets that have been meticulously prepared for the tour.
About every 15-20 miles, you'll meet our SAG vehicle. It holds water, snacks, tire repair tools and a first aid kit. Even if you don't need anything, stop to chat about the wonderful tailwind or the panoramic view. If you're too tired to bike anymore, take a ride in the SAG vehicle to our hotel for the night. The SAG makes sure everyone is in safely at the end of the day.
Once at our hotel, you'll find your luggage, (delivered earlier by the WomanTours van and trailer), check in to your room, and meet your roommate. You'll rotate roommates every time we change lodging, unless you've requested a specific roommate or the upgrade for a single room. There's time to shower before dinner and perhaps take a dip in the hotel pool.
BIKE TOUR HIGHLIGHTS:
Ecological Trail System of Pelee Island
Niagara Falls
Canadian Waterfront Trail and Friendship Trail
Cleveland attractions: Rock & Roll Hall of Fame, the International Women's Air & Space Museum and the Great Lakes Science Center
States of Ohio, New York Pennsylvania, and the province of Ontario
Most of our hotels are chains, such as Best Westerns or Holiday Inns, and most of us will be in double occupancy rooms.
If anyone has experienced bike problems during the day, we'll use the time before dinner to fix it. Our guides can adjust brakes and shifting, fix flat tires and do other simple repairs. If it's a more complicated problem or needs a replacement part, the bike will go to a trained mechanic at a nearby bike shop. The cost of those repairs are the rider's responsibility unless it's a rental bike.
Then we eat dinner together, carefully prepared for us by our traveling chef. She creates hearty and healthy dishes from our trailer kitchen, served buffet-style. While she will accommodate guests with specific allergies and provide a non-meat protein source for vegetarians, she cannot always adhere to everyone's likes and dislikes. You will need to be flexible. If you require a vegan, gluten-free, dairy-free, or other special diet, there is an additional fee of $100.
After dinner, our guide will hold a map meeting to discuss the highlights of the day and to go over the details of the next day's route.
We'll have one layover day on this tour in Buffalo, NY to give our bodies a chance to recover. You can do the optional ride to Niagara Falls where you can hike down into the gorge, take the jetboat tour through the rapids, or visit the Cave of the Winds to walk beneath the falls and feel their immense power. Lunch and dinner are on your own today. 49 miles average per day.
DAY 12: Our ride back to the USA includes 2 ferries as we cross the lake via the southernmost community in Canada, Pelee Island. The island is on major migratory bird and butterfly routes, and is home to the Ecological Trail System. The trails were constructed to provide access to the beaches, forests, sand dunes, and marshes found nowhere else in Canada. You'll cycle past a lighthouse, winery and several nature preserves and have time to kayak if you'd like.
DAY 13: Our last day of cycling takes us back to our starting hotel in Cleveland along the Lakefront Bikeway. We'll end our tour with a celebratory dinner before saying our good-byes.
DAY 14: We will offer a complimentary shuttle to the Cleveland airport or train station arriving by 9:00am. 0 miles.
REGISTRATION DETAILS: To sign up for this tour, we require a nonrefundable deposit of $300. The first payment of $1000 is due by January 1, 2024 and the $1300 is nonrefundable and nontransferable. The balance of the tour price is due 75 days prior to the tour, and our normal cancellation policy applies to that payment. We offer a 2% discount for paying by check.
TRIP INSURANCE: We will provide you with a source for trip cancellation insurance. We strongly recommend insurance, especially for a trip of this magnitude.
Around Lake Erie Epic Bike Tour Itinerary
| Date | Location | Miles |
| --- | --- | --- |
| Jul 7, 2024 | Cleveland, OH | 0 |
| Jul 8, 2024 | Austinburg, OH | 58 (+1444'/-1259') |
| Jul 9, 2024 | Erie, PA | 49 (+992'/-1136') |
| Jul 10, 2024 | Dunkirk, NY | 55 (+1454'/-1467') |
| Jul 11, 2024 | Buffalo, NY | 50 (+1138'/-1231') |
| Jul 12, 2024 | Buffalo, NY | 0 |
| Jul 13, 2024 | Dunnville, ON | 48 (+394'/-427') |
| Jul 14, 2024 | Simcoe, ON | 59 (+665'/-541') |
| Jul 15, 2024 | St Thomas, ON | 73 (+1029'/-959') |
| Jul 16, 2024 | Chatham, ON | 83 (+766'/-944') |
| Jul 17, 2024 | Leamington, ON | 45 (±230') |
| Jul 18, 2024 | Sandusky, OH | 10 (±170') |
| Jul 19, 2024 | Cleveland, OH | 58 (+1238'/-1150') |
| Jul 20, 2024 | Home | 0 miles |