Netherlands Bike & Barge - The Hansa Cities Tour
8 Day Bike & Barge Netherlands Tour
Tour Information
Date:
09/14/24 - 09/21/24
Meet:
Amsterdam, Netherlands
For more than 400 years, merchants from more than 200 cities throughout Northern Europe banded together in what is known as the Hanseatic League. While their initial interests were to protect against piracy so they could conduct trade beyond their borders, these wealthy, well-educated merchants had enormous economic and political influence, and their cities flourished. Consider it the medieval forerunner to the European Union.
We'll meander through several former Hansa cities by boat and by bike and experience this legacy first hand. We'll sail past castles and gardens and cycle through heather-covered moorlands and forests.
This tour makes for a perfect first trip to Europe: the breezy cycling is all on protected Dutch bike paths and the flying is easy in and out of Amsterdam. Come along!
Call Us!
The tour is filled, but call us. We may be able to squeeze you in.

Leisurely
Flat terrain on paved bike paths and separated bike lanes. Leisurely cycling level.
7 nights lodging, 7 breakfasts, 6 sack lunches, 6 dinners, cue sheets and electronic GPS cues, rental hybrid bicycle, guided walking tours of Deventer and Kampen, and trained bilingual guides.
(WomanTours reserves the right to increase the price of the tour a maximum of 5% for reasons beyond our control, such as new or increased taxes or fuel hikes.)
Hybrid bike is included in the price of the tour. E-bikes are available for $350 each but quantities are limited.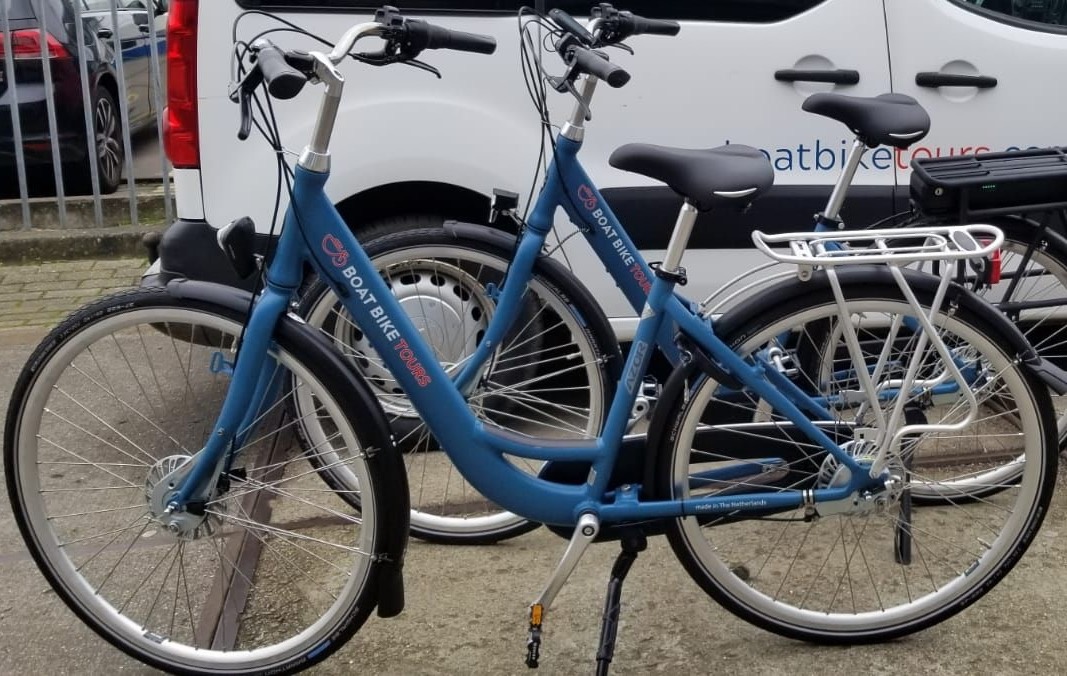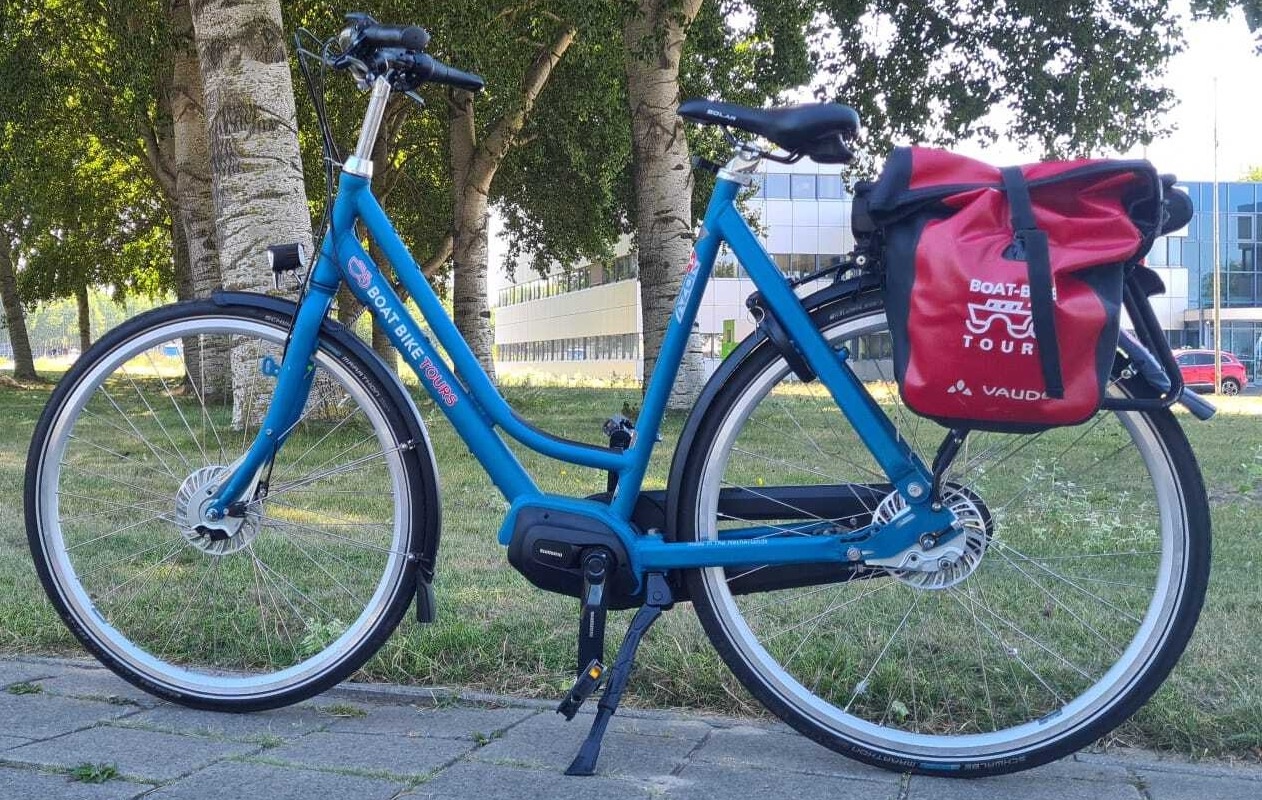 Our Lena Maria barge has 12 cabins. Each room has two beds and its own bathroom. The cabins are heated and have portholes that open. The dining room on the upper deck is air-conditioned.
Fly in and out of Amsterdam and take a 30-minute train to the barge.
I never expected the barge room to be so comfortable, the boat so lovely, the food so utterly fantastic, the scenery so beautiful, the history we learned so amazing, and the weather turned out better than expected. Win win!
Bike and Barge Tour Itinerary
Day 1 Check into the Lena Maria barge at 1:00pm. Our home away from home has cozy cabins with their own bathrooms as well as a comfortable lounge and dining room where you can enjoy the view. Don't be late! By 2:00pm the captain has us sailing along the Amsterdam-Rhine Canal until we anchor at Wijk bij Duurstede for the night. We will get to know the crew, guides and fellow cyclists and have our first dinner together. 0 miles.
Day 2 Breakfast is on the go this morning—the barge will sail to Wageningen while we eat. The university town, a hub of R&D for the food industry, points us toward the Rhine River valley, where we begin biking.
It won't be long until we'll be treated to the handsome woods and heather-covered moorlands of Veluwe. We will pass through Sonsbeek, a park famous for its gardens, fountains, and mansion, and then meet our barge in Arnhem, the city where one of the most devastating World War II battles was fought (and lost) by Allied forces. 21 or 28 miles.
Day 3 Following the Ijssel River on our bikes today, we visit our first Hanseatic town of Doesberg, once a fortified city of great importance. While diminished in size, its grandeur is charming. Next is Bronkhorst, the tiniest town in all of the Netherlands, so don't worry about crowds. We'll continue to follow the Ijssel riverbank, meandering by castles, estates and country houses until we meet back up with our barge.
Dinner will be savored while the boat makes its way to Deventer, another Hanseatic city that we will see via a guided walking tour after dinner. It's famous for its ironworks industry and its delicious honey cake, known as Deventer koek. 16 or 27 miles.
Day 4 This morning, we are off the boat, on a bike, and then onto a ferry to cross the Ijssel, where we end up in the 800-year-old Hanseatic town of Hattem. (In more recent history, Hattem offers visitors the chance to float down the river via a clog-shaped row boat). You can call it a day of riding here, or pedal further into the Veluwe country. Once again, dinner doubles as barge travel time. When we arrive in Kampen, the largest of the Dutch Hanseatic League towns, we'll enjoy another guided walking tour. 21 or 27 miles.
Day 5 A short sail out of Kampen through the Ijssel estuary starts the day, and we set off on our bikes from a lock at Roggebotsluis. We'll ride along the water to Elburg, a fishing hub that was part of the Hansa League. Then it's over the moorland and through the woods of Elspeet, where the heather should be at its peak.
The day draws to a close in Harderwijk, another old fishing harbor celebrated for its immense fish market in the 16th century. You'll have the entire evening to wander the narrow roads lined with classic Dutch style homes, explore the historic windmills still in use today, and discover the city's culinary treasures --- dinner is on your own. 29 miles.
Day 6 Choose between two rides today. The shorter ride goes along the man-made border lakes and channels that define Flevoland, a province and polder that was created by Dutch water management ingenuity in the 1950s and 1960s. The longer ride takes you away from the lakes and into the woods. Either way, we end up in Spakenburg, a village where some women still choose to wear the traditional kraplap over their shoulders. 21 or 36 miles.
Day 7 We sail to Huizen during breakfast, then hop on the bikes for our last glorious day of cycling. First stop, Naarden, a beautiful fortress town encircled by a star-shaped moat. Shortly after, Muiden, with its famed medieval castle called Muiderslot, also surrounded by a moat.
The final leg takes us back to Amsterdam, where we'll have the rest of the day to explore. Visit the Rembrandt House Museum or the Van Gogh Museum, or simply walk along the rings of canals admiring the city where more bicycles than people reside. 21 or 30 miles.
Day 8 We'll say our good-byes after breakfast and disembark by 9:30am. We'll help direct you to the train station or airport for your trip home or onward in Europe. Tot ziens! 0 miles.