Netherlands: Bike & Barge Friesland
8 Day Bike and Barge Tour
Tour Information
Date:
07/15/23 - 07/22/23
Meet:
Enkhuizen, Netherlands
Get out of the heat on this new Bike and Barge tour in the Netherlands – a place where water and land have been forever intertwined. Its maritime climate features moderate winters and cool summers. There's no better way to experience the Netherlands than on the boat on the water. We explore the northernmost province of Friesland and a beautiful island off the coast by barge and by bike. Much of this ecologically rich area has been designated a UNESCO World Heritage Site. Come cycle it with us!
Almost Sold Out
The tour is guaranteed and has only one or a couple spaces left.

Leisurely
Flat terrain on paved bike paths. Leisurely cycling level.
7 nights lodging on the Lena Maria barge, 7 breakfasts, 6 sack lunches, 6 dinners, rental hybrid bike, cue sheets and electronic GPS files, and trained bilingual guides
(WomanTours reserves the right to increase the price of the tour a maximum of 5% for reasons beyond our control, such as new or increased taxes or fuel hikes.)
Hybrid bicycle with 7 gears is included in the price of the tour. Electric-assist bikes are an additional $250.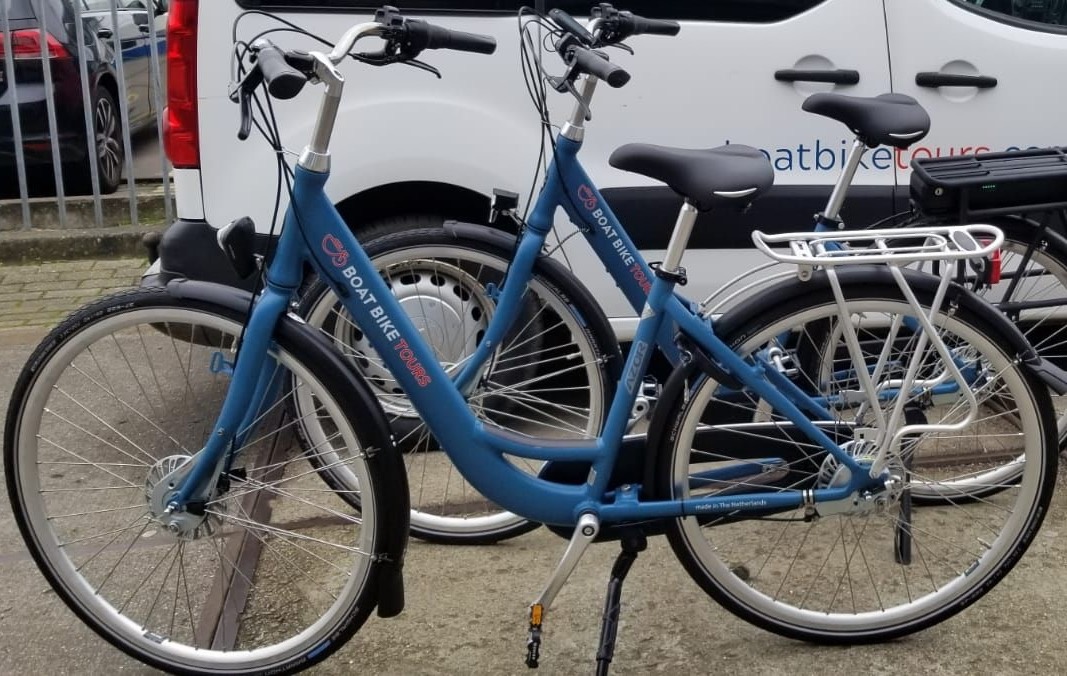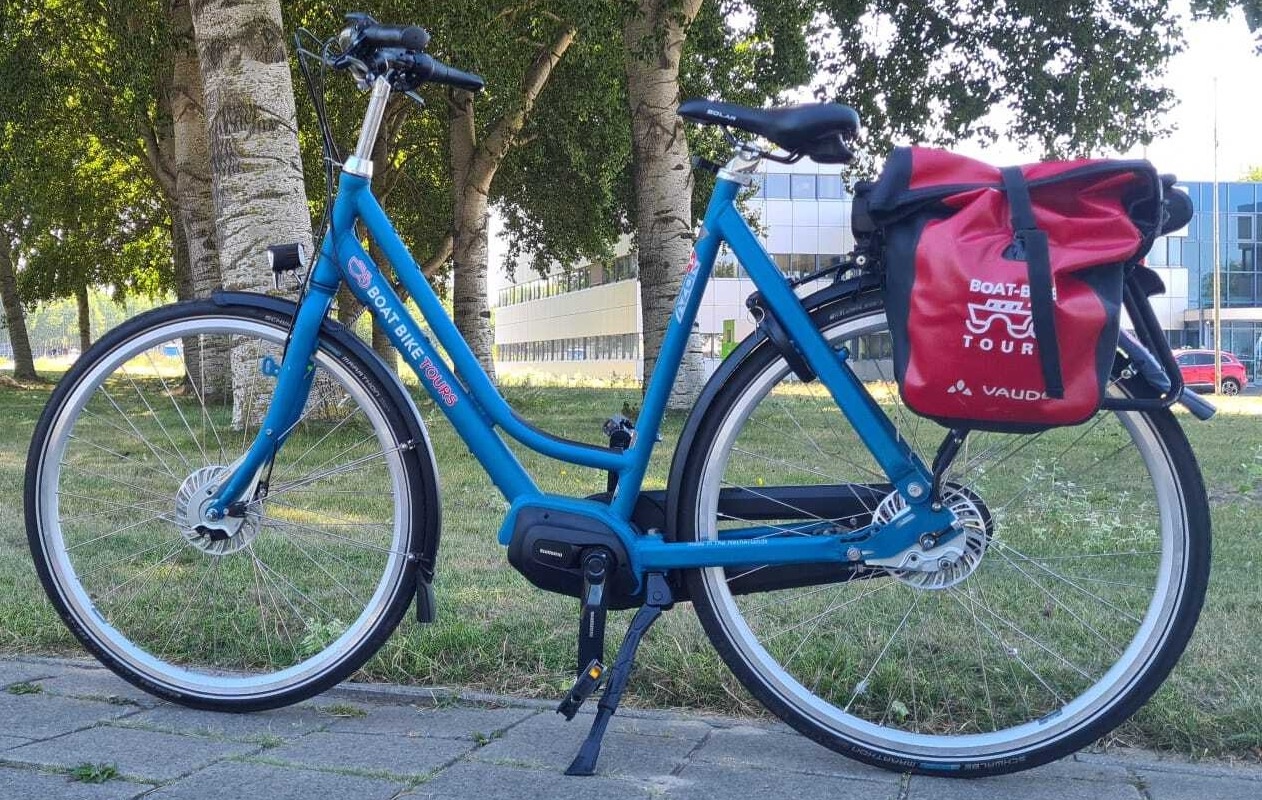 The Lena Maria barge has 12 rooms, each with two twin beds and a bathroom. The boat was renovated in 2020.
Fly round-trip to Amsterdam, take a 75-minute train ride to Enkhuizen, and then walk or take a taxi to our barge.
I never expected the barge room to be so comfortable, the boat so lovely, the food so utterly fantastic, the scenery so beautiful, the history we learned so amazing, and the weather turned out better than expected. Win win!
Tour Itinerary
DAY 1: We meet at 2:00pm on board our barge, the Lena Maria, docked in Enkhuizen (pronounced ENK-how-shen), an old port city on the inland bay of IJsselmeer. If you arrive early, take time to visit the Zuiderzee Museum, where you'll be steeped in Dutch cultural and maritime history, or stroll through the Snouck van Loosen Park to view historic Dutch homes.
Renovated during the pandemic with a clean modern look, the Lena Maria has 12 rooms, each with two twin beds and a bathroom. After introductions to the skipper and crew, we'll have an orientation and set sail for the old trading village of Stavoren. Then we'll enjoy our first dinner together on the barge. 0 miles.
DAY 2: We'll start the morning with breakfast on the boat. Then, with bag lunches ready to go, we embark on our first bike ride on bike paths along the coast through the historic harbors of Hindeloopen and Workum.
We'll finish our ride in the town of Makkum. Formerly a fishing village, its golden age was during the 17th and 18th centuries when it was an important trade center full of brick works, mills and lime kilns. When the saltwater inlet was turned into a freshwater lake during the 20th century, Makkum became a center known for shipyards for yachts of the rich and famous and the home of the oldest company in the Netherlands. The ceramics manufacturer has been producing fine hand-painted ceramics since 1890. 25 miles.
DAY 3: We start our day watching our captain maneuver the Lena Maria through locks onto the Wadden Sea. Then we'll head toward the island of Terschelling. Along the way, we may get lucky and encounter friendly sea lions.
A UNESCO World Heritage Site, the Wadden Sea is the world's largest unbroken system of intertidal sand and mud flats. You can get up close and personal with a porpoise, and find out which animals thrive (or don't) in these dunes, marshes and mud flats.
Once in Terschelling, we'll have time to explore some of the more than 45 miles of cycling paths crosscrossing the 33 square miles of land. We will get a taste of it all - from white beaches and cranberry fields to sand marshes blooming with purple sea lavender to vast mud flats teeming with crustaceans and small villages that once thrived as cultural maritime centers. Keep an eye open for the elegant white spoonbill, one of Terschelling's most beloved residents. 24 miles.
DAY 4: We head back to the mainland this morning and dock in the historic fishing town of Harlingen to start our bike ride to Leeuwarden, the capital of Friesland. You'll have time to check out the Oldehoeve church tower and see why it's nicknamed the "Frisian tower of Pisa!" Dinner is off the boat on your own this evening, and for good reason. The town has plenty of charming restaurants and sidewalk cafes, as well as scenic spots for a picnic. 28 miles.
DAY 5: Today we will cycle to the Alde Feanen National Park. Once excavated for peat which was dried and used for fuel during the 18th century, the land became impractical for farming during the 20th century. By 2006, the area had been reclaimed by nature and was designated a national park. We'll explore the nature reserve with more than 400 different plant species and 100 species of nesting birds including the bald eagle. We'll meet up with our barge in the town of Grou on the edge of the park. 27 miles.
DAY 6: Unlike other Dutch provinces, Friesland has its own language (West Frisian), as well as its own breed of spotted cattle and black horses. We will likely observe all these things, and plenty of iconic windmills and canals, as we cycle the verdant countryside today. We'll complete our ride in the town of Sneek. Be sure to take a selfie by the Waterpoort, the stunning gate to the city and harbor. 23 miles.
Day 7: Our final bike ride will take us back to Stavoren but not before visiting Heeg. Once an important eel fishing town, it's known for the traditional wooden boats that carried live eels to London. The boats had special holes in the bottom to allow water to flow freely in and out. We'll meet up with our barge (no holes in our floor!) and motor across Lake IJssel to spend the night back in Enkhuizen. 27 miles.
DAY 8: After a farewell breakfast, we'll disembark from Lena Maria by 9:00am. It's a short walk to the train station for your trip home or onward in Europe. Tot ziens! 0 miles.
*We reserve the right to increase the price a maximum of 5% for reasons beyond our control.