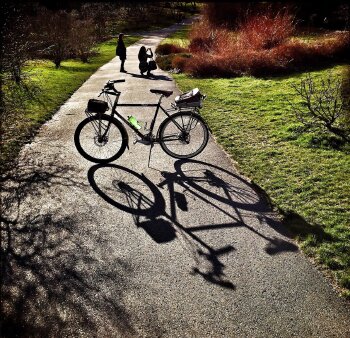 With the sound of my heavy breathing as I ascend a hill in my daily ride as part of the http://30daysofbiking.com/ pledge. I am riding my bike every day in the month of April as part of this national biking pledge. I knew if I made the pledge public and shared a photo every day to the @womantours Instagram account, that I would stick with it and begin the cycling season stronger this year.
I am on day twenty today, and I have to say that I am feeling stronger and am enjoying the routine of making time for my ride everyday. I am including at least a small hill in every ride to help with my climbing abilities, always a weak point in my riding. I am concentrating on gearing down early in the hill and maintaining an even comfortable cadence while I remain seated. On longer hills, I sing songs in my head to keep a good rhythm and distract my brain from thinking negative thoughts. A favorite is and oldie but goodie, the early 1960's anthem "500 Miles" popularized by Peter, Paul and Mary.
I am happy to report that I am feeling stronger and more confident as I enter the third week of cycling. I have never had the body of a classic climber, small and svelte. I now carry the weight of a middle-aged woman who enjoys food, so my gains this month are truly heartening.
I know that many of our guests fret over hills on our tours. While the van is always nearby to give a lift, the feeling of cresting a tough hill on your own power can be very exhilarating. So all of you who might be wary of taking a hillier tour, just know that with some training, those tours can be within reach and just as enjoyable as the flatter ones. Happy riding ladies, I hope to see many of you on tour this year.
Annette