Holland: Bike & Barge Tulip Tour
8 Day Barge Tour
Tour Information
Date:
05/09/20 - 05/16/20
Meet:
Amsterdam, Netherlands
This bike and barge trip takes place in the land where the concept was first developed. Come explore the country where children learn to ride a bike in second grade, where there are more bikes than people, and where bicycles rule the road. We'll see it all during peak tulip season and experience Dutch floriculture at its finest!

Leisurely
Flat terrain on paved bike paths and separated bike lanes. Leisurely cycling level.
7 nights lodging, 7 breakfasts, 6 sack lunches, 6 dinners, Wi-Fi, admission to Keukenhof, North Holland Dune Reserve, Aalsmeer flower auction, and cheese farm, and trained bilingual guides.
Included in the price of the tour.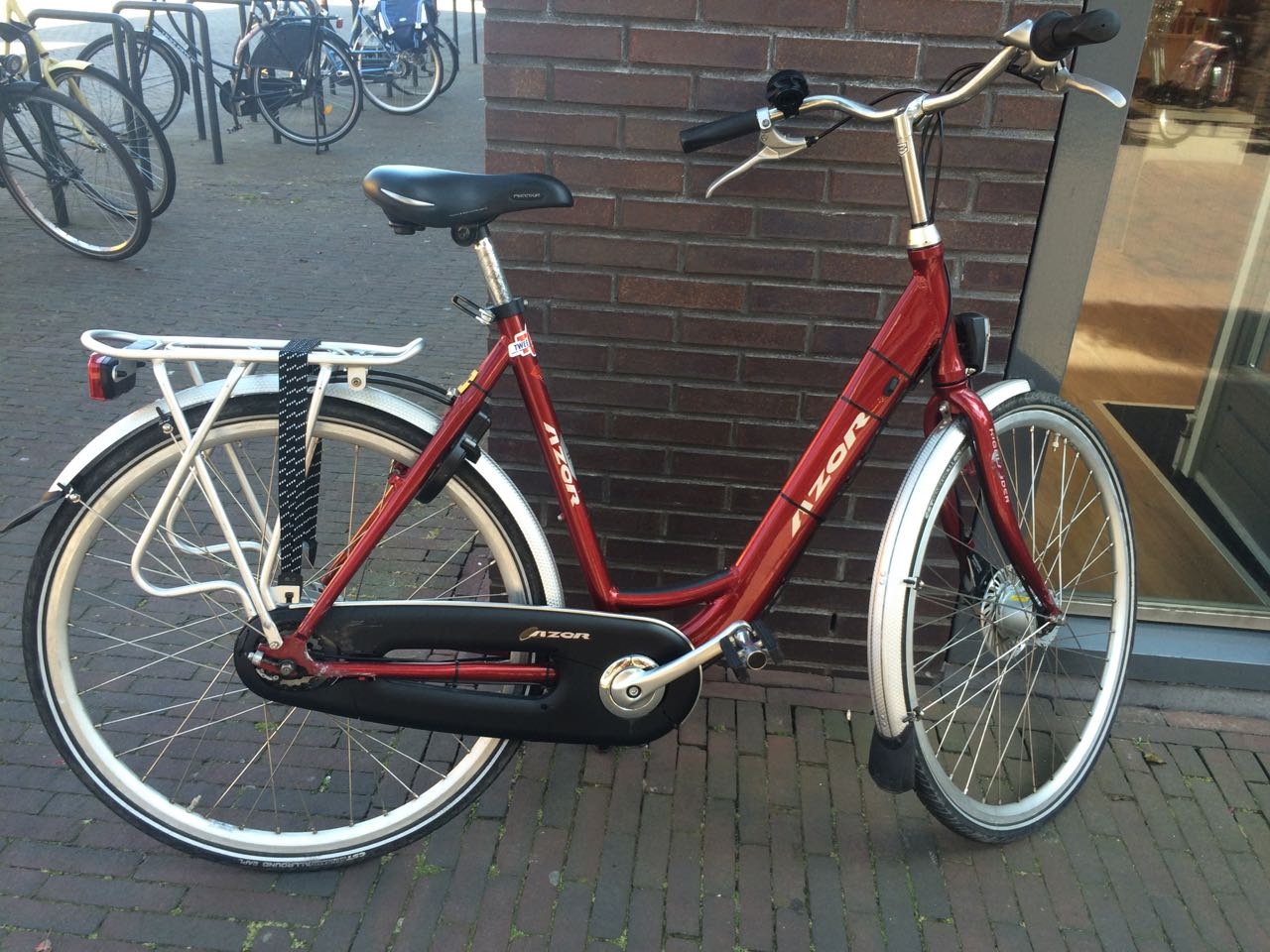 Our Lena Maria barge has 12 cabins. Each room has two beds and its own bathroom.
Fly in and out of Amsterdam Airport Schiphol (AMS), Netherlands. Then take a 30-minute train into the center city. Then walk or take a taxi to our barge.
"Seeing the countryside by bike was the best way we could have traveled. I especially loved the small towns and biking through fields of flowers and next to windmills. The barge was comfortable and fun to stay on. Outstanding meals- better than any restaurant!"
Tour Itinerary
Day 1 Check in to the Lena Maria barge by 1:30 pm. Our home away from home holds 24 guests. Each room has two beds and its own bathroom. While cruising toward Haarlem via the North Sea Canal and the Spaarne River, we'll have an orientation. Then we will stop in Spaarndam for a short test ride.
After dinner on the barge, we'll take a stroll through the historic center of Haarlem, a Medieval town that is the center of the tulip industry. We'll walk past many city highlights such as the Grote Kerk (large cathedral) and Grote Markt (market square), as well as the surrounding cobbled lanes lined with shops, cafes and boutiques. 6 miles.
Day 2 Wake up to what will be one of the most colorful days of spring you might ever experience. After breakfast, we'll set off on our bikes through the historic tulip fields, known as the "Bulb Belt." Once at the Keukenhof Gardens, you can tip-toe through 800 tulip varieties that are part of the park's 7 million blooming bulbs (including hyacinths and daffodils) spread over 80 acres. What a spot to savor a brown bag picnic!
In the afternoon, we will make our way to Leiden, where the tulip was first introduced to the Western World in the late 16th century. Dinner will be on the Lena Maria, but in the evening, you'll have time to further explore this beautiful university city where Rembrandt was born. 23 miles.
Day 3 Today we make our way through the Green Heart, a bucolic region of western Netherlands known for its farms, lakes, nature reserves, cows and cheese. Near the small town of
Zoeterwoede, where Heineken Beer is brewed, we will indulge in a visit to a cheese farm that includes a tutorial in cheese making, and of course, tasting. This is the perfect preparation as we make our way to the day's final destination, Gouda, the city famous for its cheese. 22 miles.
Day 4 We'll spend the morning in Gouda so you can take advantage of sightseeing around the Market Square. You might want to stop at the cheese museum, or try a stroopwafel – the delicious syrup waffle sandwich that is ideal for dipping in coffee or tea.
Back on the barge, we'll enjoy a short cruise. Then we'll set off on our bikes to follow the River Drecht and the Amstel-Drecht Canal, and enjoy peaceful landscapes of boats, windmills, tall grasses and tidy Dutch houses. 27 miles.
Day 5 Goedemorgen! This day starts with an early coffee and then it's off to the Aalsmeer Flower Auction, otherwise known as Europe's Wall Street for flowers. Every day, 20 million blooms from all over the world are traded in the FloraHolland warehouse that spans 128 acres. You'll be able to brag that you were in the fourth largest building in the world! From suspended walkways, we'll observe the superhighway of flower trains and learn about the special Dutch auction system.
After returning to our barge for breakfast and a cruise to Amsterdam, we'll cycle through the open air museum of Zaanse Schans to watch wooden clogs being made, spices being produced in a windmill, and learn how windmills have been replaced by turbines to pump the water and reclaim the land from the sea. 22 miles.
Day 6 It's another morning of flower power! This time, we cycle to the Hortus Bulborum, a garden museum where you'll see nearly 3,000 heirloom varieties of tulips, daffodils, crocuses and hyacinths, some dating back to the late 16th century when the tulip was first introduced to the Netherlands. It's living history in a kaleidoscope of shapes, colors, and fragrances.
Next, we head to the North Holland Dune Reserve, where the dunes are a wild, windblown landscape of sand, grasses, shaggy red Highland cattle, birds and wooded enclaves. Finally we arrive in the lively, colorful town of Alkmaar, where you'll have the entire evening to explore by foot and enjoy dinner on your own. 23 miles.
Day 7 Our last day of cycling will teach us more about two other important Dutch icons: windmills and land reclamation, and how the two go hand in hand. We first pedal to the Schermer Polder, a UNESCO World Heritage Site. Due to overharvesting of peat many centuries ago, the river here had morphed into an inland sea. With windmill pumping power and Dutch ingenuity, the land was drained in the 17th century and became a prosperous agricultural region that lies almost 12 feet below sea level. The "water wolf," as people referred to the sea, was defeated.
We'll pedal our final miles of the week back to Amsterdam, and then enjoy a tour of the city by canal boat. We'll celebrate our week with our last dinner together on the barge. 29 miles.
Day 8 We'll say our good-byes after breakfast and disembark by 9:00am. We'll help direct you to the train station or airport for your trip home or onward in Europe. Tot ziens! 0 miles