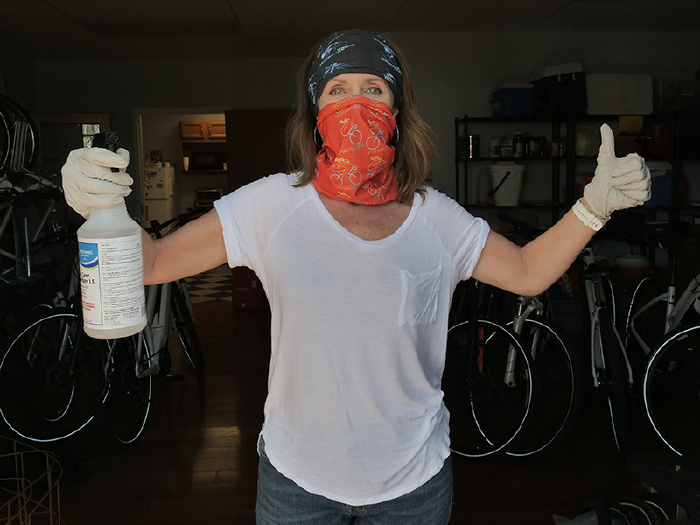 We realize that the coronavirus is a reality that is going to be with us for a while, so our upcoming tours will run differently than in the past. But rest assured, you will still experience great biking, camaraderie and adventure that are the hallmarks of all our tours.
The following COVID-19 protocols will stay in effect as long as the threat of the virus is present. We will continue to monitor the situation for each tour and update these protocols as needed. If you are signed up for an upcoming tour with us, here is what you need to know.
Cancellations
We will continue to closely watch coronavirus-related national, state and local directives to determine if we can safely run future tours. If we deem it necessary to cancel a tour, we will inform tour registrants 45 days before the start of their tour. Tour balances will be due at that time if we decide to run the trip. If tour registrants choose to cancel a tour before that time, our normal cancellation policy applies.
Tour size
We are reducing the maximum capacity of tours to keep groups smaller. This will help us maintain safe distancing during meals, group meetings and shuttling.
Discount on single room upgrades
We are temporarily suspending our roommate rotation option. In some cases, we are reducing the single room upgrades to make it more affordable to have your own room. Guests who have already paid for this upgrade on certain tours will receive a partial refund.
Masks
All guests and guides are required to bring their own masks on tour and wear them as much as possible when off the bike. Always wear a mask when you're not able to keep at least 6 feet from others. This includes shuttling in WomanTours vehicles. If masks are cloth, we recommend bringing at least two so one can be washed and dried while the other is in use.
Thermometers and hand sanitizers
We ask guests to bring their own thermometers and take their temperatures each morning. While WomanTours will have hand sanitizer available during meals and group gatherings, we also ask guests to have their own supply with them for times when there is no hand sanitizer available, such as when they are cycling.
Social distancing
During meals, orientations and other gatherings, we will practice social distancing, spreading seats apart or requiring masks to be worn when that distance cannot be met. Instead of hugs, handshakes and high fives, we encourage peace signs, namaste bows and other creative non-contact greetings.
Meals
All meals will be from restaurants or prepared by WomanTours guides following strict food safety and COVID-19 protocols and will be eaten outdoors whenever possible. Snacks and meals by our trailer will be served by our guides or SAG volunteers wearing masks and gloves cafeteria style.
No guests of guests
Given the circumstances, we are temporarily suspending the opportunity for family members or friends of guests to join the group for meals.
Wellness
Pay close attention to your health 14 days before the start of the tour, during the tour and 14 days after the tour. Minimize your contact with other people both before and after the tour. If you start to feel ill during the tour, let your guide know immediately. If you show signs of experiencing COVID-like symptoms or have a temperature above 100.4 with our touchless thermometer, you will be required to self-isolate. You will be responsible for making your own arrange-ments to get home if you are sick. If you start to feel ill within 14 days after returning home from the tour, notify the WomanTours office immediately.
More stringent cleaning protocols
WomanTours guides and SAG volunteers have stepped up cleaning and disinfecting protocols for our van, trailer, SAG vehicle, and for food service, bike repairs and all other related areas. We will also make sure our tour partners and vendors follow these practices.
Travel Insurance: Travelex travel insurance policies will cover travelers if they contract COVID-19 before or during their trip. Please see www.travelexinsurance.com or 800-228-9792 to obtain a quote.