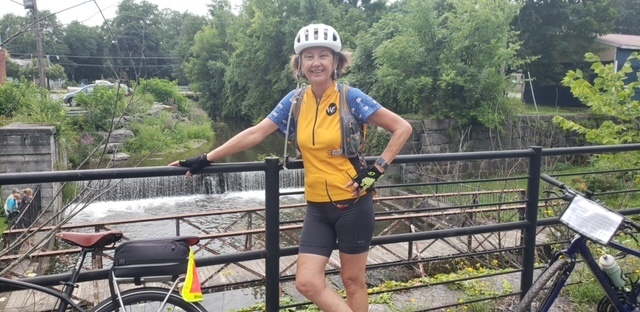 If you are new to WomanTours and are considering coming by yourself, there's one thing we want you to know: You won't be the only one. While many of our guests sign up with friends, family members or partners, more than a third sign up solo.
"I would love if one of my friends could join me but that does not stop me," writes Colleen of Boston, MA in an email, who has taken part in six tours with us (and is pictured above in the WomanTours jersey).
Colleen has found that coming on her own to WomanTours offers the best of both worlds. She can set her own schedule, both on and off the bike. At the end of the day, she can compare notes with fellow riders and enjoy a meal in their company, and someone else (i.e., WomanTours) takes care of all the other details.
Bev of University Park, MD (pictured at right with the flowers), joined WomanTours solo because most of her friends are tennis enthusiasts, not cycling fans. "I wanted to travel and see the world by bike," she writes in an email. "On every trip I have taken there have been a number of women traveling alone."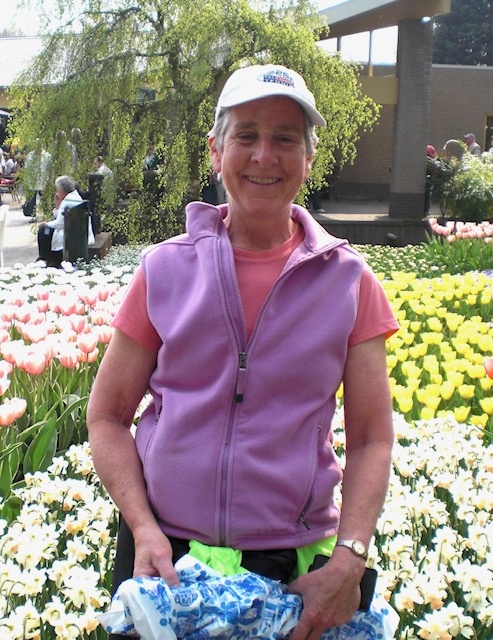 Already accustomed to traveling with hiking tour groups as an independent agent, Amy of Brewster, NY had two concerns before signing up for her first WomanTours trip on her own. She was afraid she would be the slowest rider, and she worried that the rest of the group would be mostly couples, "who can sometimes just hang out with each other."
A dozen WomanTours trips later, Amy says neither concern has ever been a problem. "It wasn't all couples, and if/when I was the slowest rider, it didn't matter."
One of the things Bev looks for in an outdoor group tour outfitter is transportation to and from the airport. "This significantly decreases the stress of traveling alone as I don't have to navigate a new city or country to get to the start of the trip," she writes.
WomanTours often provides airport shuttles at the start and end of each tour. If we can't, then we research the most affordable ground transportation options and provide those details in our pre-tour literature. If you are driving to the start of the tour, we similarly let you know if free parking is available or where the closest overnight parking garages are located.
As far as accommodations go, solo guests can opt for a single upgrade or we will match you with a roommate. Normally we rotate roommates each time we change hotels. Due to the coronavirus pandemic, we have suspended the rotation system but will reinstate it once it is safe to do so. (Read more about our Covid Protocols here.)
"I usually opt for a single supplement if the cost is reasonable as it is nice to have my own space. On many tours I have shared a room and have been fine with the rotation of roommates as this allows me to get to know other women in the group," notes Bev.
Riding is always at your own pace, and guests usually find that at if they want the companionship, there is at least one other rider who cycles at their speed.
"The way WomanTours runs trips is great. I could ride with people, or not. I could hang with people, or not.," adds Amy.
"Becoming part of a group is always an effort for a single traveler," explains Colleen. "Luckily, there are usually one or two other people that are in similar scenarios, or people traveling together but open to new people."
Colleen recommends picking a place where you really want to go and start from there. Bev suggests picking a tour you can drive to if you want to skip the stress of air travel.
If you are still uncertain about signing up on your own, take Amy's advice and ask us to put you in touch with past guests who are willing to share their experience. (We also encourage you to join our WomanTours Guests Facebook Page where you can post questions.)
"Life is so short that it is important not to wait until you can find a friend to join you for a trip," she adds (pictured below, sitting on left, with new friends made on tour). "You will invariably find that venturing alone on a trip will be a very enriching and memorable experience."